Set on two mighty rivers and hemmed in by very steep hills, Lyon, known as France's second city, is a place of broad vistas and flowing water, with homes, shops, and churches scattered across islands and climbing sharp slopes. Undeniably pretty, the city's history is nonetheless gritty.
Stepping onto a funicular dating back to 1891, I was spirited to the summit of La Croix-Rousse, "the hill that works," an 800-plus-foot rise that was once the heart and soul of the city's blue-collar community. While the area has since been gentrified, Lyon's famous silk industry thrived here for centuries, the remaining 18th- and 19th-century workshops in the city testifying to its importance. The big buildings with vaulted ceilings are still connected by hundreds of "traboules" ("to cross on foot," translated from Latin), passageways cutting between the main streets, forming a labyrinth—a city within the city.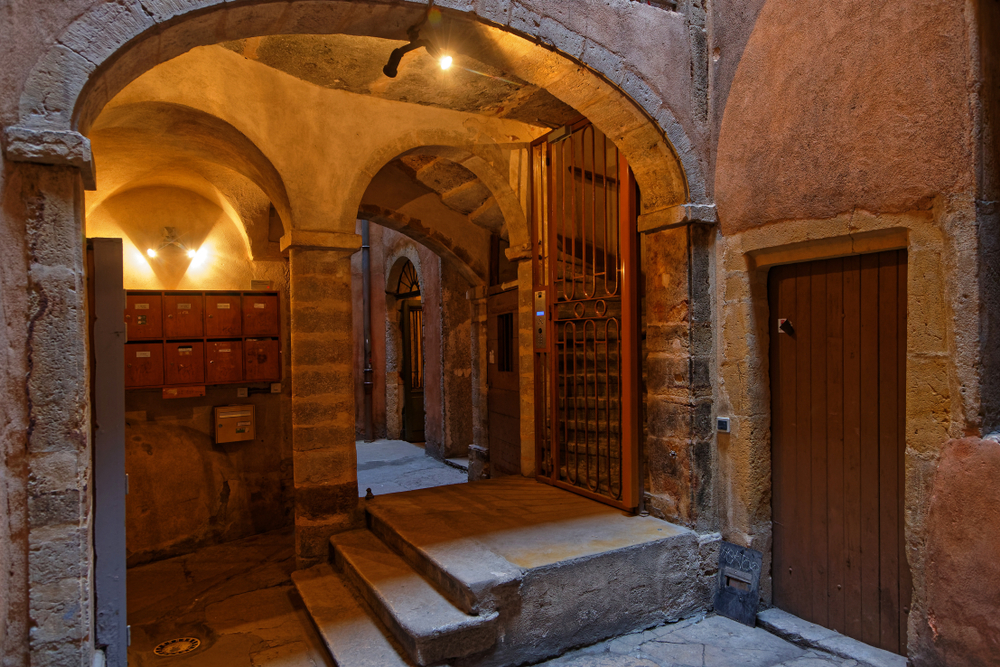 Bisected by both the Saône and the Rhône rivers, Lyon's history runs all the way back to Roman times. Now France's second-largest metropolitan area, formal settlement here dates back to 43 B.C. Originally named Lugdunum (meaning "fortress of Lugus" or "fortress of the champion"), the city's location on two great rivers encouraged trade and communications. It became the capital of the Roman province of Gallia Lugdunensis, and roads to surrounding parts of the empire radiated out from the city.
Even then, Lyon may have been home to as many as 200,000 people, and it gave birth to two emperors. Uncommon in France, you can still find Roman ruins here, most notably at the Ancient Theater of Fourvière, an amphitheater completed in the second century that once held up to 10,000 people. Flanked by a smaller theater (the Odeon), as well as traditional baths, its original tile mosaics still adorn the stage.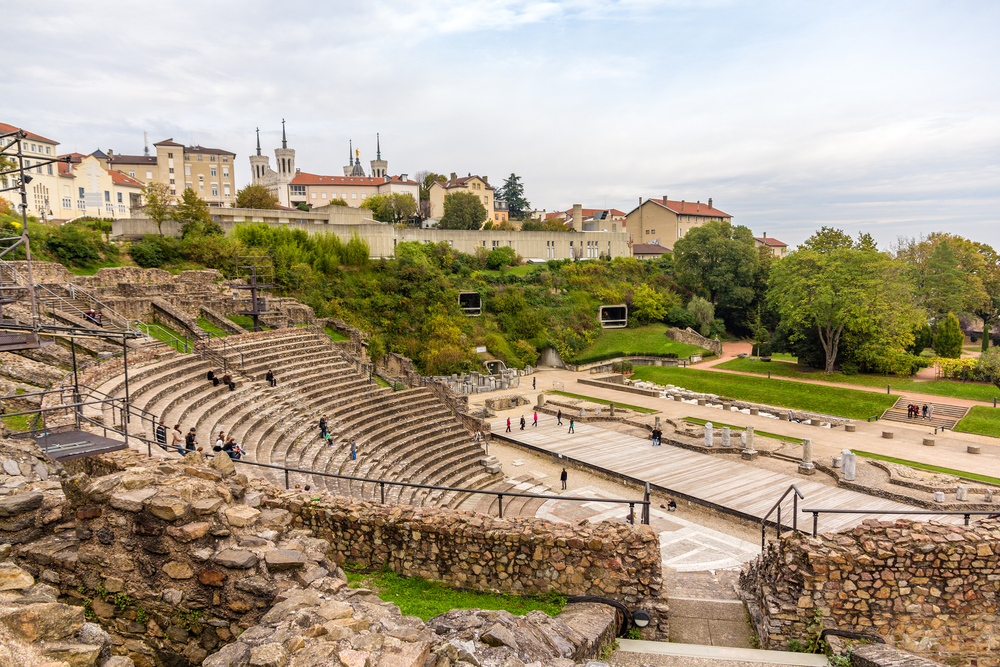 Today, Lyon sees itself as the chief rival to Paris—like Chicago to New York. A walk in the city will take you through those thousands of years of history. It's all centered around the Presqu'île (literally, an "almost island"), a peninsula that extends between the two rivers, where a dense web of streets is packed with tucked-away cafes, high-end shops, little supermarkets, wine stores, and traditional "bouchons," or little hole-in-the-wall restaurants. It's a part of town that invites you to get lost. Walk in any direction, and you'll eventually encounter a river, a bridge, or the sprawling Place Bellecour, one of France's largest public squares—15 acres open for pedestrians to stroll, all of it overseen by a statue of Louis XIV astride a horse.
And while much here is ancient, there's plenty of renewal, too. The Confluence district, where the Rhône and the Saône come together at the very tip of Presqu'île was, until very recently, a bit of an industrial wasteland. Long home to a commercial port, factories, and even a prison, the trains kept people away, with the rattling of the SNCF Grand Lignes on one side and the constant crackle of electric trams running across the other. Nobody wanted that just outside their window. Now that same rolling stock is bringing people here by the droves.
Cleaned up and rebuilt by some of France's most famous architects, rents in these super-modern buildings, which are often powered by solar panels and designed using green technology, are now higher than in many other parts of the city. Elements of that industrial heritage—shipping containers, for example—have been integrated into the structures. People love that they can live, work, and shop all in the same district. And if they need to go anywhere else? Well, the tram's right there to take you. Even the late chef Paul Bocuse opened a restaurant here, his most casual outlet, a Michelin three-star chef's take on fast food.
I made other stops around the city, including a delicious tour around Les Halles Paul Bocuse, the city's main covered market, where in the late afternoon on a weekday, an after-work crowd was picking up meats, cheese, fish, and fresh fruit and a few hung around for an early dinner at one of the small restaurants that are interspersed with the food shops. Even for France, it was an amazing display—so much food everywhere you turned.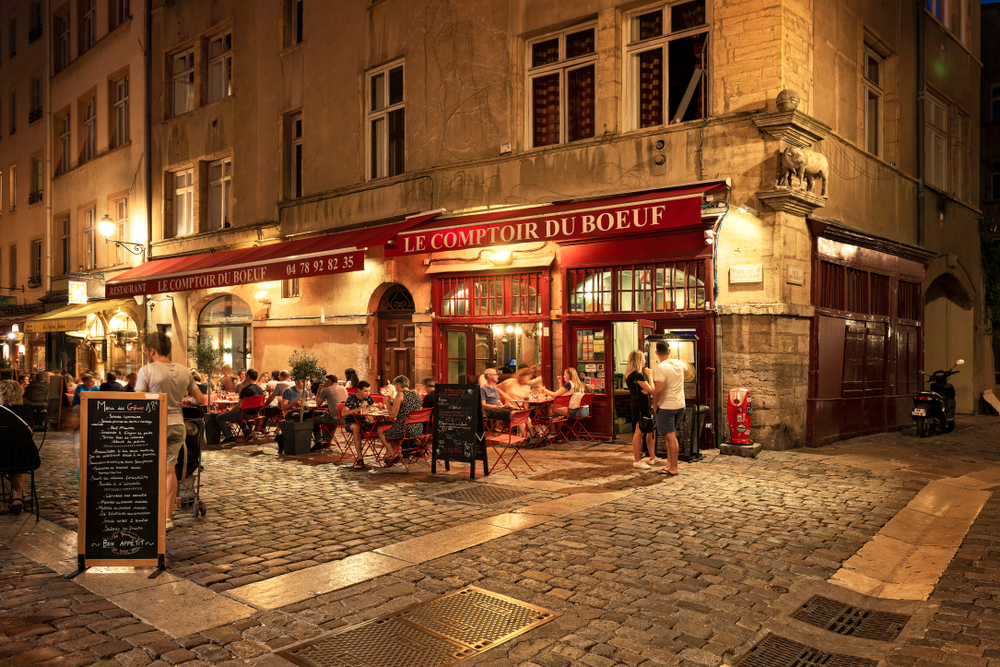 And before leaving town, I sat down for one of Lyon's most hallowed traditions—lunch at a bouchon. There the focus isn't on fine dining or long degustation menus. Instead, you crowd around a small table for hearty fare in a convivial atmosphere, eating family-style and maybe sharing some of your meal with the table next to you. Descended from inns frequented by "canuts," or silk-workers, they would come in to eat great steaming plates of food at about 9 a.m., a very early lunch for people who had been up and working since 3 a.m.
The restaurant filled quickly. The noise level rose. And the food just kept on coming, landing on the table in a flurry: pork and cheese and crusty bread, pate en croute and veal shoulder, and even something called "cervelle des canuts" ("cervelle" means "brain," but I was assured that the dish, a spread, was actually a combination of white cheese, herbs, and olive oil). Add in a little local wine from the Beaujolais, and I was ready to go. Fortunately, I wasn't returning to a loom in a silk workshop, but out onto the streets and rivers and hills of Lyon, a full afternoon of touring left to be done.
If You Go
Fly: A number of airlines land at the Lyon international airport, connecting the city with European capitals and Middle Eastern hubs, with one nonstop route to North America, direct to Montreal on Air Canada.
Getting Around: The city has an extensive public transit system that includes trams, buses, and a four-line metro system that includes the rack railway to the top of Croix-Rousse. Purchasing the Lyon City Card grants access to all of it, as well as to 23 museums and other attractions.
Stay: Tucked away in a quiet corner behind the Basilica of Saint Martin d'Ainay, the Hôtel de l'Abbaye offers upgraded rooms with sofas and views of the church, plus a restaurant and lounge area with a fireplace, all close to the metro and some of the city's main shopping streets.
Take Note: A common joke in Lyon says that the city actually has three rivers—the third flows with wine, referring to the Beaujolais vineyards just north of town. It's a perfect place for a day trip, with tasting rooms, castles, and medieval villages nestled in rolling hills just a short drive away.