A Royal Caribbean passenger was kicked off a cruise voyage after she risked her life to take a selfie.
A photo captured the woman after she apparently climbed onto the railing to take the photo. Nothing stood between her and the ocean.
"Just witnessed this on Allure. What an absolute IDIOT. You cannot fall off of a ship unless you are acting like a moron!" passenger Peter Blosic wrote on social media, reported the New York Post.
He said he quickly told Royal Caribbean staff members, who later forced her to leave the ship when it docked in Jamaica.

"I showed the concierge. The staff captain then wanted to meet with me and get a copy of the photo. We easily determined the cabin number since it's on the hump," he said.
A Royal Caribbean spokesperson confirmed the incident to CNN.
"Earlier this week on the Allure of the Seas a guest was observed recklessly and dangerously posing for a photo by standing on her stateroom balcony railing with the help of her companion. Security was notified and the guests were later debarked in Falmouth, Jamaica as a result of their actions and are now banned for life from sailing with Royal Caribbean," the statement read.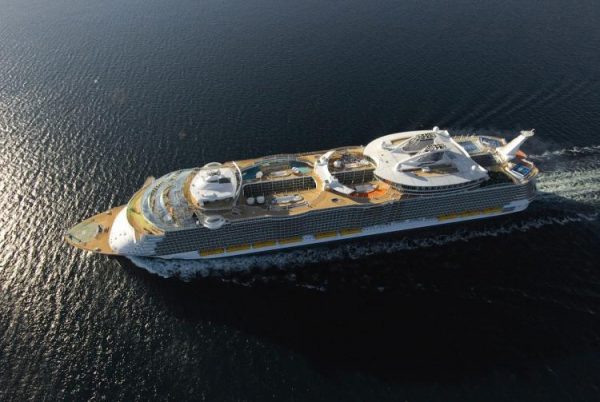 According to its website (pdf), Royal Caribbean says that "sitting, standing, laying or climbing on, over or across any exterior or interior railings or other protective barriers, or tampering with ship's equipment, facilities or systems designed for guest safety is not permitted."
Breaking the rules could result in removal, the website warns.
Other details are unclear.
Meanwhile, the Nor'easter storm that racked the northeastern United States forced a 2,000-person cruise ship to dock in Maine.
The Bangor Daily News reported that the Oceania Riviera ship. The passengers and the ship will have to stay there until Friday morning.
The ship's crew and passengers are not expected to come onshore as swells are as high as 27 feet, the report noted.