A survivor of the mass shooting that killed at least 58 in Las Vegas on Sunday, Oct. 1, describes hiding, running for safety, and then helping take victims to a hospital.
Lindsay Padgett, 29, was attending the Route 91 Harvest country music festival on Las Vegas Boulevard with her family and friends when she heard the gunshots.
"We just heard popping sounds and saw sparks going off of the stage, so at first we thought it was maybe electrical or part of the show, then we thought maybe it was fireworks," Padgett told ABC News. "Then everyone starts yelling, 'Get on the ground, get on the ground.'"
They got on the ground, but that didn't help matters much.
"We saw everyone being shot left and right," she said. "We're just all on top of each other on the floor huddling together looking at each other not sure what to do."
Then people "finally started running," she said.
Padgett, her fiancé Mike Jay, and other friends ran towards the McCarran International Airport, which is one block from the open-air venue. They got inside a hangar.
When the gunshots stopped, she went back with Jay to pick up her truck parked across the street from the venue.
"We realized there were people everywhere that needed help and on stretchers … People saw that we had a truck, so we said 'Fine, yeah,' and started to pack everyone in," she said.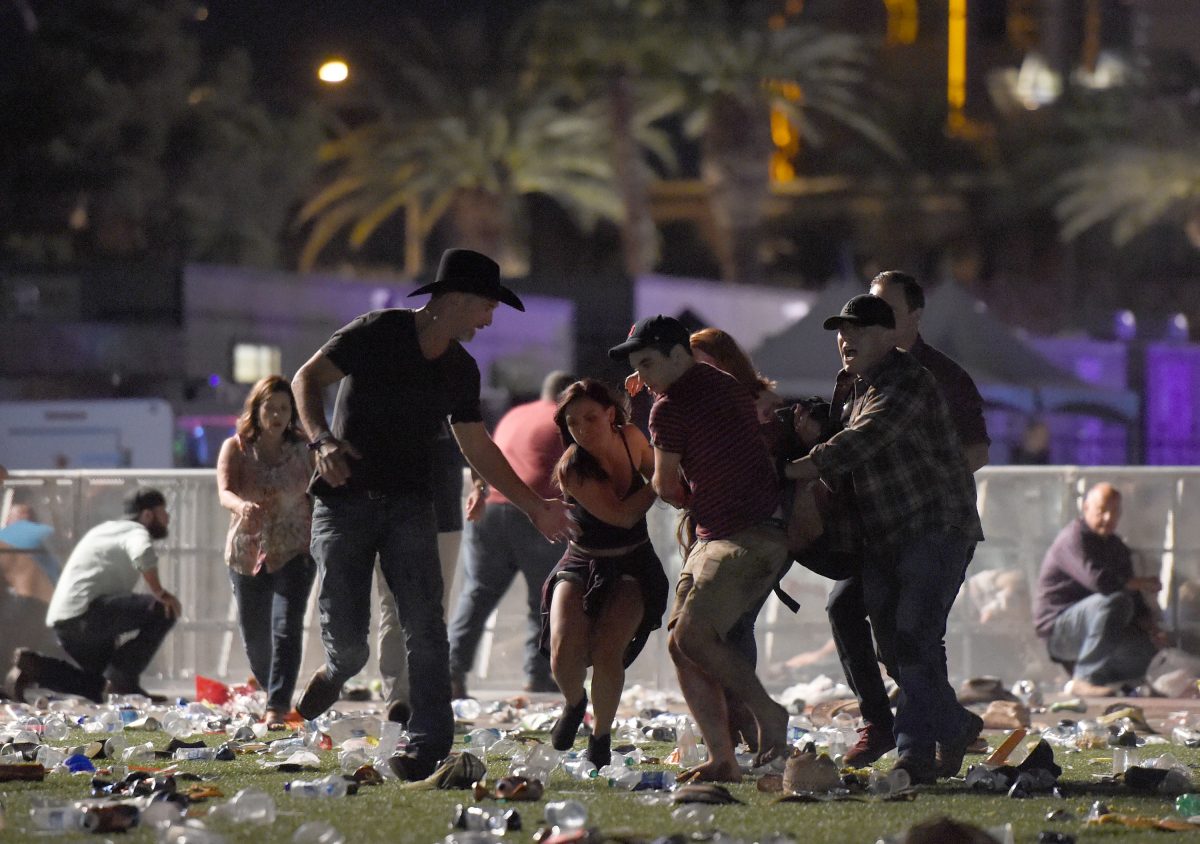 They loaded five wounded in and five more who were trying to tend to the injured.
"We were just trying to get people to the hospital. We got halfway there and as we were getting on the freeway, we saw an ambulance stopped, so we went over and they started taking the most critical people and putting them in the ambulance," Padgett said.
The paramedics took a man shot in the back out of the truck, but said he was dead. Another man got a bullet to his chest and a woman received a gun wound to her leg.
"The ambulance told us to follow them to the hospital with the rest of the injured people," Padgett said.
Jay helped to unload the people. They wanted to go back and pick up more but Padgett got a call from her scared cousin who was also at the concert with other family members.
"My cousin was locked inside the MGM and they heard screaming, so we went there to get my cousin and my family," Padgett said.
The shooting was committed by Stephen Paddock, 64, of Sun Valley, California. He rented a room at the 32nd floor of Mandalay Bay hotel, diagonally across the street from the concert venue. He was found shot dead in the room where he had at least ten rifles. Police said he shot himself, acted alone, and his motive is unknown.