JERUSALEM—Israel decided on Oct. 30 to form an advisory committee to weigh national security aspects of prospective foreign investments in Israeli companies after coming under U.S. pressure over business deals with China.
The Israeli security cabinet's move to set up the panel followed a visit to Israel this week by U.S. Treasury Secretary Steven Mnuchin, although discussions on the issue have been going on for the past three years.
A statement issued by Prime Minister Benjamin Netanyahu's office said the committee would be comprised of officials from the finance and defense ministries who would consult with the foreign ministry and various security agencies.
The panel, it said, would begin work early next year and aim to find "the appropriate balance" between national security considerations and "the need to encourage foreign investments in Israel and ensure continued economic prosperity."
The statement did not mention any potential investor by name, an apparent attempt to avoid alienating China, which has stepped up its investments in the country in recent years.
Regulators would approach the committee on a voluntary basis and the panel would act in an advisory capacity, dealing only with investments that required Israeli government approval, such as telecommunications, energy and transportation projects.
In January, a U.S. official cautioned Israel over investments from China, citing cyber-security concerns and the prospect of Israel's allies limiting intelligence-sharing with it.
Chinese investment in Israel's tech sector reached more than $325 million in 2018, an Israeli venture capital research group said.
In a deal that drew U.S. concern, China won Israeli approval to build a private seaport near Haifa, a berth for the U.S. Mediterranean fleet.
In what was widely seen in Israel as a sign of U.S. displeasure at the Chinese involvement in Haifa, one of the Sixth Fleet's warships a year ago docked in Israel's second-tier Mediterranean port of Ashdod, the fleet's first such visit in almost 20 years.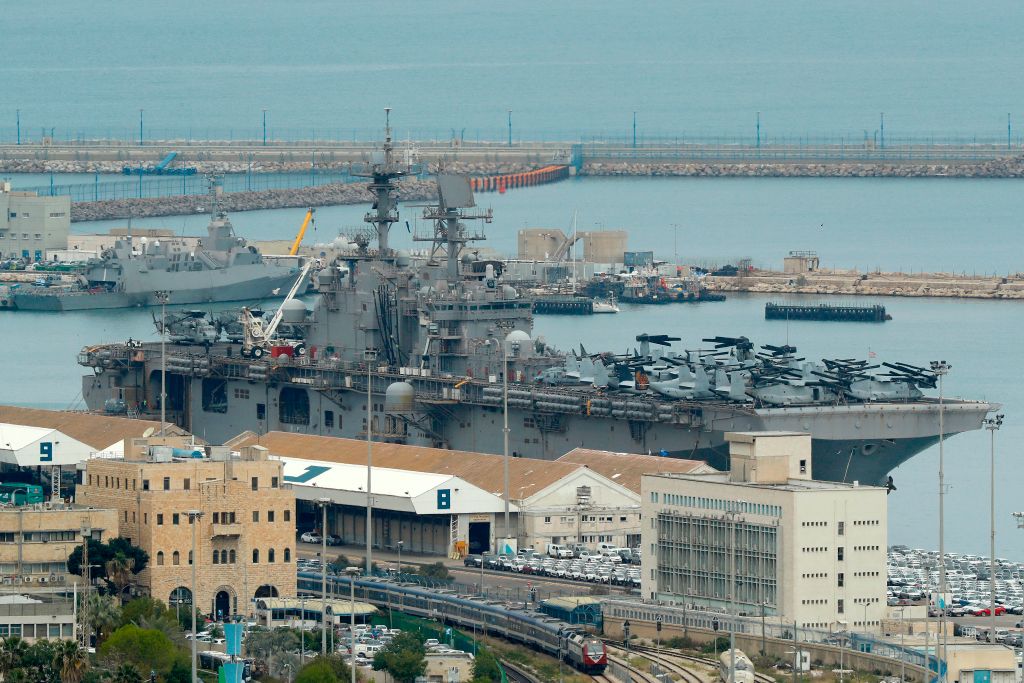 Interest by Huwaei Technologies and ZTE Corp, two of China's biggest network equipment makers, has also worried Washington, as has the green light granted to China's Shanghai International Port Group in 2013 to build the Haifa seaport.
The Trump administration has taken steps to curb market penetration by Huwaei and ZTE, seeing them as spying threats.
Chinese Spying
Chinese activities in Israel go far beyond the usual foreign investment.
In the March 24 Foreign Policy article, Israeli journalist Yossi Melman outlined how China in recent years, "enhanced their espionage efforts in Israel, particularly to obtain access to both state-owned and private-sector Israeli tech companies, and through them to the United States."
Three Israeli companies were identified as Beijing's targets: state-owned weapons manufacturers Israel Aerospace Industries and Rafael; and defense electronics maker Elbit Systems.
Other Israeli companies, especially those that collaborate with U.S. defense contractors such as Raytheon, Boeing, and Lockheed Martin in joint projects, are of particular interest to Chinese hackers, a trend discovered by Israeli counterintelligence agencies.
"Clearly, China perceives Israel as a back door through which it can access and penetrate secret U.S. programs," Melman wrote.
For example, three contractor firms for Israel's Iron Dome missile defense system—which was designed to intercept and destroy short-range rockets and artillery shells—were hacked by Beijing-linked hackers beginning in 2011 and 2012, a July 2014 report by Israeli newspaper The Jerusalem Post revealed. The target firms were Elisra Group, IAI, and Rafael Advanced Defense System.
More than 700 emails, documents, and manuals about the Iron Dome were stolen by the hackers.
By Steven Scheer. Epoch Times reporter Frank Fank contributed to this report.