Rando Kartsepp had no idea that the animal asleep on his legs in the footwell of the car, its fur still wet after he had pulled it from the frozen river, was not a dog.
When they arrived at the animal clinic, where it was treated for hypothermia and low blood pressure, even the vets didn't realize it, although they had their nagging suspicions. It took a hunter to make the confirmation: the animal that Katstepp and a friend had pulled from a dam was not a large dog, as they thought, but a young male wild wolf.
Realizing their mistake, the vets quickly put a muzzle on the wolf, still drowsy from its ordeal, and put it in a cage.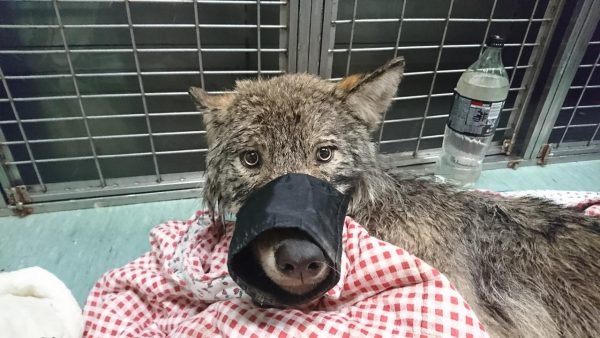 Robin Sillamae and Rando Kartsepp had been working on the Sindi Dam in Estonia on Feb. 20, when they spotted an animal trapped 100 yards out on the ice.
They broke a path through the ice, pulled out what they thought was a dog, rubbed him down with a blanket and bundled him into their car to warm up. Then they phoned the national animal protection society, that organized a local clinic for them.
"He weighed a fair bit," Kartsepp told Estonian paper, Post Times. "We had to carry him over the slope."
The wolf was docile as they drove to the clinic, he said.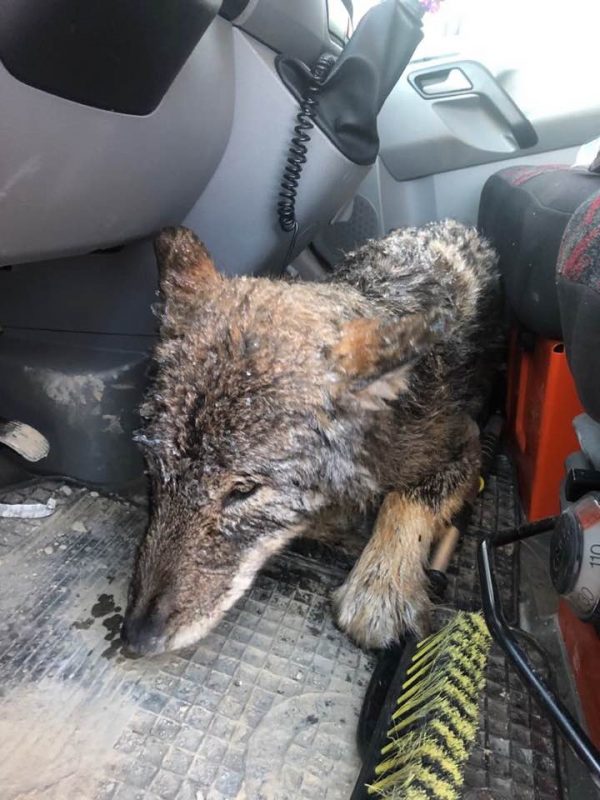 "He was calm, slept on my legs. When I wanted to stretch them, he raised his head for a moment," he added.
The Estonian Union for the Protection of Animals (EUPA) said in an email that when it arrived at the clinic, the wolf had low blood pressure—which may explain its docile behavior in the car.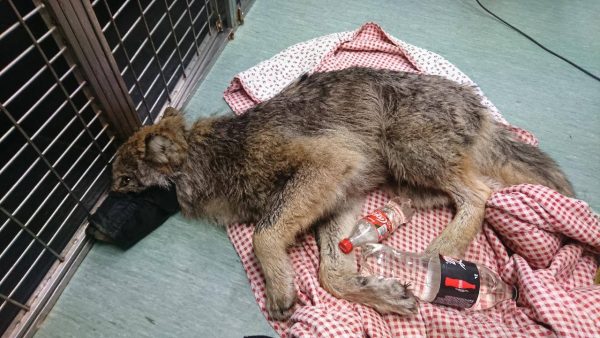 The vets began to wonder if the large looking dog was, in fact, a wolf, but they needed to get confirmation from a local hunter.
Head of the clinic Tarvo Markson told the Post Times that the wolf had recovered by the next day, after arriving suffering from hypothermia and severe shock. "At first, he was so done in, he didn't resist at all. "We simply kept him in this room. But once he started to get an idea of the situation, I felt things might quickly take a turn for the dangerous. We got him into a cage," Markson said.

The animal was released into the wild after being fitted with a GPS tracker by specialists from the Environmental Agency put the GPS, according to EUPA, which guaranteed payment.
"Luckily everything turned out well," said a representative for the EUPA. "We are so happy for the outcome of the story and wish to thank all the participants, especially these two men who rescued the wolf and the doctors of the clinic who were not afraid to treat and nurture the wild animal.