KUALA LUMPUR, Malaysia—The wife of former Malaysian prime minister Najib Razak was charged with 17 offences on Oct. 4, including money laundering, as anti-graft agents investigate billions of dollars missing from state coffers.
The charges against Rosmah Mansor were read out by prosecutors at a Kuala Lumpur court after she spent a night in detention following her arrest by anti-graft investigators on Oct. 3. Rosmah pleaded not guilty to all charges.
Najib, who lost office in May, faces 32 charges from money laundering to abuse of power and criminal breach of trust over billions of dollars that went missing from 1Malaysia Development Berhad (1MDB). He has denied any wrongdoing.
It was not clear if the charges against Rosmah relate to 1MDB, but Rosmah's arrest came after three rounds of questioning by anti-graft agents over 1MDB, from which U.S. authorities say over $4.5 billion was misappropriated. On Sept. 26, Rosmah was questioned for nearly 13 hours.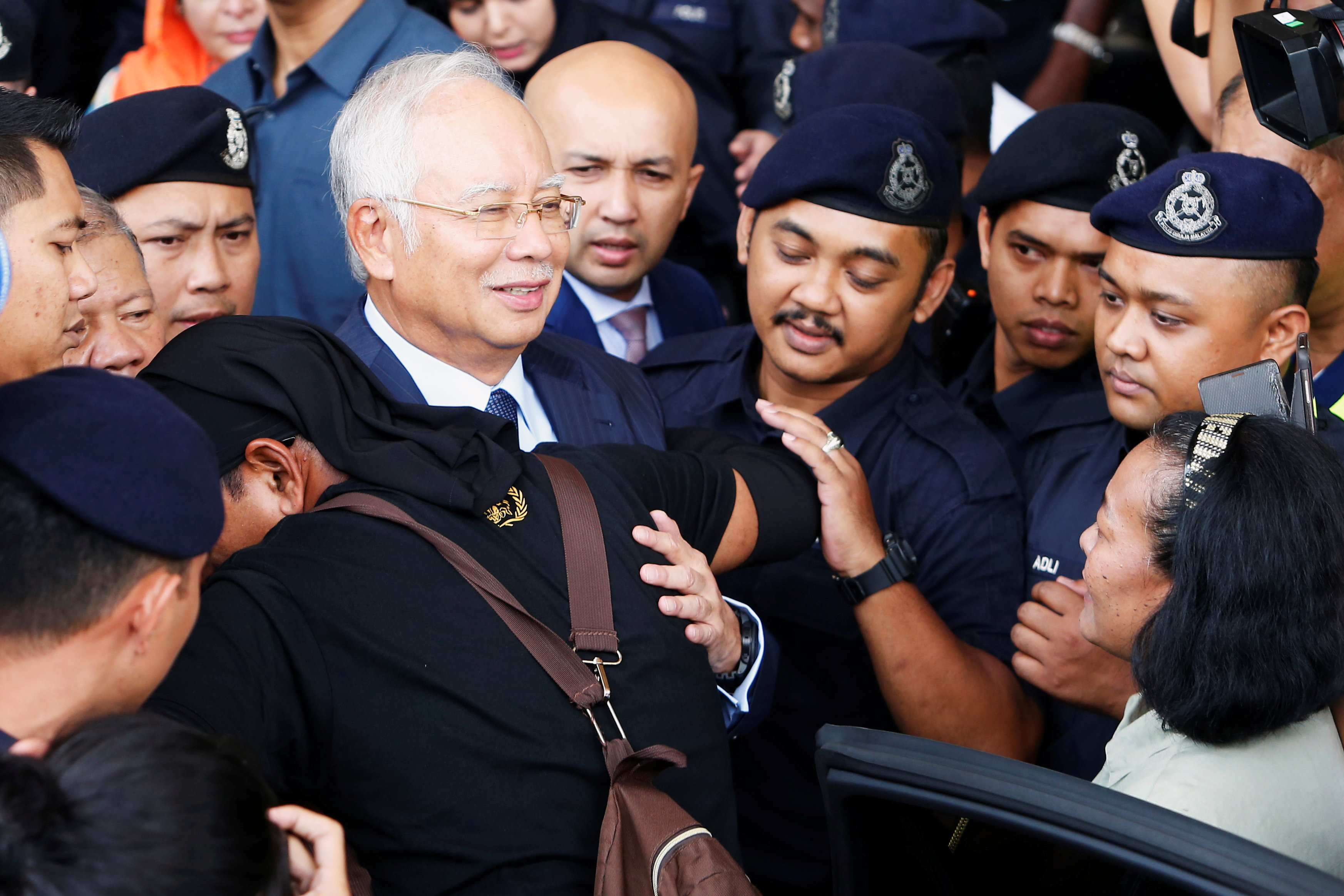 Rosmah, who arrived in court flanked by dozens of armed police officers, smiling, waving and blowing kisses at the media, was charged with activities using illegal proceeds and failing to declare income tax, both covered under the anti-money laundering law.
Prosecutor Gopal Sri Ram said these were non-bailable offences and that she had approached a witness to ask them to give a statement in her favor.
"The principle therefore is they would not be granted (bail) where there is a real danger of witnesses being tampered with," Gopal Sri Ram told the court.
However, the judge granted Rosmah bail for 2 million ringgit ($482,509.05).
The money laundering charges carry a penalty of up to 15 years in jail and a fine of not less than five times the value of the proceeds of any illegal transfers, or five million ringgit ($1.21 million), whichever is higher.
Najib also appeared at another courtroom in Kuala Lumpur on Oct. 4 for a pre-trial hearing, as he faces multiple charges in relation to about $10.6 million allegedly transferred into his account from SRC International, a former unit of scandal-ridden state fund 1MDB. Najib has plead not guilty.
Malaysians have been outraged by the seizure of around $275 million worth of cash and goods, including a vast collection of Hermes Birkin and other designer handbags, jewelry and watches from properties linked to Najib and Rosmah.
1MDB is now the subject of money laundering probes in over six countries, including the US, Switzerland and Singapore.
Spending Habits of Malaysia's Former First Lady
Rosmah Mansor, has drawn questions over her spending habits and luxurious lifestyle from citizens grappling with a rising cost of living.
The Wall Street Journal reported credit charges of at least $6 million between 2008 and 2015 on Rosmah's shopping sprees in London, New York, and elsewhere.
In 2015, she faced public ire for complaining at having to pay 1,200 ringgit ($300) for a single hair-dyeing session, at a time when Malaysia's minimum wage was 900 ringgit a month.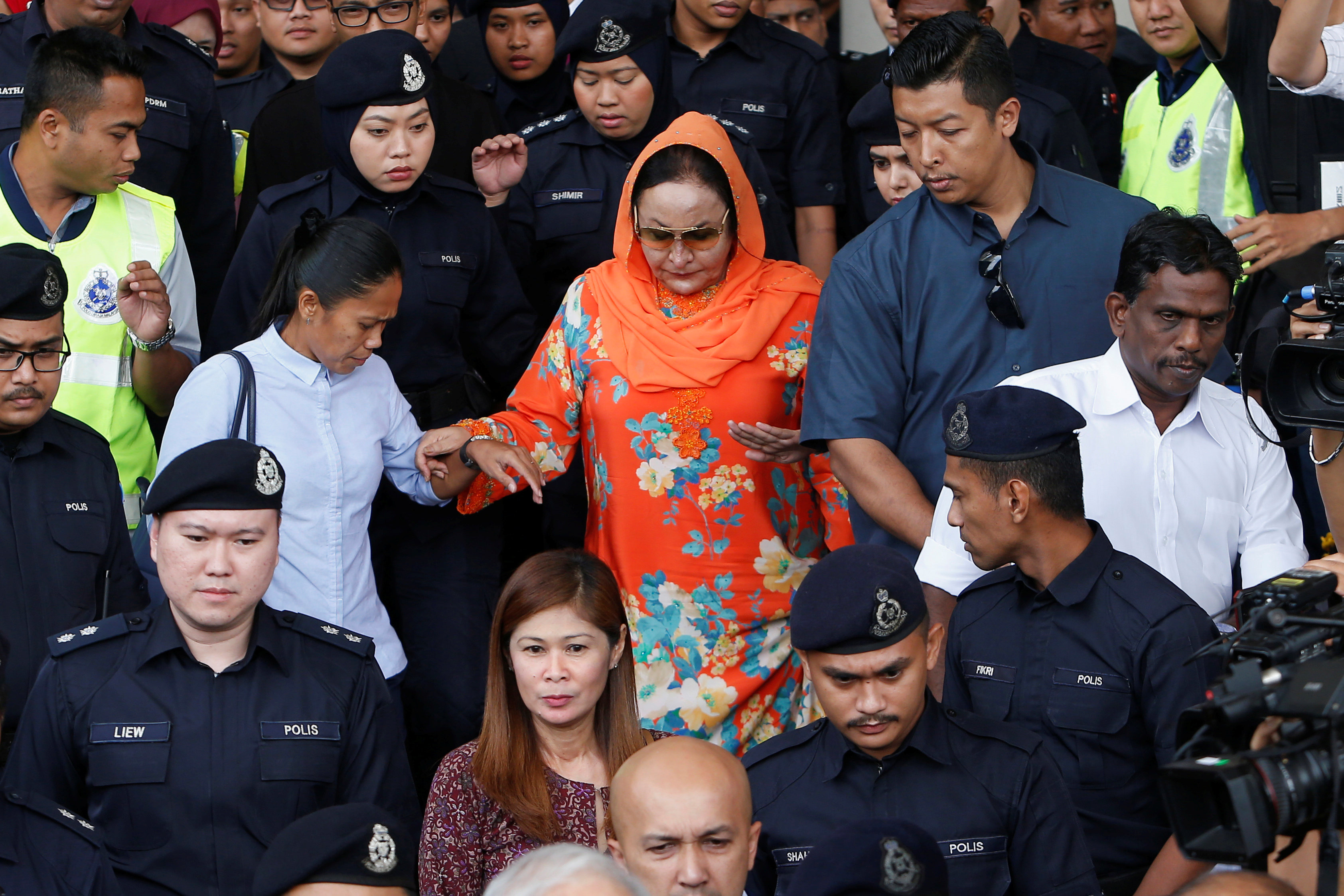 Rosmah's penchant for designer accessories has been a theme on Malaysian social media, particularly an array of handbags estimated to cost thousands of dollars each turned up by police searches at premises linked to the couple.
Police seized 567 luxury handbags, including 272 Hermes bags they said were worth nearly $13 million, in the raids. Najib has said most of the seized items were gifts.
In 2017, the U.S. Department of Justice (DoJ) said nearly $30 million from the fund, 1Malaysia Development Berhad (1MDB), was spent on jewelry for Rosmah, including a $27 million pink diamond necklace set. Najib told Reuters in an interview that his wife never received the pink diamond set.
Rosmah's Background
Born in 1951, she hails from Kuala Pilah, a town in Malaysia's southwestern state of Negeri Sembilan, and studied sociology and anthropology before taking a master's degree in the United States.
In 1987, Rosmah married Najib, then Malaysia's youth and sports minister, the second marriage for both. They have two children, and five stepchildren from earlier marriages. Najib became prime minister in 2009.
In 2011, news of a division in the prime minister's office devoted to the First Lady of Malaysia (FLOM) sparked anger from the opposition and public, prompting the removal of its website listing. The incident fed speculation that Rosmah's role in government extended beyond being the prime minister's wife.