Family and activists urged the Chinese regime to release renowned human rights activist Yang Maodong (pen name Guo Feixiong) and allow him to go to the United States to take care of family issues as soon as possible.
Guo's wife Zhang Qing, in her early 50s, passed away in Germantown, Maryland on the morning of Jan. 10. Their two children, Zhang's only family members, are in turmoil after losing their mother.
"The two children can't handle the funeral and related matters," Guo's sister Yang Maoping stated on Monday. She asked Guo to look after the particulars in the United States. However, Guo "disappeared" after he asked to leave China five weeks ago.
"We urge the Chinese regime to allow Guo Feixiong to come to the United States immediately without any condition," Chen Guangcheng, a well-known Chinese human rights activist and lawyer in exile, told The Epoch Times on Jan. 10. "He needs to take care of his wife's death."
"We demand the Chinese regime to immediately allow her husband Mr. Guo Feixiong to travel to the United States to comfort their two surviving children," Bob Fu, founder and president of ChinaAid, wrote in his statement on Monday.
Disappeared Activist
In the afternoon of Dec. 5, 2021, one of Guo's friends in China received a message from him saying that he was detained. Since then, no family member or friend has been able to reach Guo.
"Based on my experience, he [Guo] is detained in a black jail in China that is operated by the Chinese Communist Party (CCP)," Chen said.
Before his disappearance, Guo sent an open letter to Chinese Premier Li Keqiang on Nov. 29, 2021, in which he asked the premier to allow him to take care of his sick wife who lived in the United States. Activists believed that the regime detained Guo to silence him.
In the letter, Guo explained that his wife was diagnosed with phase IV colon cancer and underwent surgery in January last year. In November, Zhang suffered intestinal obstruction again, and it was determined that cancer had spread to other organs, and her situation was not operable.
"The cancer cells had spread to her liver, lungs, lymph nodes, and appendages [before she passed away]," Chen said in a phone interview.
Since Guo first heard that Zhang was diagnosed with colon cancer, he has tried to reunite with his family. However, he was intercepted at the airport when he tried to leave China.
On Jan. 28, 2021, Guo was stopped from boarding for a flight to San Francisco by border inspection officers at the Shanghai Pudong International Airport. He then disappeared for a long time.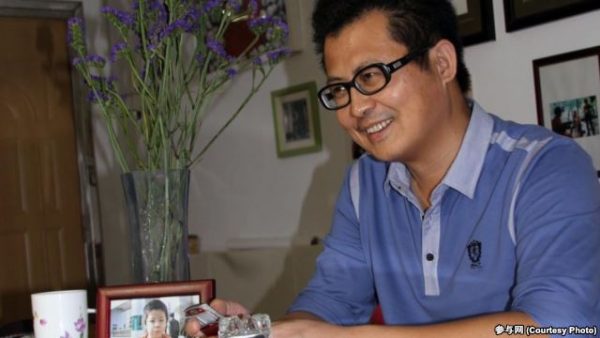 Guo Feixiong
Guo has a bachelor's degree in philosophy, and used to teach at a university in Wuhan, central China's Hubei Province. In 2001, He started to defend human rights in China, and has been detained several times because he spoke up for China's vulnerable groups, like villagers whose homes were demolished and Falun Gong practitioners who were detained and tortured because of their beliefs.
Guo was once sent to prison for five years (from 2006 to 2011) after he helped villagers from Taishi in Yuwotou township, Panyu District in Guangzhou city, southern China's Guangdong Province.
In 2013, Guo was detained again after he supported the reporters and editors from state-run magazine Southern Weekly, and was sentenced to six years in prison. The editorial staff had prepared articles praising Constitutionalism in the magazine's first edition in 2013. However, Guangdong Provincial Propaganda Minister Tuo Zhen didn't approve the draft and forced the magazine to change the content to praise Chinese leader Xi Jinping at the last minute.
The magazine was published with content that favored the regime, but it had many faults, such as bad grammar, typos, and inaccurate timing due to the last-minute-changes. The magazine's editorial staff then said in its paper and on social media platforms that the CCP led the media, and the media no longer had the right to publish what they want. The regime quickly censored related information and demoted the relevant editors.
To avoid persecution from the Chinese regime's collective punishments on family members, Guo's wife escaped China with their two young children in February 2009, arrived in the United States two months later, and obtained refugee status in November 2009.
Sherry Dong contributed to this report.