This article has been updated with the latest information.
In Hong Kong, a legislative debate on the controversial national anthem bill went ahead as scheduled on May 27, as local protesters decided not to surround the Legislative Council (LegCo) building as originally planned on social media.
On Wednesday morning, a large number of riot police were deployed to the Admiralty district where government offices are based, stopping and searching citizens. Water barricades were also set up around the LegCo building, preventing protesters from getting near.
While the mass protest at LegCo did not materialize, protesters took to different venues across Hong Kong. By 6 p.m. local time, about 300 people across the city were arrested, according to police.
Rights groups criticized the national anthem bill as a violation of freedom of expression. The bill stipulates that anyone in Hong Kong found guilty of actions such as "singing the [Chinese] national anthem in a distorted or disrespectful way" could face fines of up to HK$50,000 ($6,440) and three years in prison.
Protests Across the City
In the nearby business district of Central, police fired pepper ball rounds to disperse protesters at noon, after more than a hundred of them gathered to shout out slogans such as "Five Demands, Not One Less" and "Disband the Police Immediately," according to local media RTHK.
The Hong Kong Journalists Association soon issued a statement, condemning the police's behavior at Central, including forcing reporters to stop their live-streaming, preventing journalists from carrying out their jobs, and firing pepper ball rounds directly at a reporter.
And in the adjacent area of Causeway Bay, police fired pepper spray at protesters and stopped people for interrogation. Ivan Chan, a reporter with the Hong Kong edition of The Epoch Times, was also hit by pepper spray while covering protests in the area.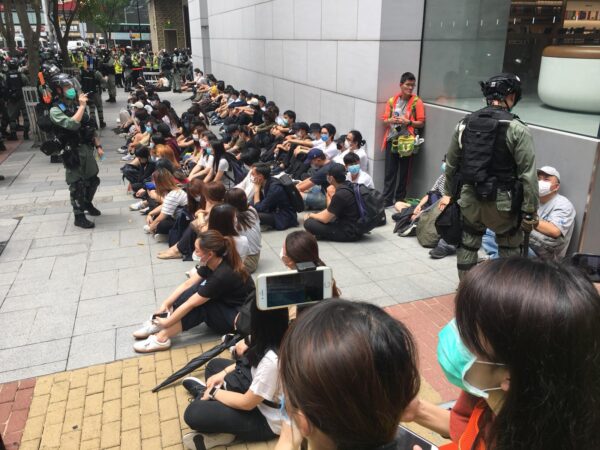 Police were on alert all across the city. In Kwai Chung, a residential neighborhood far from Admiralty, a 16-year-old man was stopped near a local police station at around 6 a.m. local time, after he tried to run away after encountering police officers, according to a police statement. He was then arrested for possessing a screwdriver, which the police said could be used for an "unlawful purpose."
At around 6:30 a.m. local time, the police arrested two teenagers in school uniforms at Tsuen Wan, another residential neighborhood. They were arrested for possessing helmets and gas masks, which the police said could be used for an "unlawful purpose."
At about 9 a.m. local time, a car was stopped in Wan Chai, an area not far from Admiralty. Five people in the car, a 32-year-old driver and four youngsters aged between 16 and 17, were arrested after police found helmets, gas masks, and gloves in the vehicle.
Helmets, gas masks, and umbrellas have been widely used by protesters since the start of the pro-democracy movement last June, as protection to shelter themselves from the police's tear gas and rubber bullets.
Protesters also gathered in the Pacific Place shopping center in Admiralty, and on the streets of Mong Kok and Wan Chai. According to two separate police statements, over 60 protesters were arrested in Mong Kok and over 50 in Admiralty for "illegal assembly."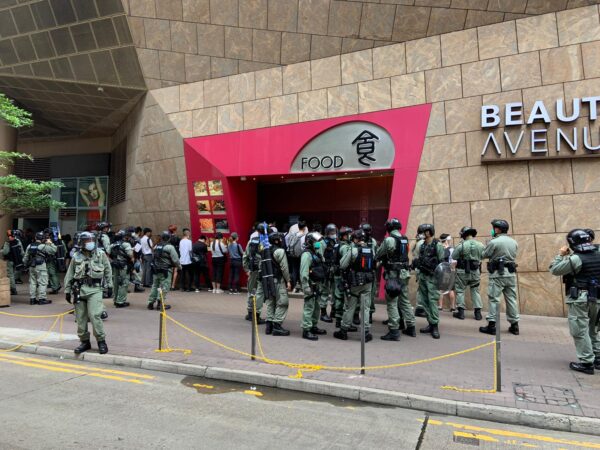 Tensions ran high as Hong Kong protesters vowed to push back against Beijing's plan for Hong Kong to adopt a "national security" law.
The law's draft, announced by China's rubber-stamp legislature National People's Congress (NPC) last week, opens up the possibility of Beijing's security agencies setting up operations in Hong Kong. Given the NPC's ceremonial role in promulgating the Chinese Communist Party's (CCP) policies, the law is expected to be enacted after a formal voting on May 28.
At around 8 p.m., a group of protesters convened in Mong Kok, engaging in cat-and-mouse chases with riot police. Some protesters set a fire to impede police action.
Debate
Currently, there are 70 seats in Hong Kong's LegCo, more than half of which are occupied by the pro-Beijing camp. In order for a legislative session to proceed, at least half (35) of all lawmakers must be present.
On June 12 last year, protesters surrounded LegCo in an attempt to stop the second reading of an extradition bill. The protest prevented many pro-Beijing camp lawmakers from entering the building, leading to the cancellation of a scheduled debate that day.
Anticipating a repeat of last year's protests, more than 20 pro-Beijing camp lawmakers, including LegCo President Andrew Leung, arrived at the building on May 26 evening and spent the night there, according to Hong Kong media.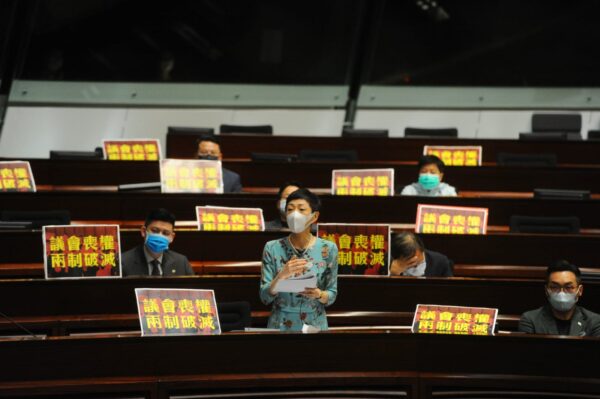 The legislative debate began at 11 a.m. as scheduled, with pro-democracy lawmakers expressing their concerns.
Lam Cheuk-ting of the Democratic Party questioned a part of the bill regarding "promoting the spirit of patriotism." He argued that the CCP has confused the concept of "loving the country" and "loving the Party;" thus, Lam argued that the language of patriotism should not be included in any legislation.
Tanya Chan of the Civic Party said the bill poses a threat to people's freedom of speech.
The Hong Kong edition of The Epoch Times contributed to this report.