The penguins from the "Madagascar" franchise starred in their own movie; now it's the minions of the "Despicable" movies turn.
Can they handle it? Oh yes! Yellow minions, like blue smurfs, are here to stay! They just busted the animated-film, all-time box office record already! Soon they'll be irreversibly part of the vernacular. Show up in rap lyrics, even.
What is it about minions that produces adult giggling?
The pretty fun, even for adults, "Minions" is about the history of them. How they flourished like little yellow krill in the primordial soup and then, on land, immediately banded together as one body of banana-hued, goggle-and-overalls-uniformed, pseudo-French-babbling Tic Tacs, in binocular and cyclops versions.
What Does a Minion Do?
Minions serve masters. We're shown the history of the "many lives, many masters" (Geoffrey Rush narrates) that minions have lived for and served. This, you see, is where the famous book of the same name came from.
Trouble is, the minions keep terminating their masters with boneheaded moves of unparalleled non-coordination—like accidentally tipping Master T-Rex into a molten lava pit.  
After a prolonged stint during the ice age where they served a few yetis, minions Kevin, Stuart, and Bob take it upon themselves to venture forth from their ice cave.

The thing of it is, minions, being a form of Hitler Youth, thrive on serving evil, dastardly masters. Which doesn't mean they, themselves, are bad; they just can't help themselves! So, as mentioned, finally bored with centuries of snowball fights, Kevin et al, hatch a plan to go find a good, evil master.
Off they go, soon thereafter arriving in New York City, circa 1968—cue early Rolling Stones song. They discover there's a "Villain-Con" happening down in Orlando. What's that? Comic-Con—Villain-Con! Duh?
So they hitchhike down there to see if they can score a villainous master. And it is here that they meet the Sandra Bullock-voiced Scarlet Overkill, who has a hoopskirt that houses a rocket ship, some gatling guns, and some bombs! Hence, her name!

The three teammates in servitude apply for the Overkill minion job, and wonder-of-wonders—they're hired.
Scarlet has a modest dream: She wants to be the queen of England, so she's going to try and steal the Crown Jewels. But Bob at one point, for various reasons, manages to pull Excalibur from the stone and is thereupon immediately knighted by Her Royal Highness—to be the king of England!

All hail King Bob! Royal Tic-Tac of the British Empire! Imagine that! And Kevin somehow grows to be the size of the Tower of London! And the yellow-colored minions say, "Doot-da-doot-banana-cantata-bolero-ahoy! Yo soy mojito? Heh-heh-heh-kumbayaaa!!
But now Scarlet's furious! She's been thwarted! How will our tiny, lemon-like heroes fare against her hoopskirt of mass destruction?

What Is It About a Minion?
One starts chuckling the minute the minions start singing the Universal Pictures theme, which produces an adult "That's-so-dumb-why-am-I-laughing?" frame of mind. What is it about minions that produces adult giggling?
They may have staked a claim as a cultural phenomenon probably just because "Minions" is a fun word to say. Like, "The boss's minions," or "John's minions." You know? And so, to have created a race that specifically embodies minion-ism was an idea waiting to happen.
The classic minion-moment is from the trailer for the last movie: The master pompously proclaims, "Monsieur Ramsbottom!" Whereupon one minion raises an eyebrow, slyly looks at another, and says, "Heh-heh-heh … 'bottom!" And there ensues much unabated giggling!
Why? Because who are minions, really?! They're metaphors for very young children of humans! Yes! We've suddenly discovered the true nature and essence of minions.

But what makes yellow Tic-Tac toons compel parents to pay attention and not sack out, comatose, eyes rolled back, sawing big logs, with fallen bags of popcorn cutting swaths across movie theater aisles?
It must be the case that they script all those unintelligible conversations because minions always know exactly what they're talking about, plus their talk is then translated into an amalgamation-gibberish of French, Italian, Spanish, and English. And then they give you just enough punny hints to make you think you're deciphering a code—so you feel smart! Not to mention the kids feel smart!
A Good Summer for the Kiddies
In my review of Pixar's brilliant "Inside Out," which assigns a color to each of the little anthropomorphic emotions that live in a little girl's brain, I pointed out how the character of Joy—is colored yellow, quite possibly based on the four, ancient Greek temperaments of human beings, where the flighty, hyper, sanguine temperament is associated with the color yellow and the emotion is happiness. Who else do you know that's yellow? You know Kevin.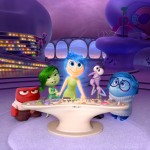 And what's the predominant emotion of yellow Tic-Tac toons? Happy-happy-joy-joy! Unless a master croaks—in which case, they flip into morose depression. But 20 seconds later, there's joy again! And that is the essence of childhood.
Pixar's "Inside Out" is an emotional roller coaster that's guaranteed to affect adults as well as kids, but Dreamworks' "Minions," while not as visually amazing as the aforementioned, is predominantly for the kiddies.
The only foreseeable problem with this movie is that parents are going to have to be dealing with wee ones mimicking minion-ese for as long as this franchise shall flourish.
Then again, we spotted a Facebook posting last October of a proud mom's impeccably manufactured minion Halloween costume with an adorable tot peering out of it. You know you've made it in America when mommies make you into a Halloween costume!
'Minions'
Director: Pierre Coffin
Starring: Sandra Bullock, Jon Hamm, Michael Keaton, Geoffrey Rush, Steve Coogan, Jennifer Saunders
Running Time: 1 hour 31 minutes
Release Date: July 10
Rated: PG
3 stars out of 5