Commentary
Globalization is not necessarily a bad thing. Current problems aside, the globalized supply chain is largely a win-win. It permits manufacturers in some countries to pick and choose the best subcontractors and components, while allowing companies in other states to specialize and build up core competencies.
Consequently, we have "world cars," with parts produced around the world and then assembled in one or more countries. Production of smartphones and personal computers are similarly globalized.
Admittedly, globalization has its shortcomings, particularly in terms of outsourcing jobs or exacerbating the kind of supply chain problems we are currently experiencing. But in general, globalization has been good for manufacturers, suppliers, and, above all, consumers.
Some types of globalization, however, are coming under growing criticism, particularly when it involves China. Increasingly, China is seen in the West as an unreliable partner, seeking mainly to use globalization as a means to acquire technologies for its own gain and to eventually displace its Western associates.
Nowhere has this been more evident than in Chinese efforts to break into the large civil jetliner business. As noted in earlier commentaries, Beijing currently has two commercial passenger jets in development, the 70 to 90-seat ARJ21, and the 160-seat C919. Of the two, the C919 is more important, since it directly competes with the Boeing 737 and the Airbus A320, two of the most commonly used passenger jets.
Both of these programs depend heavily on parts, components, subsystems, and technical assistance from the West; otherwise, they just wouldn't happen. China simply lacks the technology and the talent to develop commercial jetliners on its own.
Western aerospace firms in North America and Europe have been more than happy to plug these gaps. American companies, such as Goodrich, are providing the landing gear for the C919, while Rockwell Collins is supplying the plane's communications, navigation, and surveillance gear. Other U.S. subcontractors include Honeywell (flight controls, auxiliary power units, wheels, and brakes), Hamilton Sundstrand (cockpit controls and electric power generation equipment), and Parker Aerospace (fuel systems and hydraulics). The German-Swiss company Liebherr is supplying the C919 with air management systems.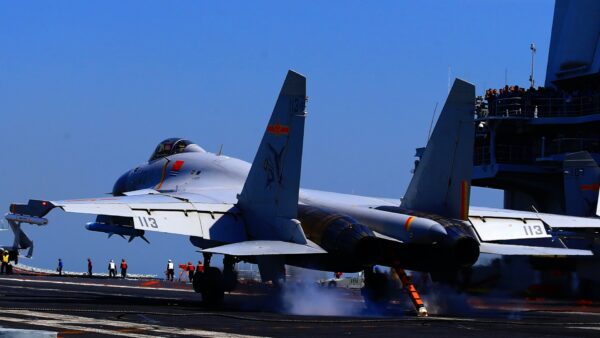 Most critically, GE and the French company Safran, through their CFM International joint venture, are supplying the engine, nacelles, thrust reversers, and engine controls for the C919.
It is the same for the ARJ21. More than 20 overseas firms are partnering on this plane, including GE (engines), Rockwell Collins (avionics), Liebherr (landing gear), and Parker Aerospace (flight controls). In addition, the ARJ21's wing was designed by the Antonov Design Bureau of Ukraine.
In fact, it is estimated that only 25 percent of the overall value of C919 is actually Chinese, mostly in the manufacture of the fuselage and wings, as well as final assembly.
Moreover, Beijing has mandated that most of these foreign components and subsystems ultimately be manufactured in China through joint ventures (JVs). There are at least 14 international JVs supplying the C919 program. For example, CFM International has been asked to build a final assembly line in China to produce the engine for the C919. In addition, Chinese firms must hold at least 51 percent of the shares in these JVs.
It should surprise no one to hear that China's ultimate goal is to "own" the technology outright. According to a study by Tai Ming Cheung, this strategy is termed zizhu chuangxin, or "innovation with Chinese characteristics" (sometimes translated as "indigenous innovation" or "self-reliant innovation"). Cheung argues that zizhu chuangxin is a "core aspiration" of China's political and military leadership.
Cheung identifies four stages in this process of zizhu chuangxin, which he dubs IDAR: introduce, digest, assimilate, and re-innovate. In this case, globalization—the use of foreign partners to supply technology and expertise—is a critical means by which China tries to acquire advanced know-how and then indigenize it. The most common methods are reverse-engineering, intellectual property theft, or simply convincing a foreign company to put in money, technology, and know-how into a prospective JV, only to have the Chinese partner abscond with the assets.
As such, Western companies run the risk of creating a new competitor, in this case, helping China design, manufacture, and export commercial airliners that would compete with Boeing and Airbus. At the very least, locally produced aircraft could likely take a huge chunk of the Chinese market for passenger jets—this is mostly because local airlines are being strong-armed to buy the ARJ21 and C919. China is the largest single market for commercial airliners. Boeing forecasts that China will buy 8,700 new aircraft—valued at nearly $1.5 trillion—over the next 20 years.
Should China try to export the C919, it could very likely undercut Boeing and Airbus on price, carving out a lucrative niche for itself in the low-end commercial airliner business.
So why should the West help Beijing cut into this highly profitable market, particularly when China is so heavily dependent still on foreign technology and subsystems? The short-term gain of selling advanced subsystems and know-how to China will only be offset by market competition from China over the long term.
In fact, it is already apparent that the West can hold up Chinese civil airliner programs. Earlier this month, officers at COMAC (China's commercial aircraft company) admitted that the C919 would be unable to meet its goal of carrying out all of its certification tests by the end of year. COMAC has so far only completed 34 out of 276 planned tests.
The blame, in fact, has been put on tougher U.S. export controls imposed in 2020, which in turn have restricted the supply of critical systems and spare parts to the C919 program.
Decoupling Western suppliers from China's commercial aircraft programs would likely be very damaging to Beijing's ambitions. At the same time, it should be obvious to these companies that continued collaboration with China on passenger jets will result in diminishing returns. It is time for the West to reevaluate the benefits of continuing to collaborate with Beijing on such high-tech projects like commercial aircraft.
Views expressed in this article are the opinions of the author and do not necessarily reflect the views of The Epoch Times.