The World Health Organization (WHO) declared a public health emergency of international concern on Jan. 30 as the coronavirus outbreak continues to spread globally.
The organization held discussions for two days last week on the virus but stopped short of declaring a global health emergency at the time. Since then, a number of new patients who didn't visit China have been diagnosed in Japan, Germany, Vietnam, and Taiwan.
WHO director-general Tedros Ghebreyesus traveled to Beijing and met with Chinese leader Xi Jinping to discuss the outbreak, which is centered in Wuhan, Hubei Province. Chinese regime officials have ordered the lockdown of Wuhan and most other cities across Hubei in an attempt to quarantine the area, affecting tens of millions of people. Most forms of transportation have been banned.
"Our greatest concern is the potential for the virus to spread to countries with weaker health systems, and which are ill-prepared to deal with it," Ghebreyesus said Thursday. "I am declaring a public health emergency of international concern over the global outbreak," he remarked.
"The vast majority of cases outside China have a travel history to Wuhan, or contact with someone with a travel history to Wuhan," he said, adding that there have been no deaths outside of China.
The declaration of a Public Health Emergency of International Concern has only been done five times in the past decade, including outbreaks of Ebola in Africa, the Zika virus outbreak, and the 2009 swine flu outbreak. The coronavirus is in the same family of viruses as SARS or the common cold.
WHO describes the move as "an extraordinary event which is determined to constitute a public health risk to other States through the international spread of disease and to potentially require a coordinated international response."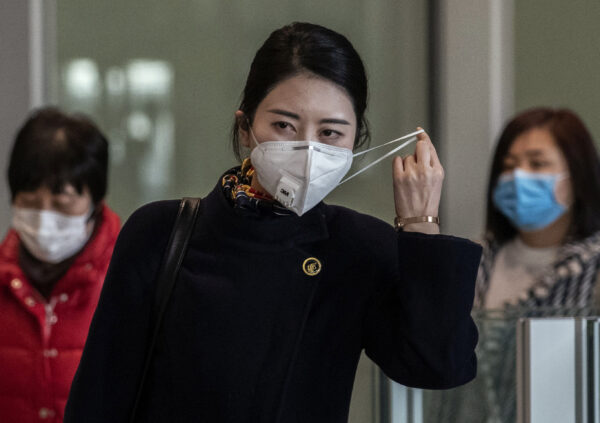 Travel Restrictions in Debate
During the press conference, Ghebreyesus said the agency "opposes any travel measures against China," adding that "we don't punish" the Chinese government, which according to the WHO chief is "doing more than it is required to do."
Since the escalation of the outbreak, other countries and regions have imposed varying degrees of travel and trade restrictions with China in an effort to stem the spread of the disease.
Some around a dozen countries have either closed borders or imposed visa or other travel restrictions to China. Tech giants such as Google, Apple, Amazon, and Facebook have also told their staff not to travel to and from the country.
U.S. Sen. Tom Cotton (R-Ark.) dismissed the idea that travel restrictions constitute a form of punishment.
"Shutting down travel to China isn't 'punishing China'—it's protecting our own citizens," he told The Epoch Times in an email.
"The United States must immediately shut down commercial air travel between our country and the Chinese mainland," he said.
Several major airlines confirmed they would suspend some or all flights to China, including United Airlines, American Airlines, British Airways, Delta Air Lines, and Lufthansa. Starbucks also shut down half of its China branches in concerns of the illness.
The State Department and the Centers for Disease Control and Prevention (CDC) have called on Americans to avoid "nonessential travel" to China and cautioned citizens not to go to Hubei Province.
"[The WHO] went to great lengths to praise China's efforts so far to bring the epidemic under control, I think they are at great pains to say: do not penalize China do not cut off trade do not cut off travel," Laurie Garrett, a global health policy analyst who won a Pulitzer prize for her coverage of the 1995 Ebola outbreak, told The Epoch Times.
"In real terms, however, most of the airlines and hotels are going to suffer because passengers are afraid to go to China."
Cases of the virus outside of China have been confirmed by U.S. health authorities in around 20 countries and regions, including Hong Kong, Taiwan, Macau, Australia, Cambodia, Canada, France, Germany, Japan, Malaysia, Nepal, Sri Lanka, Singapore, Thailand, South Korea, United Arab Emirates, the United States, and Vietnam.
The Chinese regime had on at least two occasions declined offers from the CDC of outbreak assistance, according to U.S. Secretary of Health Alex Azar.
The United States has confirmed six cases of the virus so far: two in California, one in Washington state, two in Illinois, and one in Arizona. The sixth patient, a Chicago resident, contracted the disease from his spouse who recently returned from Wuhan—marking the first case of human-to-human transmission in the United States.
On Wednesday, President Donald Trump confirmed he was forming a coronavirus task force made up of top health, transportation, and national security officials, who will work to prevent it from spreading in the United States. Assistant Health Secretary Brett Giroir on Thursday said there has been an "all-hands-on-deck effort" to address the "dynamic, rapidly changing event."
Meanwhile, the United States flew 195 of its citizens back home from Wuhan, who are currently in isolation at a military base in California. Japan also evacuated 206 citizens and found three tested positive for the virus, the Japanese government said on Thursday. There are now 14 confirmed coronavirus cases in Japan, and two patients showed no symptoms, according to officials.
The State Department said on Thursday it would be sending more flights for the remaining U.S. citizens in Wuhan.