WASHINGTON—White House Press Secretary Sarah Sanders said on Thursday that the Trump administration welcomes efforts by lawmakers to look into bump stocks and related devices.
"We know that members of both parties and multiple organizations are planning to take a look at bump stocks and related devices. We certainly welcome that, we'd like to be part of that conversation," Sanders said.
She said the administration would like to get a clear understanding of the facts as well as obtain input from victim's families, law enforcement, and policymakers.
Sanders also said that the main focus of President Donald Trump has been on uniting and healing the country.
Days after the deadliest mass shooting in modern U.S. history, Republican lawmakers are calling on Congress to investigate bump stocks, which were used by the shooter to make his weapons fully automatic.
Mass murderer Stephen Paddock had installed bump stock devices on multiple rifles that he used to carry out the attack. Paddock killed 59 people and injured over 500 from his hotel room in Las Vegas when he opened fire on a country music festival.
A bump stock is a modified stock (the part of the gun set against the shoulder) that allows the shooter to press the trigger repeatedly at a high rate. It includes a grip that keeps the trigger finger at a static position.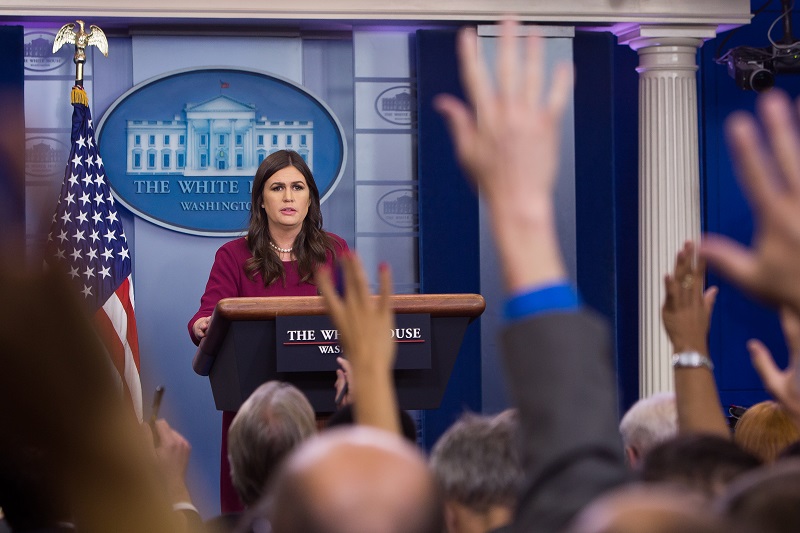 As a round is fired, the recoil sends the body of the gun back, where it slides about an inch inside the modified stock and the trigger is pressed against the finger again.
The controversial device was approved by the Bureau of Alcohol, Tobacco, Firearms, and Explosive under the Obama administration in 2010.
The argument for the legality of bump fire stocks was that the rifle itself remains semi-automatic. The stock only helps the shooter press the trigger much faster.
Speaker of the House Paul Ryan said that he had not heard of the device before the mass shooting in Las Vegas earlier this week.
"I don't even know what they were until this week and I'm an avid sportsman," Ryan told MSNBC.
"I think we're quickly coming up to speed with what this is, fully automatic weapons have been banned for a long time and apparently this allows you to take a semi-automatic, turn it into a fully automatic, so clearly that is something we need to look into," Ryan said.
Automatic weapons were banned under the Firearm Owners' Protection Act of 1986.
Other prominent Republicans have also said they support a ban on the device.
Former Republican Speaker of the House Newt Gingrich said it was "common sense" for Congress to consider new legislation that would ban the device.
Gingrich called for laws to catch up with new technology.
"Look, if there is something that makes it easy to convert a semi-automatic into an automatic, then maybe that does have to be looked at and put under the Federal Firearms Act, which makes it illegal to have a genuinely automatic weapon," Gingrich told Fox News.
Sen. John Cornyn (R-Texas) said it would make sense for Congress to look into the matter.
"I own a lot of guns, and as a hunter and sportsman, I think that's our right as Americans, but I don't understand the use of this bump stock," Cornyn said.
"It seems like it's an obvious area we ought to explore and see if it's something Congress needs to act on."
Other Republican senators such as Lindsey Graham (R-S.C.) and Marco Rubio (R-Fla.) have also said they are open to legislation on bump stocks.
The National Rifle Association (NRA) said on Thursday it supported additional regulations on bump stocks.
With reporting by Charlotte Cuthbertson