The newly-appointed White House press secretary broke through North Korean security on June 30, making way for American media to cover a meeting between President Donald Trump and North Korean Leader Kim Jong Un.
Press Secretary Stephanie Grisham got hands-on with security about an hour after Trump stepped onto North Korean territory and shook hands with Kim: a gesture South Korean President Moon Jae-in called "truly historic."
Unbelievable to watch our @potus @realDonaldTrump work so hard on behalf of this country over the past few days (and always!) History was made today – honored to witness it. 🇺🇸 https://t.co/TgCzpKhWYB

— Stephanie Grisham (@StephGrisham45) June 30, 2019
A meeting was held at the Freedom House on the southern side of Panmunjom in South Korea after the two leaders greeted each other on June 30. Inside, North Korean security physically blocked American media from entering the meeting room, but after Grisham's compelling move, the United States Secret Service stepped in to intervene.
WATCH: WH Press Sec. Stephanie Grisham fighting for press access in North Korea.

The American press should give her the credit she deserves! pic.twitter.com/MMSgP9HoUm

— Official Team Trump (@TeamTrump) June 30, 2019
Grisham reportedly ended up with bruises from the scuffle. This is her first week as the 30th White House Press Secretary.
Meeting With North Korean Leader
"We had a very good meeting with Chairman Kim," Trump told reporters. "This was a very legendary, very historic day."
The president said that teams from the two nations will continue talks concerning North Korea's nuclear weapons program. He said that he hopes a comprehensive deal can be reached, but added that he isn't looking for a quick fix: "We're not looking for speed. We're looking to get it right."
Sanctions on North Korea will remain, Trump said, also adding that "at some point during the negotiation, things can happen," alluding to the possibility of scaling them back.
The meeting between the two leaders emerged after Trump asked Kim if he would be willing to meet, shake hands, and say hello at the Korean Demilitarization Zone (DMZ)—a tweet that reportedly surprised the North Korean leader.
After some very important meetings, including my meeting with President Xi of China, I will be leaving Japan for South Korea (with President Moon). While there, if Chairman Kim of North Korea sees this, I would meet him at the Border/DMZ just to shake his hand and say Hello(?)!

— Donald J. Trump (@realDonaldTrump) June 28, 2019
Kim said the invitation was "an expression of his [Trump's] willingness" to create a new future. He added that it would be an honor if Trump visited Pyongyang, North Korea's capital.
South Korean President Moon Jae-in joined the two for a brief chat once Kim and Trump made their way back to the southern side of the DMZ. Adviser to the President Ivanka Trump and Senior Adviser Jared Kushner attended the meeting.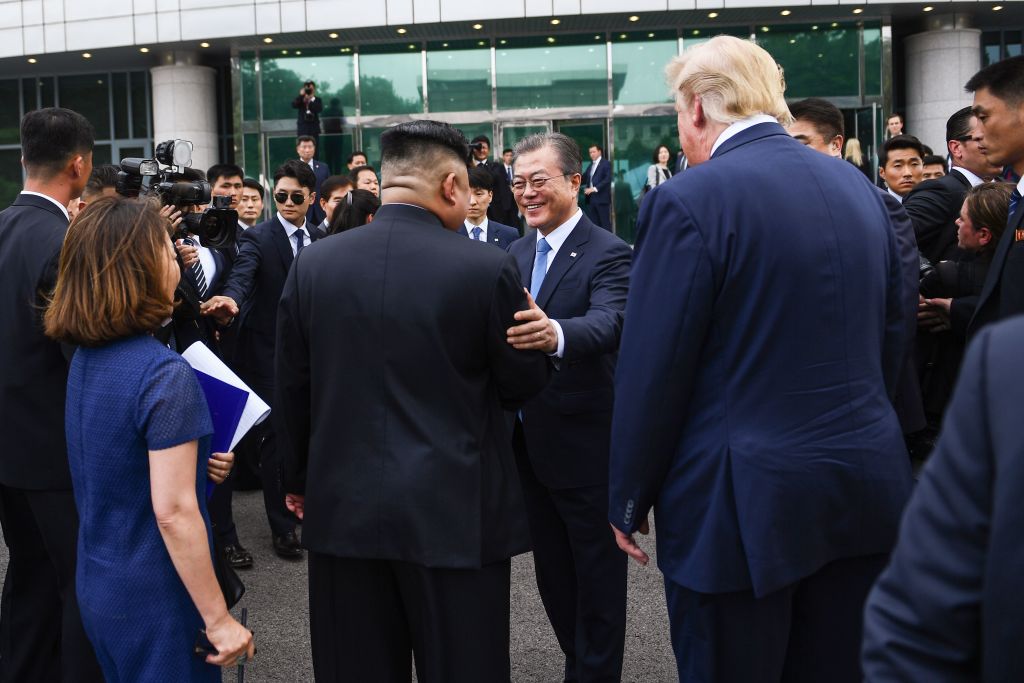 Display of Peace Beyond the DMZ
Although the president's historical display of peace across the border is being lauded, he did criticize the "Fake News media" earlier that day for failing to report on the changes made to the DMZ since the Singapore-summit in June 2018.
"It's day and night," said Trump. "North Korea and South Korea are both in much better places than they were two and a half years ago."
He said that Americans thought World War III would erupt if he was elected president because they believed he was a "tough 'war monger.'"
But Trump has his own opinion about this: "Had President Obama, or somebody like President Obama … had it worked that way, I honestly believe you would have been at war with North Korea."
The Associated Press, Reuters, and Epoch Times reporters Emel Akan and Melanie Sun contributed to this article
From NTD News