British Prime Minister Boris Johnson has pledged to unite with Western allies to impose a massive package of sanctions designed to "hobble the Russian economy" in response to Russia's "hideous and barbaric" attack on Ukraine.
Following Russian President Vladimir Putin's announcement of a "special military operation" in Ukraine in the early hours of Thursday, explosions have been reported across the country, including in the capital Kyiv, as well as in other cities, including Kharkiv, Mariupol, and Odessa.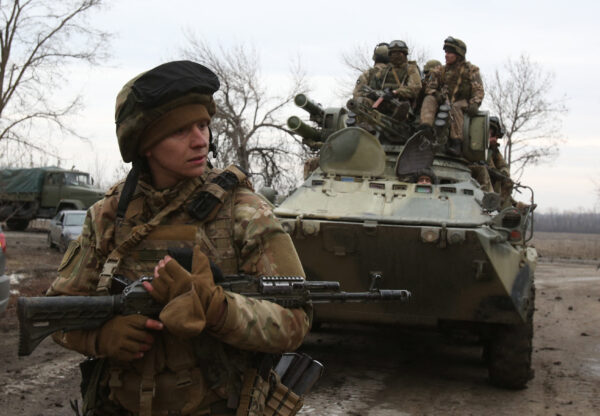 In a televised address to the nation at midday on Thursday, Johnson vowed that Britain "cannot and will not just look away" and allow the freedom of Ukraine to be "snuffed out" as Moscow hit its neighbour with a wide-ranging attack.
Johnson said Western allies will "agree a massive package of economic sanctions designed in time to hobble the Russian economy."
"To that end, we must also collectively cease the dependence on Russian oil and gas that for too long has given Putin his grip on Western politics," he said.
He added: "Our mission is clear. Diplomatically, politically, economically, and eventually, militarily, this hideous and barbaric venture of Vladimir Putin must end in failure."
The prime minister said the UK stands with Ukraine in its "moment of agony."
He said: "For all his bombs and tanks and missiles, I don't believe the Russian dictator will ever subdue the national feeling of the Ukrainians and their passionate belief that their country should be free."
Putin has threatened that any foreign attempt to interfere with Russia's action will trigger an immediate reaction from Russia, and will lead to "consequences they have not seen before."
In reference to Putin's threat, Johnson said the government will "do everything to keep our country safe."
He said the UK will work with allies to "ensure that the sovereignty and independence of Ukraine is restored," because "this act of wanton and reckless aggression is an attack not just on Ukraine" but "an attack on democracy and freedom in Eastern Europe and around the world."
The prime minister spoke from Number 10 Downing Street after chairing an urgent meeting of the government's COBRA emergency committee on Thursday morning, and is scheduled to speak to the House of Commons in the evening.
Foreign Secretary Liz Truss said the UK is "urgently convening discussions" with allies and partners and will "hold the Russian government to account."
PA Media contributed to this report.