TIFF Review: 'We Are The Best!' Lives Up to Its Name
September 18, 2013 9:14 pm Last Updated: September 26, 2014 12:58 pm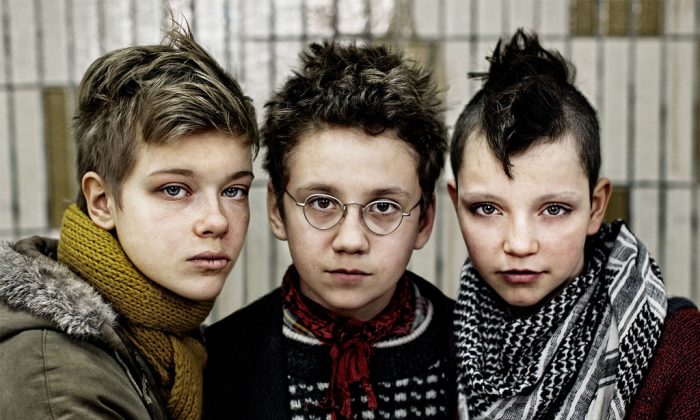 TORONTO—"We Are The Best!" is the earnest, mischievous, and delightful story of three young girls who build an unlikely friendship through an even more unlikely punk rock band.
The latest film by Swedish director Lukas Moodysson made its North American premiere at TIFF on Sept. 9, earning a warm response from the critics and industry folk who took in an exclusive screening the day before.
"We Are the Best!" begins as the tale of two outcasts in 1980s Sweden—young girls devoted to a punk ideal that eschews the bangs and leotards of their classmates for a mohawk and boyish frump. 
Knowing little more than what bands they like, the two decide, as a hoax, to start their own band which soon becomes an earnest effort. Along the way they enlist Hedvig, a born-again Christian and masterful guitar player.
Klara, played by Mira Grosin, leads the pack. An energetic and zealous adherent to the ideology of punk, she is gleefully bold and shameless when it comes to chasing her desires, be it a boy punk, or begging on the street for change to buy a guitar. 
Bobo, played by Mira Barkhammar is, in some ways, the outcast of the outcasts. Often sad and feeling deprived, she is the most boyish of the girls, and the odd one out when the trio meet up with two boys. She also has the least support at home, with a mother who still plays spin the bottle and chats on the phone about her latest tryst gone bust. 
Hedvig, played by Liv LeMoyne, is the late comer, recruited after Klara and Bobo realize they will need more than coherent lyrics, haphazard guitar chords, and an off-time drum beat to constitute a real band.
Older than the other two, Hedvig grounds the group, bringing patient instruction to the younger misfits and playing referee when Klara and Bobo have a falling out over a shared love interest.
Hedvig's mother is supportive and understanding, while Klara's parents match her own rambunctiousness. They are affectionate, embarrassingly interested in her activities, and "cool" according to Bobo.
Swedish and subtitled, the dialogue and action of the film are charmingly innocent and a joy from start to finish. 
In the press notes Moodysson says he wanted to make a happy film, and with "We Are the Best!" he definitely succeeded.
The only shortfall would be the subtitles themselves, which sometimes pre-empt the comedic timing of the action on screen. Some on-screen exchanges don't seem to even register in the subtitles.
It's a small point though, and in no way detracts from a film adults will love and can share happily with younger viewers.
Magnolia Pictures announced Wednesday that they had acquired the US. rights for the movie and will release it in 2014. It will be released in Sweden on Oct. 11.