Parts of England and Wales are facing a second heatwave later this week amid raising concerns about water shortages caused by this summer's drought.
Last month, temperatures exceeded 40 degrees Celsius (104 degrees Fahrenheit) for the first time on record and, while the weather won't be as hot, the Met Office has put out an amber warning for extreme heat from midnight on Aug. 11 through Aug. 14.
The Met Office stated that temperatures could climb to 35 degrees C (95degrees F) or even 36 degrees C (97 degrees F) in some parts of southern England and Wales.
The UK Health Security Agency has advised people to look out for elderly neighbours and relatives or those with existing health conditions.
Elderly Advised to 'Stay Hydrated'
Dr. Agostinho Sousa, from the UK Health Security Agency, told the BBC: "The most important advice is to ensure they stay hydrated, keep cool, and take steps to prevent their homes from overheating."
Months of low rainfall have left parts of England and Wales facing drought, and hosepipe bans were introduced in Sussex, Kent, and Wales last week.
The village of Northend in Oxfordshire was the first in the country to run out of water. Thames Water supplied bottled water to residents after a "technical issue" at nearby Stokenchurch Reservoir.
The firm later stated, "We're continuing to use tankers to pump water into the local supply network and working on other ways to boost supplies to the area."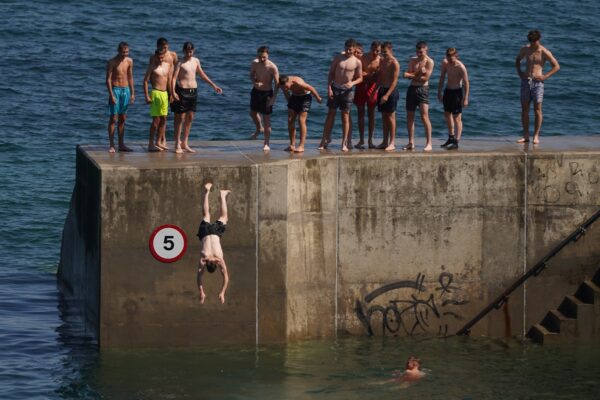 Thames Water, which supplies 15 million customers across London, Buckinghamshire, and Oxfordshire, stated that it would consider a hosepipe ban if the hot and dry weather persists.
Several grass fires have broken out in the heat, and people have been urged to resist the temptation to cool off in lakes and ponds after a 14-year-old boy drowned in a lake near Cheshunt, Hertfordshire.
The Metropolitan Police say a search is also underway for a man in his 20s who went for a swim in a lake in Hounslow, West London.
PA Media contributed to this report.