Police in Kansas were recorded breaking a puppy out of a hot car after the owner lost her keys.
Scott Poore, who works at the Great Plains SPCA animal shelter, shared a Facebook Live video of the rescue.
"I've been here for about 40 minutes and there's a vehicle with a dog that looks about one to two months old," Poore says in the clip. "It's been in the car the entire time" in 90 degree weather, which is around 120 degrees inside the car.
The Merriam Police Department carried out the rescue by breaking open the door of the vehicle. Three officers were called to free the puppy.
"The icing on the cake is that we're at Home Depot, which allows dogs inside … it's in a crate in the back seat," Poole said. "Just unbelievable."
The shelter seemingly responded to the video and rescue, offering a reminder to pet owners "to please keep your pets at home when the weather is as hot as it is."
"While it may seem like a good idea to take them on errands with you, a pet can die in a hot car in the minutes it takes you to run inside a business," the Great Plains SPCA says.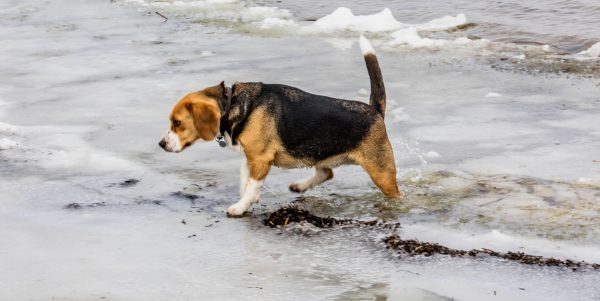 The Humane Society also says that it's never safe to leave pets inside locked cars.
The website gives tips on what to do when a pet is seen left inside a hot car.
It says: "Take down the car's make, model and license plate number. If there are businesses nearby, notify their managers or security guards and ask them to make an announcement to find the car's owner. Many people are unaware of the danger of leaving pets in hot cars and will quickly return to their vehicle once they are alerted to the situation. If the owner can't be found, call the non-emergency number of the local police or animal control and wait by the car for them to arrive. In several states good Samaritans can legally remove animals from cars under certain circumstances, so be sure to know the laws in your area and follow any steps required."
It also noted that rolling down the window doesn't have much effect in reducing the temperature inside the car.
Hot Car Laws
Arizona in 2017 passed a new law that aims to end hot car deaths from happening.
Dubbed the "hot car bill" also known as the House Bill 2494, allows people to rescue children and pets from being trapped inside hot cars by smashing windows or breaking in if there is no other way to rescue the child or pet.
The main aim is to allow good Samaritans nearby to take action and be protected by the law when they see a hot car casualty, according to ABC 15.
If someone sees a hot car incident, the first thing they have to do is call 911 and then check if the doors are locked. Even if it's locked, they are allowed to smash a window or break into the vehicle to free the child or pet trapped inside.
As soon as a helpful passerby has done all the above steps, they must then wait at the scene until first responders arrive.
Arizona Gov. Doug Ducey, said in a recent state speech that he would sign any bill that would protect the good Samaritans.
"All it takes is a good Samaritan to save a life. To be on the lookout, see movement, take action, and stop another death. The last thing we'd want is any Arizonan worried about breaking into that car to save a life. Send me a bill protecting the good Samaritans who save the lives of children and pets—and I'll sign it," he said.
According to the bill's description, any person who uses reasonable force to remove a child or domestic animal from a locked car "is not liable for damages in a civil action suit" but only if they follow certain conditions.
NTD contributed to this report.