A nursing home near Seattle announced Sunday that it is locked down after a worker and resident were found to have COVID-19 disease, said officials at the home, as two other cases were confirmed in King County on the same day.
The Life Care Center in Kirkland, Washington, said that "all visits to the facility from families, volunteers, or vendors are not allowed." At the same time, it has put a hold on new admissions to "fully focus on our current residents and associates," according to the firm.
"Current residents and associates are being monitored closely. As can be normal this time of year, there are various cold and flu-like symptoms being exhibited from residents and associates. We have seven residents who are showing symptoms of some sort of respiratory illness. These are not confirmed cases of COVID-19," the home said in a statement at around 5:30 p.m. ET on Sunday.
The home said it is now following sanitary recommendations laid out by the Centers for Disease Control and Prevention (CDC) and was asked by the local health department to monitor high temperatures, coughs, and other respiratory issues among possible patients.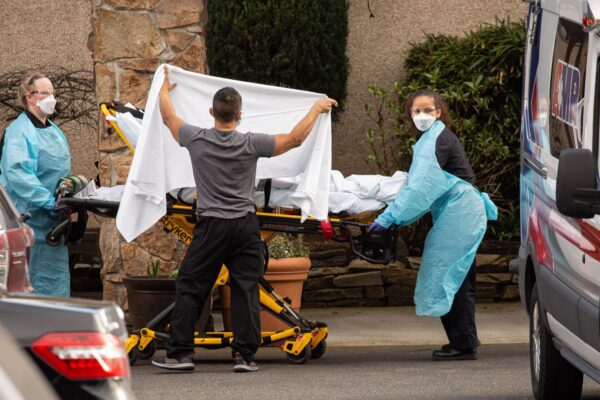 "Any residents with symptoms are placed in isolation. Associates are screened prior to beginning work. If symptoms are exhibited, they are sent home," according to the statement.
The two cases associated with the nursing home, announced on Saturday by Washington state officials, involved a worker who is in her 40s and in satisfactory condition, and a 70-year-old woman who lived there and is in serious condition.
State officials said an additional 27 residents of the nursing home and 25 staff members were reporting symptoms of the virus, which can be similar to that of the common flu.
Over the weekend, health officials in the state confirmed the first U.S. death. Elaborating further, they said the patient died in a Seattle-area hospital and was a man in his 50s with underlying health problems.
The patient was chronically ill before contracting COVID-19 but officials are unsure how he was exposed to the virus, said Jeffrey Duchin, head of the Washington state Health Department's communicable disease unit.
On Sunday, King County health officials said the two latest cases involved males in their 60s with underlying health problems. Both were listed in critical condition in hospitals.
So far, six people are confirmed to have COVID-19 in King County and eight are confirmed to have the illness in Washington state.
Reuters contributed to this report.