Washington's mayor is dropping the city's private business COVID-19 vaccine mandate, but will keep masking requirements in place for schools.
The vaccine mandate, which forced businesses to make sure each customer had received a COVID-19 vaccine, will no longer be in effect, starting on Feb. 15. Mayor Muriel Bowser, a Democrat, said the mandate and other strict rules had led to a drop in COVID-19 cases and hospitalizations.
"We're in a much better place now to announce adjustments to that action plan," she said at a press briefing at the Marion S. Barry Jr. Building.
Bowser's latest mask mandate took effect on Dec. 21, 2021; the vaccine mandate took effect on Jan. 15. Cases and hospitalizations kept rising through mid-January before starting to drop around the time the vaccine mandate took effect. They've both continued to decrease.
The change comes after Republican members of Congress promised to exercise oversight of Washington if the party flips the House of Representatives in the 2022 midterm elections.
Rep. Andy Biggs (R-Ariz.) wrote on Twitter that Bowser "shut down and fined businesses for a vax mandate that didn't even last a month."
"The science didn't change, politics did," Biggs wrote.
Businesses that have defied the mandates have been fined. At least one business was forced to close.
Bowser is also easing some other restrictions.
Effective March 1, masks won't be required citywide at restaurants, bars, sports venues, gyms, houses of worship, grocery stores, pharmacies, retailers, and government offices that don't involve public interaction.
However, a slew of facilities will still have to enforce mask mandates, including schools, libraries, and health care facilities. Individual businesses also are free to require masks and proof of vaccination.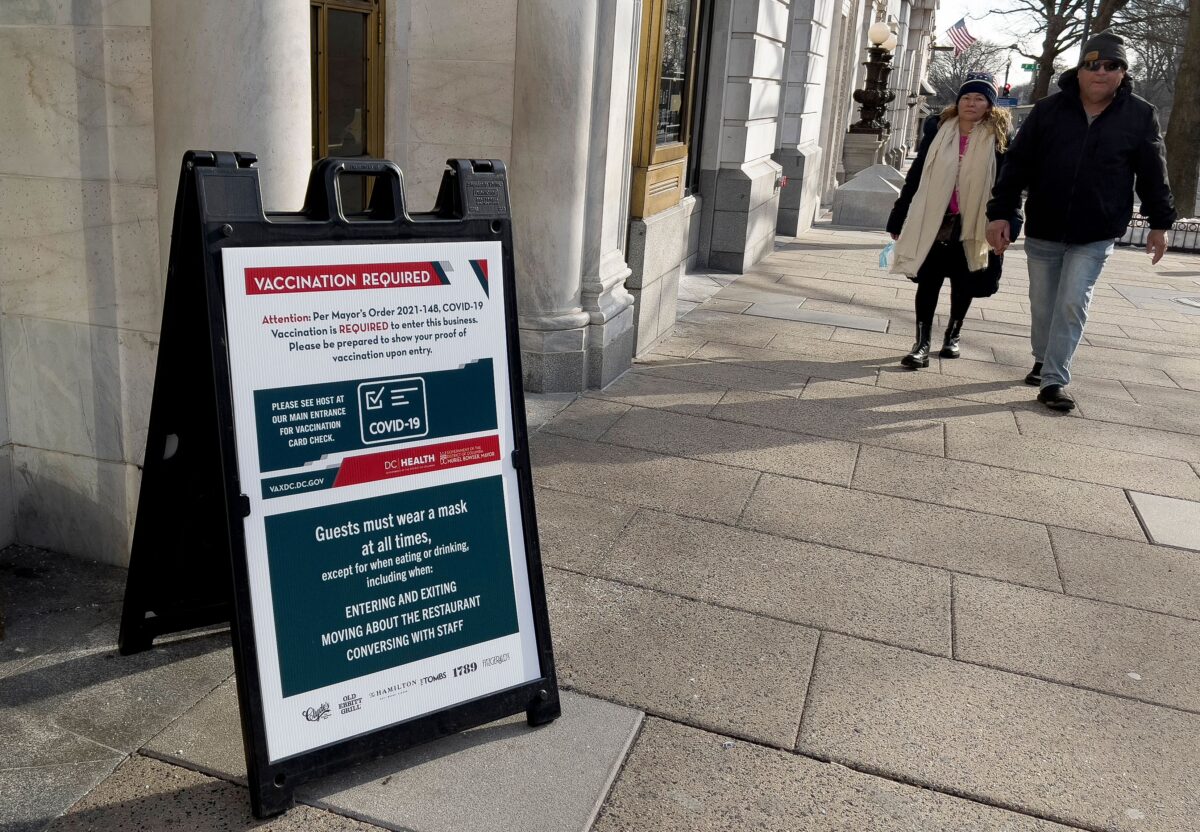 The vaccine mandate for city employees and all health care workers in the district will remain in place.
Bowser, who has flouted her own mask mandates, said the rise in the number of residents who have gotten a COVID-19 vaccine also helped convince her to halt the vaccine mandate and relax the masking regulation.
She and Dr. LaQuandra Nesbitt, director of the District of Columbia Department of Health, encouraged people to get COVID-19 vaccine booster shots as data increasingly show the primary vaccination regimens don't protect well against the Omicron variant of the CCP (Chinese Communist Party) virus, which causes COVID-19. Protection against severe disease also wanes in the months after the primary series.
Minneapolis and St. Paul, Minnesota, are among the other cities that have recently lifted their COVID-19 vaccine mandates, while many states, including New Jersey, have recently announced plans to lift mask mandates. Still other areas, including New York City, have kept their mandates in place.
Boston Mayor Michelle Wu, a Democrat, said recently that the city's mandate could be lifted soon if COVID-19 cases and hospitalizations continue to decline.