Flynn, a medical alert dog, is tasked with helping out 17-year-old Hailey Ashmore, who suffers from seizures.
He can open doors, get her parents, and alert her to oncoming seizures.
However, there was a problem when the dog was helping out Ashmore and a bystander started to pet the dog.
"I immediately told him to stop," she said, referring to the person petting the dog, according to The Dodo.
Why you should never pet a service dog http://t.co/TFHDLTQf2d pic.twitter.com/6DsiUL6VqQ

— The Dodo (@dodo) July 3, 2015
However, in a moment of distraction, Flynn missed an opportunity to warn Ashmore of a seizure.
"I thought I had 10 minutes to get safe, take medication and call somebody for help," Hailey was quoted by The Dodo as saying. "Unfortunately, I didn't and ended up getting a nasty rug burn."
"Since Flynn was only about 7 months at the time of the accident, he was, and still is, learning to ignore people petting him," Hailey added. "We understand our dogs are super cute, but they are really important for our safety and health."
Canine Companions for Independence spokesperson Jessica Reiss said the dogs aren't tools–they're living things.
"They can be distracted," she said.
What to Do If a Service Dog Approaches You?
If a service dog approaches you without its owner, it might need your help.
Other service dogs are trained to assist people with medical conditions or traumatic disorders. We know that when they're wearing their bright vests, they are on duty. They might even sport badges stating: "Do Not Pet" or "Service Dog on Duty," emphasizing their important purpose. We are fascinated by the exceptional discipline and sense of duty exhibited by these dogs even in noisy, crowded public situations.
But as one instance proved, where a woman whose service dog was trained to help in case she had a seizure, not everyone knows how to respond to a service dog's "call" for help in an emergency situation. The woman made a point of educating the public about what had transpired when she tripped and fell one day.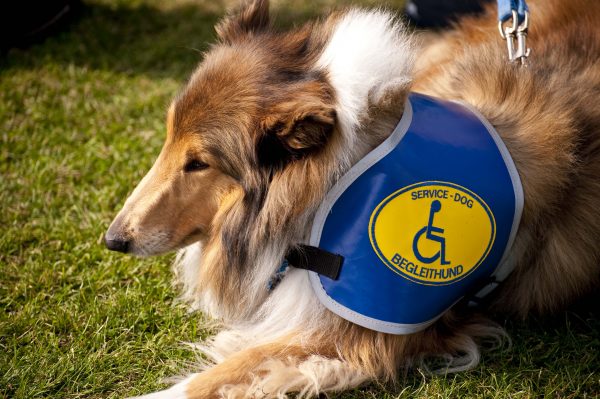 She shared an online public service announcement on Tumblr in which she stated: "If a service dog without a person approaches you, it means the person is down and in need of help." After she fell, her service dog had responded dutifully, setting off like Lassie to seek an adult helping hand. What ended up happening , though, was that he tried getting the attention of an annoyed woman who started "swatting" him and telling him to "go away."
She added: "Don't get scared, don't get annoyed, follow the dog! If it had been an emergency situation, I could have vomited and choked, I could have hit my head, I could have had so many things happen to me. We're going to update his training so if the first person doesn't cooperate, he moves on, but seriously guys. If what's-his-face could understand that lassie wanted him to go to the well, you can figure out that a dog in a vest proclaiming it a service dog wants you to follow him."
Epoch Times' Michael Wing contributed to this report.