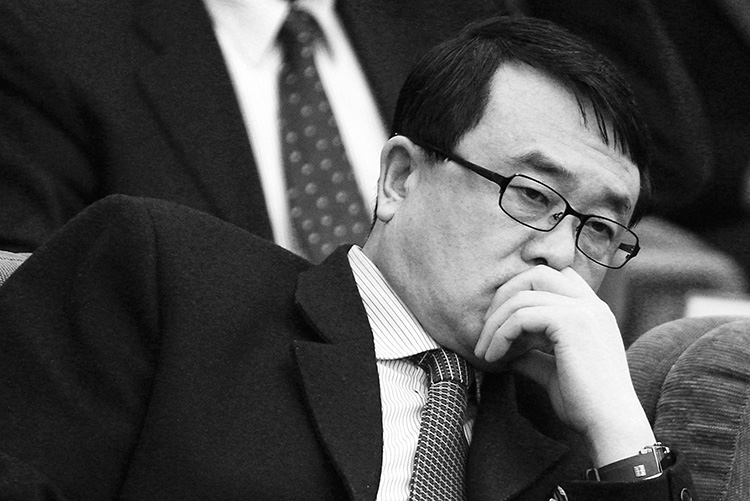 Wang Lijun, who set off a political firestorm in February after attempting to defect to the U.S. Consulate, caused the demotion of at least 5,600 policemen during the three years he worked as chief of the Public Security Bureau in Chongqing City. At least one official was severely tortured and another was executed under Wang's watch.
Some of the several thousand officers were fired, kept under house arrest, forced to take labor education or even sentenced to prison, according to a report from the Tianjin Evening News.
The bureau announced on Dec. 11 that these cases are under review with the final redress policies yet to be decided.
The Chongqing police authorities have initiated low-profile internal correction and rehabilitation processes, according to a report on www.ynxxb.com (Information Network of Yunnan Province). The new bureau chief, He Ting, has arranged special investigations and interviews, and allocated more than 20 policemen in three task forces to process the petitions filed by former colleagues, who suffered unjust treatment when Wang was director. 
A highly ranked officer at the bureau said: "In the three years that Wang headed the bureau, many police officers were demoted, fired, sentenced to labor reeducation, kept under house arrest or even sentenced to prison. The specific numbers were: over 900 in the first year, over 2,900 in the second, and over 1,800 in the third. Some people involved in cases with insufficient evidence of wrong-doing have been restored to their positions." 
Drug Control Commissioner Persecuted due to Personal Ties
Zhou Wenzhao, a police veteran with 30 years of experience, was the drug control commissioner of the Chongqing Public Security Bureau when Wang kicked off a "Strike the Black" campaign–a supposed crackdown on criminal gangs–in the city.
On the evening of Aug. 7, 2009, the Communist Party Secretary's Office disclosed fabricated information that a large-scale drug trafficking racket had been uncovered, and Zhou was asked to handle it. During the announcement, the City's Disciplinary Secretary came in and proceeded to place Zhou under house arrest.
The next day, Zhou learned from his wife that his close friend Wen Qiang, then-director of the Public Security Bureau, had been arrested.
Wen was later convicted of bribery, and executed in 2010.
Everyone in the bureau knew that Zhou and Wen had a very close relationship; Zhou and his wife are godparents to Wen's son.
Zhou claimed that he was tortured to try and extort a confession. He recounts that on Oct. 15, 2009, he was bound in chains to a specially made iron seat which only had a very small seating area. A thick and smelly black mask covered his face, and an extremely bright incandescent lamp was pointed on him day and night to incapacitate him.
He was also deprived of sleep. Whenever he started to fall asleep, the interrogators would hit him in the head with whatever was in hand. Zhou recalled that after 14 days of interrogation, his legs were so badly swollen that he could not stand up, admitting that the pain was so great in his hips that he wanted to kill himself.
While recalling the torture he suffered, Zhou had tears in his eyes, and paused for long periods of time.
However, Zhou never pleaded guilty. He was sent to prison for allegedly "illegally keeping and concealing firearms or ammunition." 
This judgment was based on the fact that police found a gun and 101 bullets in Zhou's home in August 2009. However, as a veteran police officer, Zhou had a firearms license since April 2003, which was still valid, meaning that his keeping a weapon at home did not constitute a crime. 
Zhou immediately appealed to Chongqing's Intermediate Court. The judge reviewed the case and concluded that "the original judgment and punishment were accurate and proper. The Intermediate Court thus upholds the original verdict." 
Anonymous sources told The Epoch Times earlier this year that Wen was executed at the behest of Wang's boss and ousted Politburo member Bo Xilai, and that Wang's assistance would have advanced his career had Bo made it to the Politburo Standing Committee after the recent 18th National Party Congress. The rest is history: Bo was sacked in March and a new generation of Chinese leaders took power during the conference in November.
As Bo's underling, Wang would not do anything without approval from his patron.
Wang's attempted defection ended all their plans, and led to Bo's arrest and the murder conviction of Gu Kailai, his wife, in the death of British businessman Neil Heywood.
These plans are believed to have included an attempt to prevent the accession of current Party head Xi Jinping. Bo and Wang are also implicated in facilitating the mass extraction and sale of organs from living practitioners of the Falun Gong meditation discipline.
Read the original Chinese article. 
The Epoch Times publishes in 35 countries and in 19 languages. Subscribe to our e-newsletter.
Click www.ept.ms/ccp-crisis to read about the most recent developments in the ongoing crisis within the Chinese communist regime. In this special topic, we provide readers with the necessary context to understand the situation. Get the RSS feed. Who are the Major Players?