Residents in Kansas City voted to remove "Martin Luther King Jr." as the name for a historic boulevard just 10 months after Kansas City Council implemented the name.
Some 31,274 voters, or 69 percent, voted on Nov. 5 to return the name of the thoroughfare to The Paseo, which it was named until earlier this year. The rest, or 13,909, voted against the name change.
The City Council voted 8-4 in January to rename The Paseo, triggering a movement called Save The Paseo.
Organizers collected nearly 3,000 signatures to put the name issue on the ballot.
The question posed to voters was: "Shall the City of Kansas City change the name of Dr. Martin Luther King, Jr. Blvd., which is approximately 9.98 miles in length from the center line of Lexington Avenue south and east to a point south of the center line of East 85th Street, back to The Paseo Boulevard?"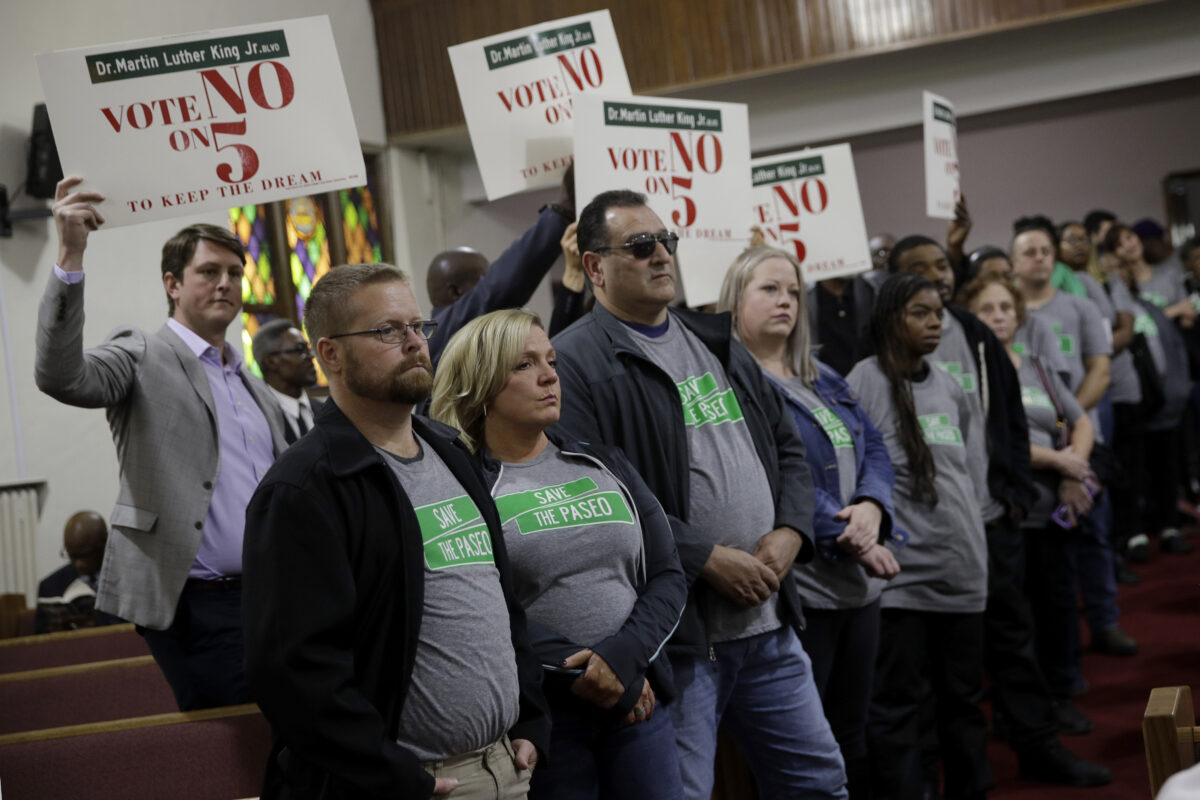 Kansas City Mayor Quinton Lucas, who introduced the proposal to change the name to "Martin Luther King Jr. Blvd.," weighed in on the vote early Wednesday.
"I think what we've learned from this process, and frankly even almost as soon as I introduced it, you saw that process matters," he said during an appearance on WDAF-TV.
"People want to make sure that we engage with enough different community stakeholders. And I think it's fair to say that that did not happen, and that's why we're kind of in the position we are now. In terms of steps forward, I think it's important for us to recognize that this wasn't so much a repudiation of the Dr. King name, or any of the ministers involved, but it's saying, 'it's important to work together and get this thing right.'"
I know Kansas City to be a welcoming and diverse community and today's vote does not change that. This ballot measure should remind all of us in City Hall that the way we do things matters…

— Mayor Quinton Lucas (@MayorLucasKC) November 6, 2019
… we must continue to legislate by bringing people together, seeking input from those with different perspectives and working to consensus-build on the issues that matter most to our community.
-Mayor Q

— Mayor Quinton Lucas (@MayorLucasKC) November 6, 2019
"I learned from my mistakes. The process was one that was less than ideal. It didn't reflect enough public engagement. I have regret. I know a lot of people did," he said.
"I recall some of my friends who supported the MLK name said they would meet with people up and down the street, that never happened… what we make sure happens is that we have that level of engagement instead of just saying it'll be this or that."
In a statement issued shortly after the voting results came in, Lucas said: "I know Kansas City to be a welcoming and diverse community and today's vote does not change that. This ballot measure should remind all of us in City Hall that the way we do things matters we must continue to legislate by bringing people together, seeking input from those with different perspectives and working to consensus-build on the issues that matter most to our community."