ASHBURN, Va.—Less than two weeks after his election victory, Virginia Gov.-elect Glenn Youngkin renewed a pledge to remove the controversial critical race theory (CRT) from the state's schools.
"I am going to be the education governor; this is going to happen," Youngkin said at a thank-you rally held outside Loudoun County Public Schools administration building in Ashburn, Virginia, on Nov. 13.
Five months earlier, the then-candidate stood at the same place to announce that he would ban CRT from Virginia schools on day one if elected. From that point, education would become his main campaign theme.
Youngkin is set to be the state's first Republican governor in nine years, while the GOP also took control of Virginia's House of Delegates.
Youngkin's victory marked a shift away from the state's blue-leaning voting trends; Virginia hasn't voted for a Republican presidential candidate since 2004. In recent years, northern Virginia has also been a strong base for Democrats: Fairfax County turned Democratic in the 2004 U.S. presidential election, while Loudoun and Prince William Counties followed suit in 2008. Now the same counties have shown early signs of reversal.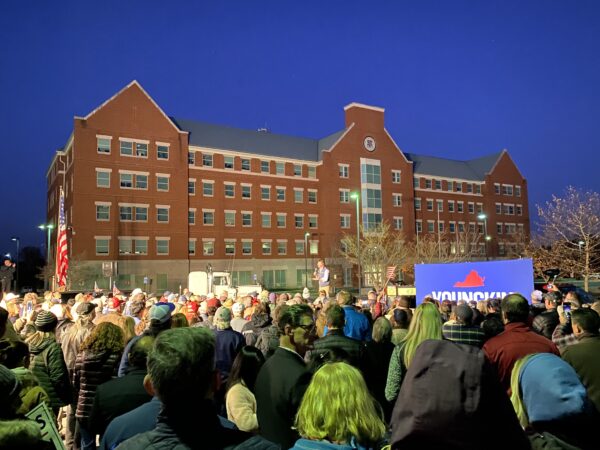 "Something special" happened in Northern Virginia, Youngkin said. The area's contribution was significant for him in a race won by 64,000 votes.
"Versus the last governor's race, we got 25,000 more votes in Loudoun County. We got 18,000 more votes in Prince William County. And we got 35,000 more votes in Fairfax County. It's unbelievable."
He credited parents in Loudoun County for igniting the education issue and spreading it throughout the commonwealth.
"Parents matter," he said, adding that he would include parents on his transition committee.
"We're going to make sure that we're focused on our entire history—the good and the bad. This is not about hiding our past. This is about knowing where we have come from, so we will know where we are going. But I will tell you that we will not be teaching critical race theory in our schools!" he said, reiterating his campaign promise.
CRT advocates for critiquing social problems through the lens of racial struggle, and argues that racism is inherent in the foundational values of Western societies. It seeks to fundamentally transform social institutions to end racial oppression. Opponents say the ideology has been promoted in schools through training and programs on "equity" and other topics given to teachers and students.
Loudoun County Public Schools officials, who have repeatedly said that CRT isn't taught in classrooms, say the district uses a standard curriculum designated by the Virginia Department of Education.
Jessica Mendez, a Loudoun County parent at the rally who's also a member of the local advocacy group Fight for Schools, said the Nov. 3 election results gave her an "incredible sense of relief and hope."
That day was doubly significant for Mendez and other local parents because they had also finished collecting all the signatures necessary to recall certain members of the Loudoun County School Board. She said that parents who attended Youngkin's election watch party cried together.
"We just cried tears of joy together because we were done with the signatures. We did it. And now we have a governor who has been listening to us."
Mendez said she brought her two elementary-school-aged daughters with her to "witness history," and to see the difference that just one person can make.
During the process of trying to challenge decisions of the Loudoun County School Board, Mendez said she doubted the utility of making public comments at meetings because the board wasn't listening.
"I had it all wrong. It wasn't the school board members who needed to hear us, it was everyone at home. It was the parents, grandparents, and neighbors," she told The Epoch Times.
Stan Surrette, who has a doctoral degree in education and is a retired human resources executive living in Ashburn, also attended the rally.
"I think all parents whose children are going to Loudoun schools, who know what's been happening, are very much aware and concerned. But it's not any kind of radical movement," he told The Epoch Times.
"Some of the ideas that have evolved from the CRT and other foreign ideas are trying to bring everybody to a common low level, which means we're not competitive with China or other places."
Surette has three grandchildren, including a 6-year-old who is going to enter a public school in Loudoun County soon. He said he was "optimistic" that with the new governor, CRT would be removed from the region's school system.
The grandfather also became a poll watcher for the first time during the Virginia gubernatorial election.
"I just wanted to be satisfied that the election was honest. Very simple," he said.
Youngkin, during his speech at the rally, also vowed to "get our cost of living down" on day one, including cutting taxes, removing grocery tax, and deferring the gas tax for a year.