Chicago police on Sunday released body camera footage of officers fatally shooting a black man as he reached for his concealed handgun. The revealing footage is hoped to quell two days of violent and peaceful protests in which the incident had been branded case of police brutality.
The shooting on Saturday triggered violent clashes that night, and more peaceful protests the following day.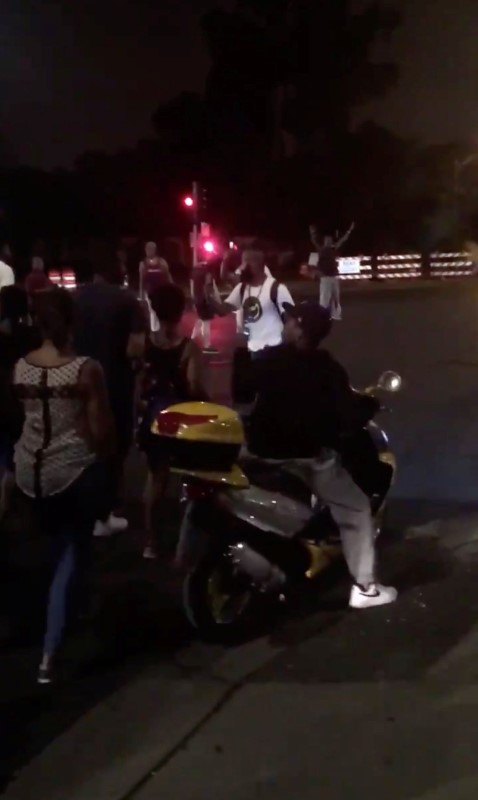 Many are possibly associating the incident with the high-profile police shooting of 17-year-old Laquan McDonald in 2014. The teenager, who was holding a knife, was shot dead as he walked away from police. The officer who shot him, Jason Van Dyke, was charged with murder and is awaiting trial.
In this weekend's incident in the city, police shot and killed Harith Augustus, 37, while attempting to apprehend him on a sidewalk, the body camera video showed.
As the man attempted to evade police, his T-shirt is pulled up, revealing a holstered handgun. Police opened fire as he reached for the gun.
One handgun and two ammunition magazines believed to be Augustus' were recovered from the scene, police said.
Fred Waller, Chicago police patrol chief, told reporters that officers saw a bulge beneath Augustus' clothes that they believed to be a gun. When they approached the man, "he started flailing and swinging away, trying to make an escape."
Waller said the man "reached for the gun."
After word of the shooting spread, officers armed with batons squared off against about 150 protesters shouting "murderers" and obscenities, with punches thrown on both sides, multiple media accounts said and videos posted on Twitter showed.
Protesters tossed rocks, bottles of water, and urine. They also jumped on police cars, near the crime scene, Chicago police spokesman Anthony Guglielmi said.
Three or four officers suffered minor injuries and one patrol car was damaged in the course of the protests.  At least four protesters were arrested, officials said.
"The whole situation was difficult for all involved," Guglielmi said on Sunday.
Guglielmi said the crowd was incited by false reports, including that the man was unarmed or had a concealed carry permit.
Police released the video earlier than normal "to dispel inaccurate information," Guglielmi said on Twitter.
The man was shot multiple times, Guglielmi said. The officer involved will be placed on desk duty while the incident is investigated.
By Suzannah Gonzales