HANOI—Nationwide protests over new economic zones for foreigners have spiraled into chaos in the central Vietnamese province of Binh Thuan, where anti-Chinese sentiment boiled over as people hurled bricks and Molotov cocktails at police.
The protests, by thousands of people in several cities, were fueled by concerns that a draft legislation to develop economic zones offering land leases of up to 99 years would be dominated by investors from China, a neighbor with which Vietnam has a rocky history.
Police arrested 100 people on June 11 evening after detaining 102 people a day earlier, although it was unclear how many have since been released.
Vietnam's government vowed on June 12 to punish "extremists" it said had instigated the clashes with police.
The police-run Ministry of Public Security said "extremists" had injured dozens of policemen, damaged government offices, and torched police vehicles.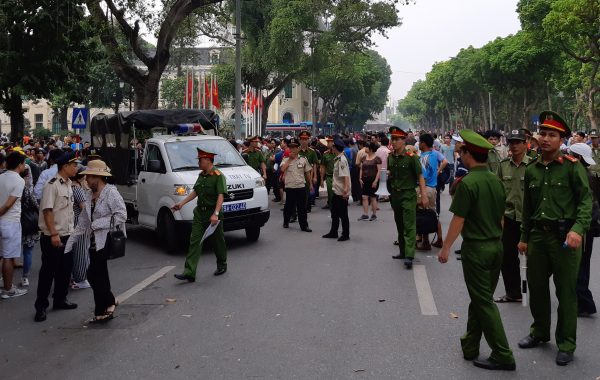 State media reported on June 12 that tensions in Binh Thuan province have since subsided.
Though the authorities often tolerate protests, rallies against China's perceived aggression and infringements upon Vietnamese sovereignty are a challenge for the government, which wishes to avoid angering a neighbor with growing military, political, and economic clout.
In the capital of Hanoi on June 10, police detained more than a dozen protesters during a march where some held banners reading: "No leasing land to China even for one day."
The economic zone plan did not single out China, but the prospect of Chinese firms boosting their presence has created unease in Vietnam. In 2016, Chinese investments doubled to eight percent of Vietnam's total foreign direct investment. The Southeast Asian nation has also received tens of billions of dollars of investment from South Korea, Japan, Taiwan, and Singapore.
The National Assembly was due to pass the legislation for the economic zones later this week but decided to delay the vote until its next meeting in October.
From Reuters. Epoch Times staff member Annie Wu contributed to this report.