CEO of California Waste Solutions, David Duong, donated 1,000 oxygenators to help people impacted by COVID-19 in Vietnam. This total includes 500 units donated in September, 250 units donated in August, and numerous smaller portable units. The gift is the largest private donation of its kind.
Duong says back in 2020, he asked the Vietnamese government to buy masks, hand sanitizers, and other equipment from Vietnam to help people in the United States.
"We wanted to help our community here, you know, giving [masks and hand sanitizers] out to front line workers; we give it out to hospitals, give it out to communities," said Duong.
Now Duong is donating oxygenators to Vietnam to help local communities that are impacted by COVID-19. He hopes the oxygenators can help people manage their symptoms and avoid hospitalization or being placed on ventilator machines.
The oxygenators are devices that function as a lung, taking regular air and removing carbon dioxide and nitrogen. These machines can purify air to 90–95 percent oxygen for the body to use, which can help people experiencing medical problems, such as from COVID-19, with their breathing [source].
According to data from the World Health Organization (WHO), Vietnam experienced a spike in COVID-19 cases and deaths beginning mid-July 2021. As of Sept. 25, Vietnam has reported 728,435 confirmed cases and 18,017 deaths.
Duong worked with the Vietnamese ambassador and local governments to organize the oxygenator deliveries and to ensure the oxygenators, which are branded with his company's logo, are delivered to their intended recipients.
"We name [oxygenators] to provinces, how many units are going to what province. Then we contact those provinces; we let them know how many machines are going to be delivered to their province," he described.
Duong explained that on Friday, Sept. 24, the oxygenators were loaded and flown to Vietnam on the same flight as Vietnam president Nguyen Xuan Phuc's return flight from the United States back to Vietnam. Phuc was in the United States for meetings at the United Nations.
"All of what we do right now is humanitarian," expressed Duong.
He further said that oxygenator deliveries will be facilitated through the Vietnam branch of his company, which was founded in California. He and two siblings established California Waste Solutions, a recycling company based in Oakland.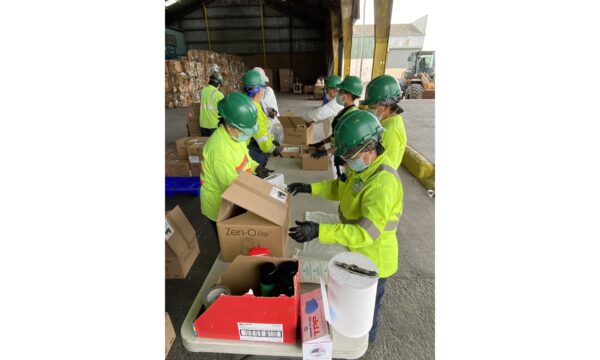 Duong explained, "Our family started this recycling company since 1983, and until 1991, we changed [the name] to California Waste Solutions because back in 1991, the government in the state of California changed the law; they required all garbage companies … to recycle."
The company name change allowed it to sign government contracts with Oakland and San Jose. In 2005, Vietnam Waste Solutions was created to help communities in Vietnam recycle.
Duong's parents owned a paper mill in South Vietnam and were already in the recycling industry. At 17 years old, Duong and his family escaped from Vietnam on a boat after the fall of Saigon. They stayed in the Philippines for about two years before arriving in the United States in 1979. The family of 16 settled in San Francisco, living in two studio apartments.
"One night, we walked around in downtown San Francisco. We looked at all the high-rises, and then we looked down on the sidewalk, we saw a lot of garbage bags laying around on the street. So, my parents said, 'Let's open those bags to see what's in there.' So, we opened all those garbage bags; we saw aluminum cans, glass bottles, and white paper, office paper. They said this is a treasure," said Duong.
Every night, he and his siblings helped their parents collect recyclable materials. "Our job was helping our parents to fill up the truck, so the next day, we went to school and they went to the place where they can sell recyclable materials," said Duong.
The family eventually saved enough money to start their own recycling business in the Bay Area. California Waste Solutions now helps collect recyclable materials on the city level.