Villages in Vietnam were placed under quarantine on Thursday after seven cases of the deadly new coronavirus, also known as COVID-19, were discovered there, Vietnamese state-controlled media reported.
Son Loi, a farming region made up of several villages in northern Vietnam about 25 miles northwest of Hanoi, was placed on a lockdown that will last 14 days starting Feb. 13.
It marks the first mass quarantine outside of China since the virus emerged from the central Chinese city of Wuhan late last year.
Authorities in the northern province are battling to contain the disease which is quickly spreading. Last week it was confirmed that a 3-month-old girl tested positive for the virus, which so far has no cure, VnExpress reported.
Le Duy Thanh, Vice-Chairman of the provincial People's Committee, said the number of cases of the virus in the Son Loi Commune has been growing and authorities have now increased the number of disease control checkpoints in the area from five to eight.
Provincial authorities have also established mobile shops and provided food and free face masks to over 10,600 people.
So far, 15 cases of COVID-19 have been confirmed in Vietnam, including 12 Vietnamese, one Vietnamese-American, and two Chinese nationals.
Of the 15 confirmed cases, 10 are reportedly in the northern province of Vinh Phuc. The virus is said to have stemmed from a group of eight workers who returned from Wuhan on Jan. 17.
The province quarantined 311 people, of whom 104 have so far tested negative for the virus, while a further 252 others are being monitored at home after they were found to have come into contact with patients but have not yet shown any symptoms.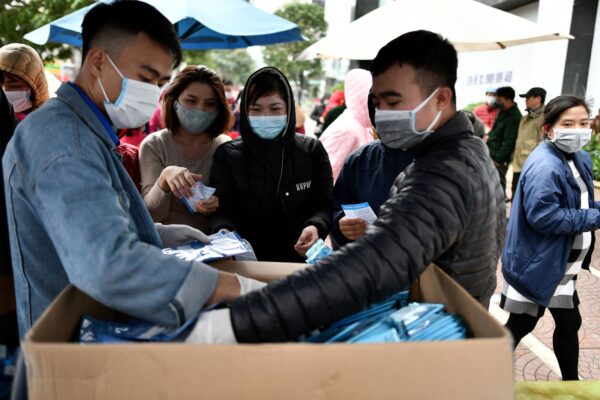 Authorities have also set up a field hospital with 300 beds at the College of Culture and Arts in Vinh Yen Town in the province and a 200-bed facility at a military school in the same town.
"Vinh Phuc has the highest number of positive cases in the country but the disease has not spread to other areas and provinces," Thanh said.
"Everything is still under control. We are putting in every effort and believe we'll be able to contain it."
On Feb. 12, the province announced that it would be providing support for quarantined people and for those working at disease control checkpoints.
According to the resolution, those at quarantine and medical centers will receive a daily food allowance of 60,000 dong ($2.57), while those quarantined at home will get 40,000 dong ($1.72). Meanwhile, schools in the area will remain closed until Feb. 23.
Losing Business
It comes as Vietnam Airlines said on Feb. 13 that it was losing up to 250 billion dong ($10.8 million) per week in revenue due to travel curbs resulting from the coronavirus.
Earlier this month, Vietnam banned all flights to and from mainland China and suspended new tourist visas for Chinese nationals or foreigners who were in China two weeks prior.
The airline is reducing operations and trying to cut costs to ride out the impact of the epidemic and "achieve a positive financial result" for this year, it said in an emailed statement to Reuters.
The flag carrier of Vietnam, founded in 1956, has suspended all flights to and from mainland China since the end of January, directly affecting 70,000 visitors per month between the two countries, it said.
"The epidemic has significantly reduced the travel demand of domestic and international tourists in the Vietnam network," the company said, noting that passengers on domestic routes have also fallen by 20-30 percent over the past two weeks.
On Feb. 11, World Health Organization Director-General Tedros Adhanom Ghebreyesus said that the world must "wake up and consider this enemy virus as public enemy number one," adding that the first vaccine was most likely 18 months away.