A video shot from Iranian state-run Press TV showed the immediate aftermath of the oil tankers that were reportedly attacked.
Several reports said that the vessels were possibly hit by a torpedo, a mine, or something else. U.S. officials have not determined the exact cause of the explosions and fires that rocked the Norwegian-owned Front Altair and Kokuka Courageous tankers near the Strait of Hormuz near Iran.
Aerial footage shows one of the oil tankers targeted in the Sea of Oman#SeaofOman pic.twitter.com/mdvEPPT3J4

— Press TV (@PressTV) June 13, 2019
"We are aware of the reported attack on shipping vessels in the Gulf of Oman," a U.S. Navy spokesperson told The Telegraph. "U.S. Naval Forces in the region received two separate distress calls at 6:12 a.m. local (Bahrain) time and a second one at 7:00 a.m. U.S. Navy ships are in the area and are rendering assistance."
The alleged attacks took place in the same area where Iran was accused of sabotaging tankers last month.
Here's what we know so far about the suspected attack in the Gulf of Oman:
– two oil tankers damaged
– incident near Strait of Hormuz
– oil surged surged on news
– 4 tankers sabotaged last monthhttps://t.co/qsBhdi3KR6

— Bloomberg (@business) June 13, 2019
Tensions have risen in the region since the United States pulled out of a deal between Iran and global powers that aimed to curb Tehran's nuclear ambitions.
Japanese Prime Minister Shinzo Abe, who was visiting Tehran when Thursday's attacks occurred, carried a message for Iran from Trump, who has demanded that Iran curb its military programs and its influence in the Middle East, Reuters reported.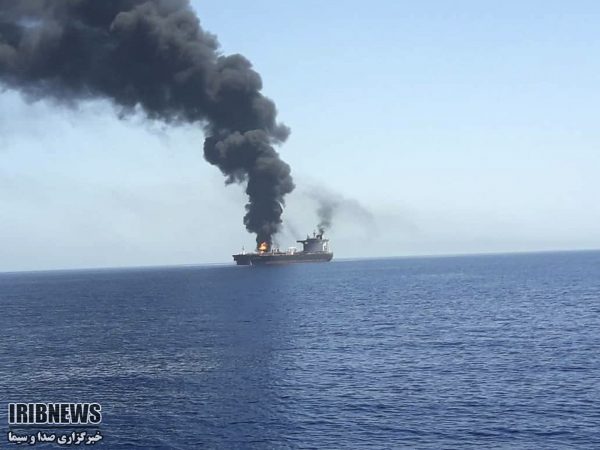 Abe, whose country was a big importer of Iranian oil until Washington ratcheted up sanctions, urged all sides not to let tensions in the area escalate.
Iranian Foreign Minister Mohammad Javad Zarif described Thursday's incidents as "suspicious" on Twitter, noting they occurred during Abe's Tehran visit. The minister called for regional dialogue.

Iran also said it would not respond to Trump's overture, the substance of which was not made public.
Sarah Huckabee Sanders, the White House press secretary, told reporters on June 13: "The president has been briefed on the attack on ships in the Gulf of Oman. The U.S. government is providing assistance and will continue to assess the situation."
Oil prices rose about 4 percent following news of the attacks.

"The shipping industry views this as an escalation of the situation, and we are just about as close to a conflict without there being an actual armed conflict, so the tensions are very high," said Jakob P. Larsen, head of maritime security for BIMCO, told The Associated Press.
Reuters contributed to this report.