Tim Aylen and his family knew that Dorian was going to affect their area in the Bahamas; they had been through many hurricanes before, but they had no idea it would be this bad.
Aylen lives in the Arden Forest neighborhood of Freeport on the island of Grand Bahama, just a two-and-a-half-hour ferry ride from Ft. Lauderdale in Florida.
Early last week, the intense storm struck where they lived and stayed a phenomenal 40 hours, causing extraordinary destruction of historic proportions.
Great time shooting sculling race at Montagu Harbour on Sunday ! pic.twitter.com/1sqTKc6U

— Tim Aylen (@TimAylen) January 30, 2013
Dorian first reached category 5 with wind speeds of 185 mp/h (295 km/h) on Sept. 1 before making landfall in the Bahamas. This tied the record for the strongest Atlantic storm in recorded history alongside the Labor Day Hurricane of 1935 and is, by far, the worst in the history of the Bahamas, per the Washington Post.
"I've been through a lot of hurricanes, but I've never seen something just sit on us and move at 1 mile an hour," Aylen told CBC. "It just wouldn't give up."
Originally, Aylen and his family weren't even given an evacuation order, as their house is miles away from the north and south coasts. "We were just told, we're fine," he said. "There were many other areas that were in the path of destruction on the north shore." Aylen thought that the worst thing that could happen was that his roof might be blown off by the strong winds. "I never considered flooding."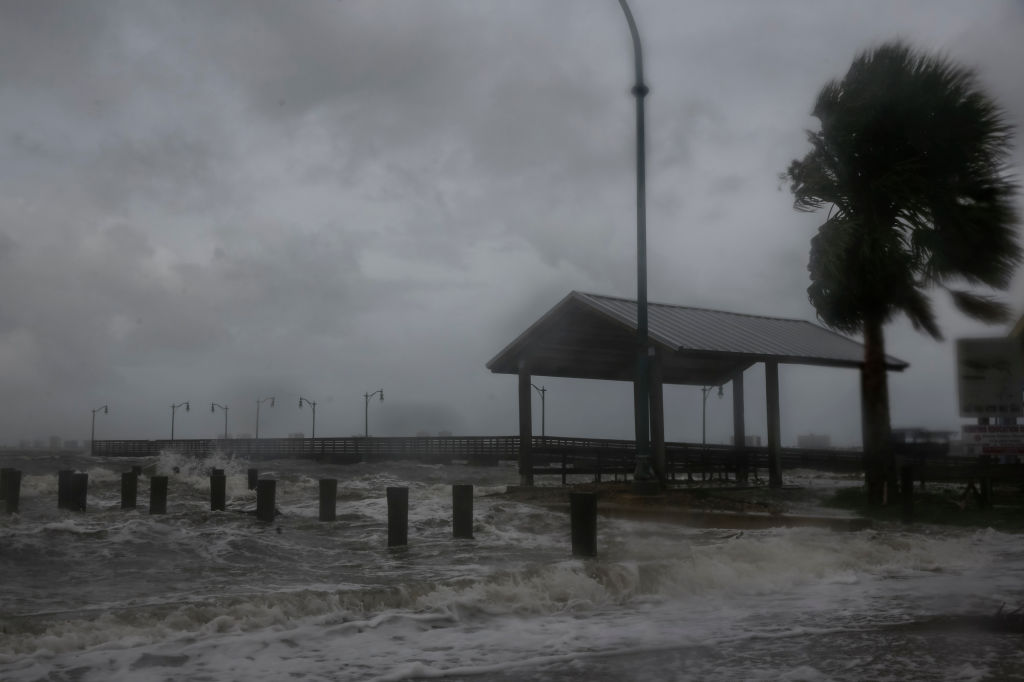 But Aylen, a professional photographer by trade, was taken completely by surprise. While at first Aylen was sending in photos to AP of minor amounts of water on his street, everything changed at 4:15 p.m. on Sept. 1. As he told CNN, it took only two minutes for the storm surge to wash down their street, filling their garage with water. Aylen's 17-year-old son alerted his mother, who in turn went upstairs to wake Aylen, who had been resting.
As he told the local newspaper The Tribune, "My wife came to get me in the bedroom and by that time when we walked back, it poured into the house about a foot high in the space of about 15 seconds." The family had to escape but didn't want to open the front door and let more water in. Aylen considered going up into the attic. "I actually took a ladder and went up and looked at it and said 'no, that's a death trap' … I had no way to cut out." At this point, things were dire. "The look on my kids' faces was just sheer panic."
Aylen spotted a small patch of dry land, and the family climbed out a window onto a car. It was at this point that despite all the fear, the veteran photojournalist picked up a camera and started filming.
His son can be seen on top of the vehicle, helping his mom out. Aylen also caught footage of his 21-year-old daughter Julia holding on to the family's dogs as she waded through rushing, chest-deep waters. Finally, Aylen turned the camera on himself to show the life-threatening conditions he was filming in.
Thankfully, Aylen's family, complete with their vital documents and three dogs, were spotted by another family on safe ground and were rescued in a minivan. "We had no clothes, no nothing," he told CNN. They made it to the nearby Church of the Ascension, the designated shelter, and got the now-famous video footage on the internet.
Though they had to say goodbye to their house and worldly possessions, they have each other, and thanks to this professional photographer's quick reflexes, the world has a window into the terrifying days that Dorian brought to the islands.
Julia Aylen wades through waist deep water carrying her pet dogs as she is rescued from her flooded home during Hurricane Dorian in Freeport, Bahamas, Sept. 3, 2019. 📷 Tim Aylen/@AP_Images – https://t.co/fGevB80oaE pic.twitter.com/f22VSvmYEU

— Yahoo News Photos (@yahoophoto) September 3, 2019
While for much of the Northern United States the months of September and October are associated with cooling temperatures, falling leaves, and harvests of apples and pumpkins, for residents of the Gulf Coast and Southern Atlantic, this is prime time for hurricanes.
The warm waters and warm air temperatures, which have been building up all summer long, produce these massive, destructive storms. Since the disasters caused by Hurricane Katrina and Hurricane Rita in 2005, Americans have been more alert than ever to storm dangers.
As we approach the peak of the Atlantic Hurricane season on Sep 10, the Indian Ocean is the only quiet tropical basin right now:
Atlantic – Dorian, Gabrielle, and 3 Invests
East Pacific – Juliette
Central Pac. – Akoni
West Pac. – Lingling and Faxai https://t.co/XmFVL0eDjy pic.twitter.com/KFJsRPy3Ow

— National Weather Service (@NWS) September 6, 2019
But what happens when evacuation isn't physically possible? For people living near the coast in the southeastern United States, nearby inland areas are a safe haven. For people on the archipelago nation of the Bahamas, when Hurricane Dorian hit on Sept. 1, 2019, there was simply nowhere to evacuate to.
The Bahamas are known as a peaceful and beautiful tropical paradise comprising over 700 islands in the Atlantic, between 90 and 200 miles off the coast of Florida. Tourists enjoy the coral reefs, marine wildlife, beaches, and boating across these small islands.