Sharks appeared to feed on a school of fish just yards away from Myrtle Beach, South Carolina, prompting beachgoers to rush out of the water.
After people saw fish start leaping out of the water, the sharks jumped into view to eat some of the fish.
Tara Savedge, who captured the footage, said that her husband knew the family had to move away after the fish appeared.
Related Coverage
"My husband told the kids to get out of the water, and as soon as I grabbed my phone, we started seeing the sharks," she told Fox Carolina.
People spotted at least four sharks, at an estimated distance of 30 yards.
"People were swimming right near where it happened," Savedge said.
"We've never seen anything like that. That was amazing," the Richmond, Virginia resident added to Myrtle Beach Sun News. "It looked like hundreds of fish jumped up at once. It was really cool to see."
Savedge said that people were swimming right near where the sharks appeared and everyone left the water.
According to WMBF, lifeguards wouldn't let anyone re-enter the water for over two hours after the sharks were spotted. Some people chose not to go back in.
"We didn't think much of it then you saw the fish, and we saw about five sharks jumping out of the water and we're like, 'We're done for the day,'" Garrett Archibeque, who was skimboarding near the sharks, told the broadcaster.
Lifeguards said the sharks were probably sand sharks.
A similar incident took place on July 6 in Myrtle Beach. A 4-foot shark appeared in ankle-deep water, prompting people to leave.
Susan Bare said she and relatives were posing for a family picture when lifeguards saw the shark and urged them to get out.
"She had taken the photo just a minute before we were told to get out," Bare told the Sun News.
"We turned right then and saw it," the North Carolina resident said. "I'm talking a foot from us. It was in such shallow water it was unreal."
"You could go down the beach as far as you could see and see everyone lined up looking. It was right there in front of us. I was like 'Video it, video it, April. Video it,'" she added. "The lifeguard said she had seen this before, but I personally had not seen something like it before. This is the closest I've ever seen, and you can tell by the video. Video don't lie."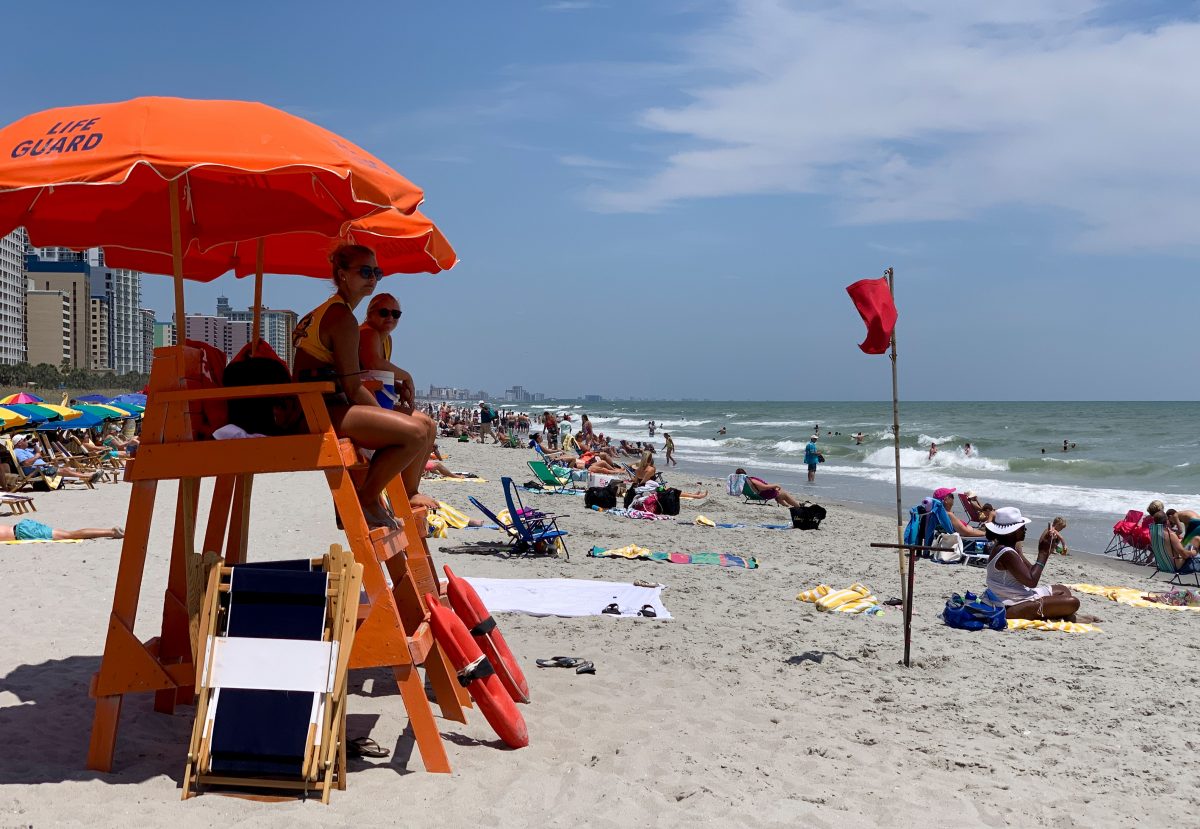 Sand Sharks
Sand sharks are also known as tiger sharks. Ranging from 6.5 feet to 10.5 feet, and 200 to 350 pounds, the sharks "have a deceivingly ferocious look," according to National Geographic.
"They are large-bodied and display a mouthful of sharp teeth that protrude in all directions, even when the mouth is shut. Despite this, they are a docile, non-aggressive species, known to attack humans only when bothered first."
The sharks are known to sometimes venture close to the shore and typically only breach the surface of the water when they need air, which they store in their stomachs.
The sharks have a first dorsal fin far back on the body and its first and second dorsal and anal fins are nearly equal in size, according to the National Oceanic and Atmospheric Administration.
The sharks also have a flattened snout and a long mouth extending to behind its eyes, with large, needle-like teeth protruding from the mouth.