The Long Gray Line of 950 soon-to-be second lieutenants marched in an easy cadence into Michie Stadium to accept diplomas on May 21 as the 2016 graduates of West Point Military Academy. Among them were the first seven women to be commissioned into combat divisions since combat restrictions for them were lifted.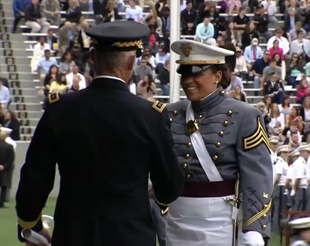 Commencement speaker Vice President Joe Biden warned the graduating class that it's facing a vast range of complex challenges, including battling Islamic State extremists, containing outbreaks of contagious diseases and defending against cyber attacks.
"Whenever the stakes are highest, we turn to the United States Army," he said. "Whether it's fighting terrorism, training our partners, reassuring our allies or providing humanitarian relief, we call on you."
"And right now, the stakes could not be higher."

America needs all your skills.
Biden singled out cyber attacks as a growing threat that could allow American enemies to knock out the nation's power grid or disable satellite systems. "The bad thing about advanced technology is that it gives immense powers to stateless actors," Biden said.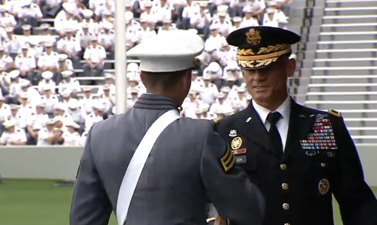 No generation gets to choose the world in which they graduate, Biden told the graduates. Soldiers today live in a world that is both global and digital. "America needs all your skills. You will need all the tools your predecessors possessed, and you'll need more," he said.
Biden earlier met with and congratulated the winners of the NSA's cyber challenge. "You'll need to dominate the cyber realm as you do the physical one," he said.
Biden ended with "May God protect our troops."
The vice president remained on the dais to personally congratulate every graduate. Biden was also West Point's commencement speaker in 2012.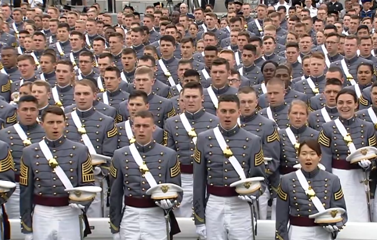 Lt. Gen. Robert Caslen Jr., superintendent of the Military Academy, poked fun at himself as he referred to singing at last year's graduation, saying he had many skills, but singing was not one of them "Kill a deer barehanded, I'm your guy," he said, which was greeted with laughs from the audience. He said he would spare the audience from his singing talent.
The ceremony was filled with military custom. Guests and cadets rose at the bugle call. The pledge of allegiance, national anthem, the invocation, and singing of the alma mater, the core, and army song, as well as the exuberant cadet hat toss, all contributed to the tradition.
The West Point class of 1966 had the honor of presenting the graduates their commission as they celebrated their own graduation 50 years ago.
The Associated Press contributed to this article.