CARACAS—Venezuelan socialist leader Nicolas Maduro shocked many of his countrymen on Monday by calling for a constitutional assembly in a move similar to one his predecessor and mentor Hugo Chavez used almost 20 years ago.
But there is a key difference: while Chavez enjoyed broad popularity following his 1998 election, Maduro faces slim odds at the ballot box and critics say he is calling the assembly precisely to avoid or delay free elections.
After he took office in 1999, Chavez led a campaign to create an assembly that rewrote the constitution, letting him name allies to crucial posts such as the Supreme Court. He thus consolidated an already strong hand in institutional disputes with adversaries during his 14-year rule.
Maduro, by contrast, has seen his political capital sapped by triple-digit inflation and years of chronic shortages of food and consumer goods. Public anger has fueled near-daily opposition protests since early April against the 54-year-old president, who has been in office since 2013.
His preliminary plan would involve electing only around half the constitutional delegates. He said the remainder would be chosen by specific social movements such as student groups, state-backed community councils or workers unions.
Adversaries call it a rigged proceeding meant to skirt a popular election by limiting suffrage, which legal experts criticize as unconstitutional.
"Maduro is distorting the constituent assembly," said Leonardo Palacios, a lawyer and former opposition deputy, insisting that any such election must involve all the country's registered voters. "The assembly that Maduro described does not exist in the constitution."
He added that all elections are likely to be delayed until the new constitution is approved, which could buy time for Maduro as he heads into presidential elections due late next year.
Related Coverage
Socialist Party leader Elias Jaua insisted on Tuesday that such criticism was unfounded, saying in a televised interview that the assembly would be elected through a universal vote "in both the territorial and sectorial spaces." He did not elaborate.
Rewriting the constitution requires an election to choose the delegates to the assembly. Chavez's political allies, buoyed by strong support from the middle class, won a majority in the constituent assembly in an election in July 1999 in which all registered voters were allowed to participate.
The resulting constitution, which was hailed by government allies as a blueprint for the creation of an egalitarian society and a war on poverty, was approved by voters in a referendum in December that year. It was not clear if Maduro planned on holding a similar referendum.
'Prostitutional Assembly'
Chavez's adversaries, who went on to lead a failed 2002 coup against the president, saw their institutional efforts to weaken his self-styled revolution repeatedly thwarted by well-placed allies ranging from the chief prosecutor to the comptroller general.
But now that Chavez's once-opulent welfare state increasingly resembles the economic chaos of the latter-day Soviet Union, Maduro can hardly expect the same.
Maduro, a former bus-driver and union leader who rose through the ranks by faithfully following Chavez's orders, lacks both the charisma and the decisive leadership of his mentor.
And the Socialist Party's seeming invincibility at the polls was shattered by the opposition's thundering 2015 victory in legislative elections.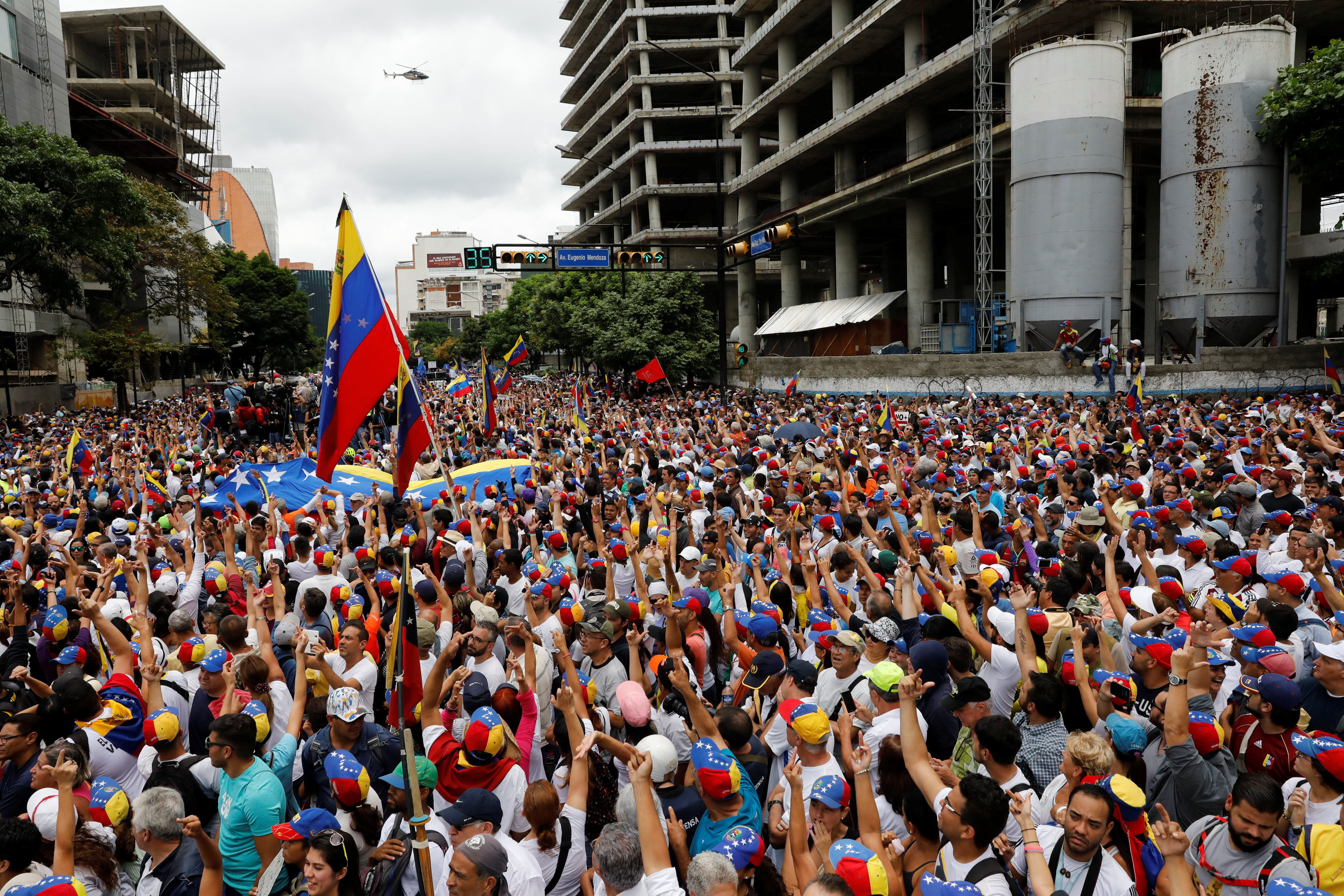 The government-leaning elections council has indefinitely postponed a vote for state governors that was due to take place last year.
A constituent assembly would have the power to call elections and to dissolve other state institutions, potentially giving Maduro an avenue to abolish the opposition-led Congress.
But it would hand him no obvious advantage in tackling the struggling economy, which voters identify as their top concern. Although he has already assumed sweeping executive powers in that area through an "economic emergency" decree, Maduro has balked at unwinding the complex system of subsidies and price controls that most economists say is the main hindrance to growth in the oil-exporting country.
Jaua said on Tuesday that the constituent assembly sought to create "conditions of stability" to hold elections, adding that "conditions of normality" do not exist due to opposition protests.
Opposition leaders said, however, that the planned assembly is a perversion of basic democratic principles.
"What Maduro called for is not a constitutional assembly but rather a prostitutional assembly," tweeted Henry Ramos, a legislator who served as president of Congress last year.
"Why don't they call the elections that were already supposed to happen?"