CARACAS—Venezuela's opposition began the "mother of all marches" on Wednesday, accusing President Nicolas Maduro of resorting to dictatorial measures to quash popular outrage over a deepening economic crisis.
In the culmination of a fortnight of violent demonstrations that have killed five people, protesters around the country will demand the government present a timeline for delayed elections, halt a security crackdown on protests, and respect the autonomy of the opposition-led legislature.
Recent marches have repeatedly ended in clashes between demonstrators and security forces. Youths throwing rocks have squared off against security forces spraying tear gas in melees that have dragged on well into the evening.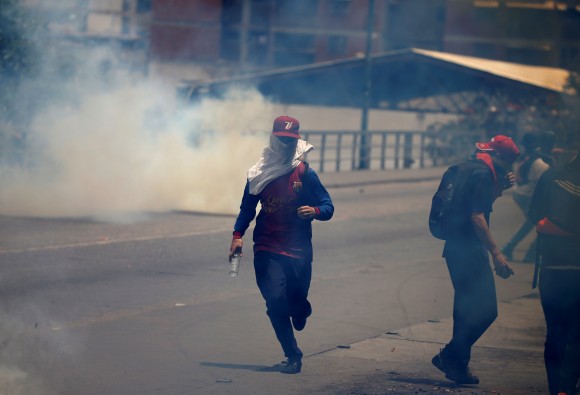 "We're scared but we've got to do this," said Carmen Medina, a 55-year-old social worker in the middle-class district of El Paraiso, where demonstrators were beginning to gather. "We're marching for the freedom of our country."
Maduro, who says recent protests have been little more than opposition efforts to foment violence and topple his government, has called on supporters of the ruling Socialist Party to hold a competing march in Caracas.
He says the protests echo those of 2002 that led to a brief coup against his predecessor and mentor, the late socialist leader Hugo Chavez. That putsch led to a broad purge of the armed forces who now openly proclaim their backing for Maduro.
Opposition leaders say the depth of the economic collapse in oil-producing Venezuela, in which millions struggle daily with food shortages, will prove a game-changer.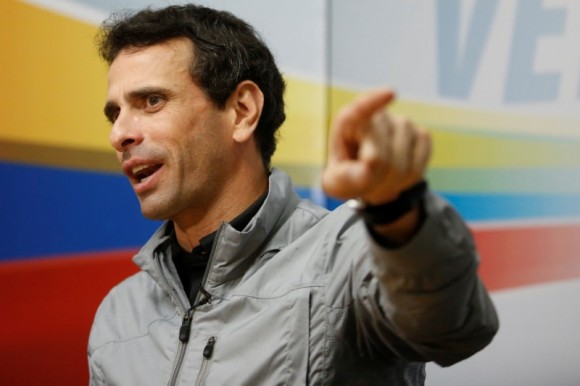 "This is a government in its terminal phase," two-time presidential candidate Henrique Capriles told Reuters on Tuesday evening.
"This is going to escalate … and force Maduro, and his regime, to hold free and democratic elections."
A Supreme Court decision in March to assume the powers of the opposition-led Congress sparked a wave of protests that have not ebbed, even though the court has partly reversed the measure in the face of international condemnation.
Further spurring outrage was a decision by the national comptroller's office earlier this month to disqualify Capriles from holding office for 15 years, dashing his hopes for the presidency.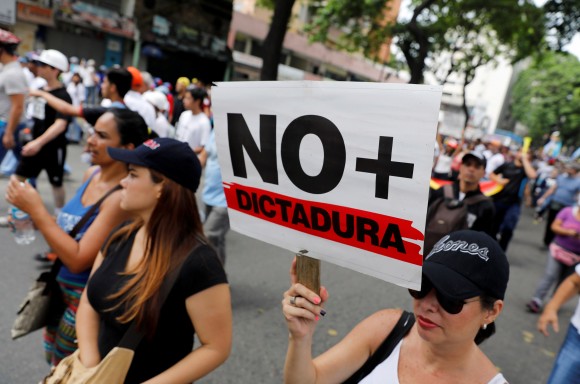 'Quick Solution'
The elections council, which is sympathetic to the government, has delayed votes for state governors that were supposed to take place last year. The opposition charges that this is because the ruling Socialist Party would be likely to fare poorly in such a vote.
Eleven Latin American countries issued a joint statement this week calling on authorities to set a time frame for elections to "allow for a quick solution to the crisis that Venezuela is living through."
Opposition supporters congregated at more than two dozen meeting points around Caracas and plan to converge on the office of the state ombudsman, a guarantor of human rights.
Previous efforts to march there have been blocked by the National Guard, resulting in clashes. Authorities closed metro stations and set up checkpoints on highways, which critics called an effort to slow the opposition mobilization.
Demonstrators also gathered in the southern city of Puerto Ordaz, home to Venezuela's struggling state-run mining companies, and in the border city of San Cristobal and the oil city of Maracaibo.
"I've just graduated … and what I've got in the bank isn't enough for a bottle of cooking oil," said Gregorio Mendoza, a 23 -year-old engineer in Puerto Ordaz. "We're poorer every day."
Socialist Party officials dismiss the opposition marches as efforts to destabilize the government, pointing to protester barricades and vandalism, and have called on supporters to rally around Maduro.
"They've got the right to march but marching isn't burning stuff, throwing rocks," said Jahil Marcano, a 48-year-old construction worker who had joined the pro-government rally. "They view us Chavistas with hatred."