CARACAS—Venezuelan security officials seized two opposition leaders from their homes in overnight raids, their families said on Tuesday, in what critics of President Nicolas Maduro said was further evidence that he is leading a dictatorship.
Leopoldo Lopez and Antonio Ledezma were both under house arrest, the former for his role in leading street protests against Maduro in 2014 and the latter on charges of plotting a coup.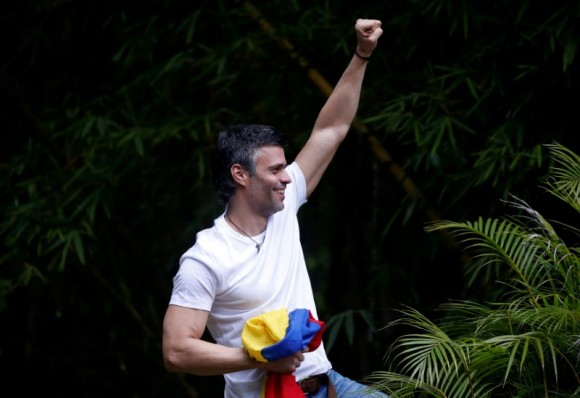 Their apprehension comes a day after the United States slapped sanctions on unpopular leftist Maduro for a new legislative superbody, the constituent assembly, which was elected on Sunday in a vote boycotted by the opposition.
The new assembly will have powers to rewrite the constitution and supersede other institutions, including the opposition-dominated congress.
Both men had been urging protests against the vote, which they charged was rigged and a naked power grab by Maduro to avoid free and fair elections which he would lose.
"12:27 in the morning: the moment when the dictatorship kidnaps Leopoldo at my house," Lopez's wife Lilian Tintori tweeted, posting a video that appeared to show him being led into a vehicle emblazoned with the word Sebin, Venezuela's intelligence agency.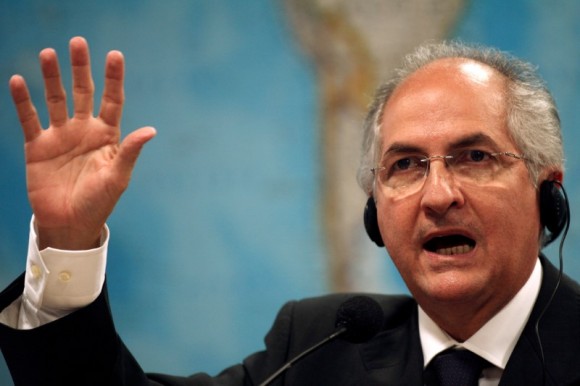 "Maduro's dictatorship is on the attack," said opposition lawmaker Yajaira Forero.
Lopez had been holed up in the military jail of Ramo Verde until last month, when he was unexpectedly granted house arrest in what was then seen as a breakthrough in the country's political standoff.
His lawyer, Juan Carlos Gutierrez, told local media there was no arrest warrant and that Lopez had fully complied with terms of his house arrest, which banned him from leaving his home and talking to media about his trial.
"They have kidnapped Leopoldo Lopez because he simply would not break under the pressures and false promises of the regime," wrote Freddy Guevara, a legislator from Lopez's Popular Will party.
Back in Ramo Verde
Lopez's lawyer said he and Ledezma were both in Ramo Verde prison, a decrepit penitentiary next to a slum in Los Teques, about an hour's drive from the capital.
The men are both former mayors in Caracas and high-profile critics of Maduro. Lopez in particular has become the international face of Venezuela's opposition, which is calling for early elections to replace Maduro amid a brutal economic crisis that has food and medicines running short.
A video showed Ledezma, dressed in his pajamas, being dragged out of his building by what appeared to be security agents as a woman screamed "They're taking away Ledezma! Please neighbors! This is a dictatorship!"
Ledezma was granted house arrest in 2015.