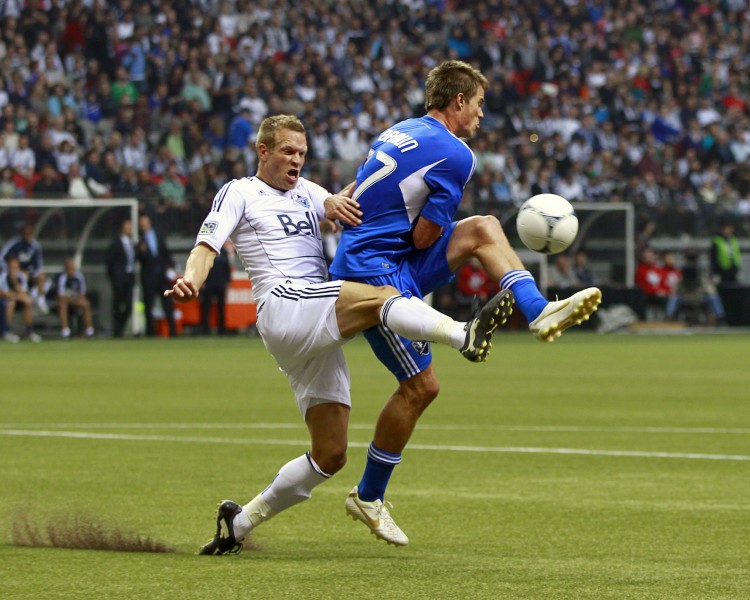 The Vancouver Whitecaps gave the Montreal Impact a rude welcome to MLS last Saturday, handing the league's 19th team a 2–0 loss at B.C. Place Stadium.
Once again, Vancouver got their season off to a strong start by beating a Canadian team by two goals at home. Last year, in their MLS debut, Vancouver downed Toronto FC 4–2.
The home side got the ball rolling very early with newly signed Sebastien Le Toux in the fourth minute and added a second in the second half from Camilo.
Le Toux latched on to a flicked header from Eric Hassli and closed in on Donovan Ricketts before side-footing a roller in the Montreal net. Le Toux played a withdrawn striker role that allowed him to have the ability to pop up anywhere in the attack.
"We talked about a good start. We knew it was important to take the crowd out of the game," said Impact head coach Jesse Marsch on MLSSoccer.com.
"I thought I had a chance to stab it obviously and I was a second late. In retrospect, I should've just been a little more conservative," said Tyson Wahl who was at fault on the goal.
Vancouver's second goal was a thing of beauty. After winning the ball in midfield, Hassli played a clever "dummy" which then allowed Camilo to take a pass near the top of the 18-yard box. Camilo weaved his way in and fooled Matteo Ferrari before placing it in the far side of the net.
The Impact's first-ever game in MLS did have some positive take-aways though, as they came very close to scoring on a couple of chances. The Impact were facing a much-improved Whitecaps side that had finished dead last in MLS last season.
Montreal's defence held firm against the Whitecaps for the most part except for a couple of lapses that led to goals. They did not fall apart after an early goal by Le Toux and used their physical play, picking up two yellow cards in the first half, to gain a foothold in the match.
"I thought we continued to play well, created our chances," said Davy Arnaud, who spent 10 years with Kansas City's MLS franchise. "Maybe on another day we tie it up."
"It was a game that Montreal did very well in. They definitely made it hard for us," said Whitecaps head coach Martin Rennie. "It's a great three points for us."
The Impact's best chance came just after the hour mark when, off a corner, Arnaud's header was headed off the line by Y.P. Lee. The veteran of three World Cups for South Korea saved a sure goal.
Arnaud also had a long strike tipped over the bar by Joe Cannon in the 71st minute.
Montreal's No. 1 pick, Andrew Wenger, made an appearance in the 72nd minute but was unable to make an impression on the game.
Vancouver came close to adding a third goal in the 87th minute when Alain Rochat's low strike was tipped by Ricketts onto the far post.
All in all, it was a well-deserved victory for the Whitecaps and Montreal will learn how a couple of mistakes can be deadly in MLS play.
Montreal will play their home opener Saturday against the Chicago Fire while Vancouver stays on the West coast for an away match against Chivas USA later that night.
Follow Rahul on Twitter @RV_ETSports