A thief drove off with $1.8 million in an early morning heist in Decatur, Georgia—and all he had to do was smash a window.
The FBI has two agents working on the case in cooperation with the Dekalb County Police Department but they are asking for the public's help in identifying the culprit with very little in the way of a description.
"Subject is described as being a male, wearing dark pants, baggy gray long sleeve T-shirt with a black backpack," reads an FBI release on the robbery.
The robbery took place on Sept. 8 but the FBI did not release details on the robbery until Wednesday, Sept. 21. When asked about the delay, a public information officer with Dekalb County said he was not sure. FBI Special Agent Stephen Emmett said there was nothing beyond the release issued that he could add.
At 6:45 a.m. on that day nearly two weeks ago, a cargo van with approximately $1.8 in U.S. currency inside it was stolen while parked at the Citizens Trust Bank (CTB) located at 2592 South Hairston Road, Decatur, Georgia.
The money was being transported by ATM Response Inc., a cash logistics company whose services include replenishing ATMs. Its van was stolen when the two employees responsible for it went inside the bank to make a cash drop into the ATM.
They parked the vehicle in front of the bank and went inside with an unspecified amount of cash "leaving a large amount of cash in the cargo of the vehicle," according to the FBI.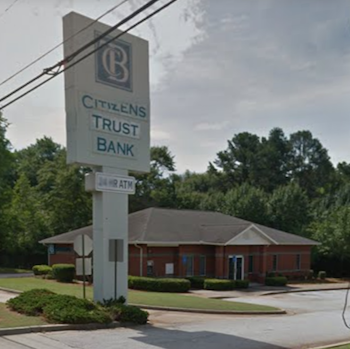 The driver locked the van, but left the keys in the ignition and the vehicle running, which other media have reported is the company's policy. Two calls to ATM Response for more information about the robbery and its policy of leaving the vehicle running were not returned by publication time.
According to the FBI, the driver and passenger were inside the bank for around 15 minutes. When they returned, their van had been stolen leaving little behind but some broken glass where it was parked.
The poor quality of camera footage of the robbery from inside the ATM room makes it difficult to make out details of the robber, but it reveals the backpack-wearing suspect approach the vehicle and pull on the driver and passenger door handles in an attempt to get inside. 
Within two hours of reporting the theft, the DeKalb County Marshall's Unit found the stolen van near 4749 Galleon Crossing, Decatur, Georgia.
"The vehicle was unoccupied, and there was no sign of the suspect at the scene," notes the FBI release.
The FBI is asking anyone with information, especially people that live in the Hairston Forest South neighborhood in Decatur, to call Crime Stoppers Atlanta—(404) 577-8477— with tips.