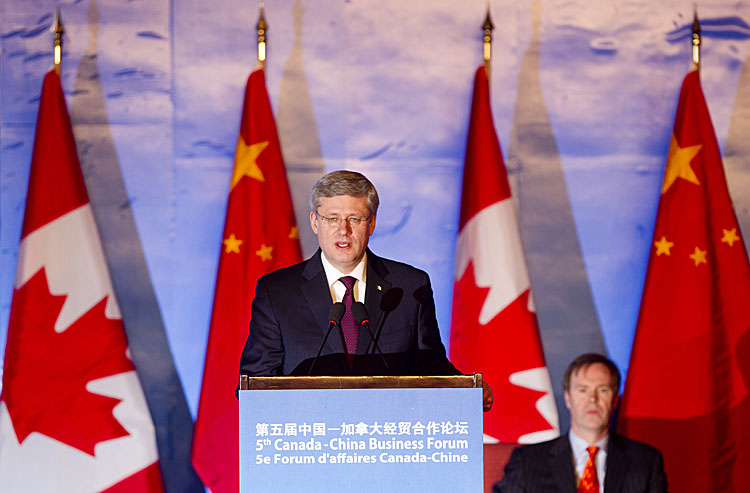 PARLIAMENT HILL, Ottawa—Canadian Prime Minister Stephen Harper's team in China negotiated a deal to protect Canadian investment there, but some question its value given the regime's indifference to the rule of law.
But another expert argues that whatever value the deal has, Harper's mission will have succeeded in building the kind of relationships needed to get things done in China, regardless of what is put down on paper.
Canada has worked on inking a deal to protect Canadian foreign investment in China for 18 years, though the agreement still needs to be approved in both countries, which would include a debate in the House of Commons.
But Greg Autry, author of "Death by China," said the deal means nothing given the fact that China's own constitution means very little, and the regime shows no respect for the rule of law.
He argues the agreement will be honoured by Canada and more often than not ignored by the Chinese regime, while long-term benefits will flow to China rather than Canada.
"China is going to get Canada's capital, natural resources, and all of Canada's manufacturing jobs, while Canadians are going to get consumer goods that last a couple of years," said Autry.
Autry argues that with increased foreign investment in Canada, which is often made by Chinese state-controlled companies, Canada will be subject to greater levels of influence by the Chinese regime.
Blogger and writer Terry Flavin, who writes for the Ottawa citizen, says on his blog that Sinopec Group is "the seventh-largest corporation on Earth and the absurdly corrupt and ravenous behemoth that is the main money, so far, behind the $6 billion Enbridge Inc. plan to punch a pipeline from Alberta's oil sands to the B.C. coast at Kitimat."
But Canada's long-term relationship with China could have an impact on the nature of the Chinese regime itself, and for the better, argues Elliot Tepper, distinguished senior fellow at the Norman Paterson School of International Affairs and senior research fellow at the Centre for Security and Defence Studies.
Despite the radical differences between the two countries, the fact that Harper continues to raise issues of governance and human rights throughout his interactions with the regime helps keep the pressure on.
And as China gets more involved in international trade agreements it faces greater pressure to adhere to international relations norms, including compliance with the rule of law, Tepper said.
Forging Relationships in China
Tepper noted that Harper's 2009 visit included a governance dialogue which has continued quietly since then.
"One can question its effectiveness, but the fact is that Canada raises these issues, does engage China in a governance, which is a code word for human rights dialogue, and China is willing to sign on to it."
However, he acknowledges that it could be a ploy by the regime to deflect public criticism of its human rights, pointing to a worsening situation of human rights in China since the PM's last visit there as evidence.
But he said even if the Chinese regime is trying to trick foreign governments that it is interested in human rights, at least it feels the pressure to try to appear to be moving in the right direction.
Whatever else, he said, there is value in Canada continuing to raise the issue. By meeting with major players in the Chinese Communist Party, Harper is forging the kind of relationships critical to working with China, and that could play a bigger role than any agreement, Tepper said.
With China now Canada's second largest trade partner, he believes Harper's pursuit of an evolving relationship with China ensures human rights issues will not be swept under the rug.
That becomes even more important as the regime faces constant threats to its own survival, which Tepper believes rests heavily on its ability to deliver economic growth.
If an inflating real estate bubble were to burst in China, something he said every country is concerned about, it is critical the regime falls back toward the rule of law, democracy, and human rights in order to stem growing intolerance of its abuses, as reflected in a rising tide of protests and riots there.
"China has riots very frequently and of some size and magnitude," he said, adding that western media do not pay enough attention to that issue.
But as much as Canada may try to push the regime, it will take a concerted international effort to really move it toward governance resting on consent and rule of law, he said.
Meanwhile, Canada's exports to China have doubled since 2006, from $7.3 to $14.5 billion, while imports have climbed from $34.5 to $44.1 billion. Canada now imports three times more than it exports to China, rather than five times in 2006, but the annual trade deficit has also grown from $27.2 to $29.4 billion.