HONG KONG—Societe Generale Valley claimed the Hong Kong Rugby Premiership League title on Saturday with a flamboyant and exhilarating victory over Herbert Smith Freehills Hong Kong Cricket Club 61-26.
The match produced 12 tries, with both sides earning a bonus point, with Valley scoring eight times and HKCC four. At one stage in the first half the score-board was moving faster than most could count!
Essentially the match was over by half time. Valley had a sublime half. They led at the break 40-14. After 13minutes they were already 21-0 ahead; HKCC had barely touched the ball, and been grasping thin air as Valley ran through the HKCC defense like hot knife through butter.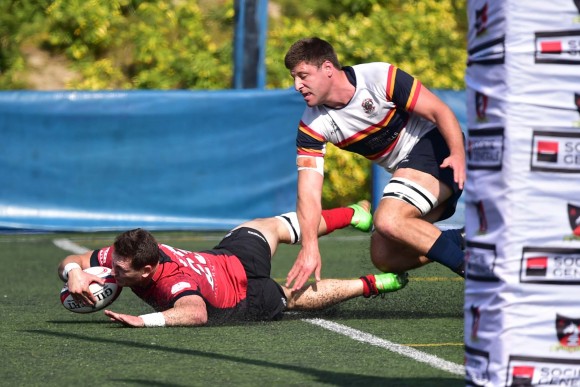 Thereafter Valley relaxed, it would have been difficult to sustain the intensity for a full half, and allowed HKCC to claw some ground back. Every time HKCC scored, Valley responded immediately, and then added another on the stroke of half time.  Valley scrumhalf Ruan Duplooy scored a hatrick, Grant Kemp and Ryan Meacham both scored, and the Valley pack forced a penalty try. HKCC centre, Andrew Krelle scored both tries for the Cricketers. And Ben Rimene for Valley and James Love for HKCC kicked the conversions.
The second half began brightly for HKCC with a try by Salafai Mika, with Rimene replying for Valley with both a penalty goal and try. HKCC added another try by Robbie McDonald after some excellent end-to-end play, before Valley replacement fullback Jean-Baptiste Aldige added the twelfth and last try of the afternoon. The final flurry though belonged to Aldige, who collected the ball in his own half ran confidently toward the HKCC line, but decided to drop a goal from 40m to seal a spectacular finish to the match. Pure rugby theatre that cued Valley's celebrations, and a fitting way to claim victory 61-26 and the League title.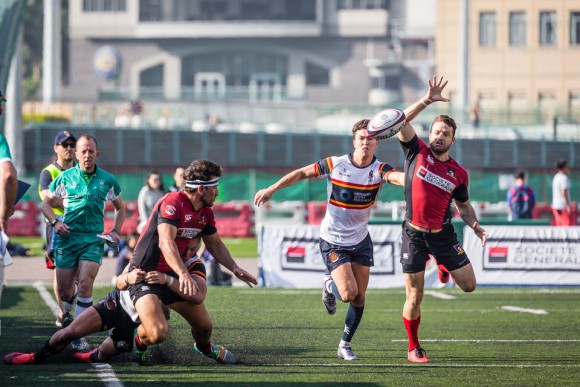 Valley now have week off to prepare for the Championship semifinal. HKCC need to regroup. They didn't turn up for the first 20minutes of the match; and in the final 20minutes gave away possession, penalties and displayed poor discipline with an unnecessary red card to add to their woes. Having challenged for honours last season, this year is proving much tougher.
In other matches on Saturday, Nataxis HKFC beat Borrelli Walsh Tigers 37-8. Kowloon's impressive form continued with victory over Bloomberg Hong Kong Scottish 28-17. The win for Kowloon meant they came second in the League, stay undefeated in 2017 and earn a bye next week with an automatic semifinal slot. For Scottish, who promised so much before Christmas has slipped badly in 2017, and now face a quarterfinal against Tigers. The other quarterfinal sees HKFC play HKCC.
At the end of the League phase of the season, honours go to Valley, who top the League with 53 points, followed by Kowloon on 45, Scottish on 43 and HKFC on 37; with HKCC adrift with 20, and Tigers on 18.
Championship rugby is knockout: whilst Scottish and HKFC will be favoured to win their quarterfinals, both HKCC and Tigers have nothing to lose. No matter how the league season goes, a surprising and inspirational turn of fortune can cause an upset. Meanwhile Valley remain overall favourites for League and Championship double, but Kowloon will wonder if their 40th season celebrations will end with silverware.
Grahame Carder is a sports enthusiast, former player and now resident in Hong Kong.