House Speaker Kevin McCarthy (R-Calif.) suggested to Ukrainian President Volodymyr Zelenskyy on Sept. 21 that he and other lawmakers will likely support additional assistance for Ukraine amid Russia's continued invasion, the Ukrainian leader has said.
Mr. Zelenskyy made the remarks in an interview with a small group of journalists from U.S. media on Thursday evening, after speaking with Capitol Hill lawmakers in a closed-door meeting during his visit to The White House,
The Hill
reported.
"He said that they will be on our side—it's not simple—that they will support," he said, according to the publication.
Mr. McCarthy has not yet commented on the meeting.
The Epoch Times has contacted his office for comment.
Mr. McCarthy, along with other GOP lawmakers, has publicly expressed reservations about whether to keep sending billions of dollars to Ukraine amid its ongoing conflict with Russia.
The White House, meanwhile, has asked for an additional $24 billion to support Ukraine in its fight against Russia amid its counteroffensive.
Congressional lawmakers have thus far failed to reach an agreement over the aid as a Sept. 30 government shutdown deadline looms, when federal funding is set to run out.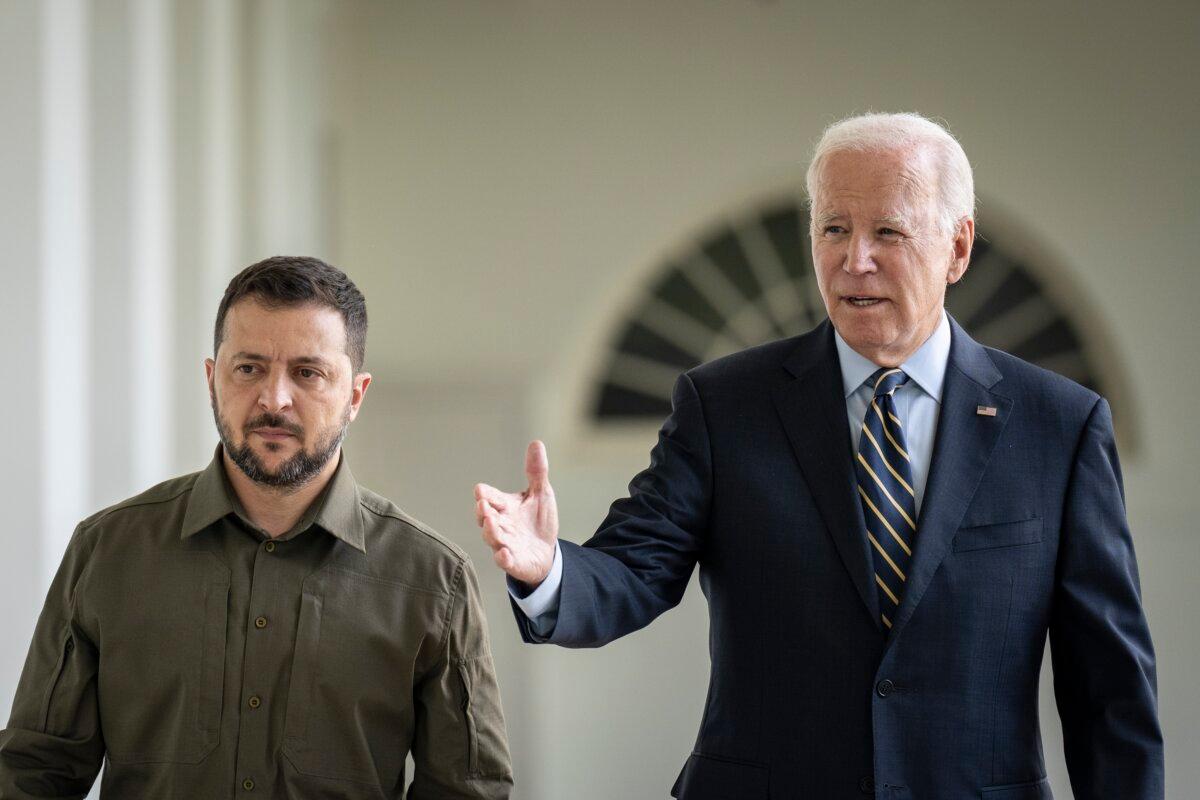 Concerns, Confusion Over Ukraine Aid
On the same day that Mr. Zelenskyy visited the White House, more than 20 Republican lawmakers, led by Sen. J.D. Vance (R-Ohio) and Rep. Chip Roy (R-Texas), sent a letter to the White House opposing President Biden's request for $24 billion in additional aid for Ukraine.

In their letter, lawmakers called for increased transparency regarding the spending and cited the Pentagon's admission that it has overcounted the value of the weapons it sent to Ukraine over the past two years by

$6.2 billion

, which they said underscored the need for increased clarity.

"The vast majority of Congress remains unaware of how much the United States has spent to date in total on this conflict, information which is necessary for Congress to prudently exercise its appropriations power," the letter states. "It is difficult to envision a benign explanation for this lack of clarity."

Meanwhile, Mr. McCarthy told

ABC News

prior to Mr. Zelenskyy's visit that he had plenty of questions for the Ukrainian president before he agreed to commit to another round of U.S. aid.

"Is Zelenskyy elected to Congress? Is he our president? I don't think I have to commit anything and I think I have questions for him," the House speaker said.

"Where's the accountability on the money we've already spent? What is the plan for victory? I think that's what the American public wants to know," he added.
White House Visit Confirmed 'Strategic Partnership'
The House speaker said he believes Russia's actions are wrong, but that accountability is needed.

"It's an atrocity, we want to make sure that ends. I also have always said from the beginning, no matter what the issue is, I want accountability for whatever the hardworking taxpayers spend their money on. I want to plan for victory. So no, I will listen to the American public. I will follow what happens in Congress, but I will have questions for President Zelenskyy," he said.

Following his visit to the White House, Mr. Zelenskyy's office published a press release stating that his meeting with U.S. lawmakers, including Mr. McCarthy and Senate Democrat Leader Chuck Schumer, "was another confirmation of the strategic partnership between the two states."

According to his office, the Ukrainian leader "briefed the senators on the current situation at the front, Ukraine's priority defense needs and the necessity to boost the capabilities of Ukrainian air defense, especially as winter approaches."

"The President thanked the attendees for each of their votes in support of Ukraine, for each bill aimed at bringing Russia to justice, imposing sanctions on Russian criminals, and achieving a just peace," his office said.

Additionally, he "expressed hope that the Congress would continue to adopt important decisions to financially support our country. The absolute importance of responsibility for the use of the assistance provided and the implementation of appropriate reporting was emphasized separately."