The Hudson River Greenway, which some believe to be the most heavily used bike path in the United States, may get an additional bike lane under a proposal by Manhattan Borough President Mark Levine.
Levine envisions replacing one car traffic lane on 12th Avenue with a two-lane bikeway. The borough president announced the proposal at a press conference on Aug. 2.
The Hudson River Greenway already includes one two-way bike lane which runs from Dyckman Street in Uptown Manhattan to Battery Park Downtown. According to NYC Bike Maps, the greenway is the most heavily used bikeway in the United States.
Levine called on the state Department of Transportation (DOT) to approve the project.
The proposed lane would run from West 57th street to Chambers street, a roughly four-mile stretch along the higway 9A. It would be located on the opposited side of the street from the existing bike path.
Levine said paint and barriers could be put up quickly and would be relatively inexpensive as the first step. He would not provide a cost estimate.
Levine said that on evenings and weekends, when the weather is nice, the bike lane is overcrowded, causing safety issues.
The lane to be converted under the plan is currently used for used for car parking.
City Council Member Erik Botcher said the Hudson River Greenway is a "victim of its own success." He said he gets lots of calls from people complaining about having a hard time crossing streets because of the heavy use of the bike lane.
Jon Orcutt, director at Bike New York, said, "bike use in the city has been going up steadily in the past 20 years, but since 2020 the increase has been huge—unparalleled. We are seeing problems in the bikeways across the city."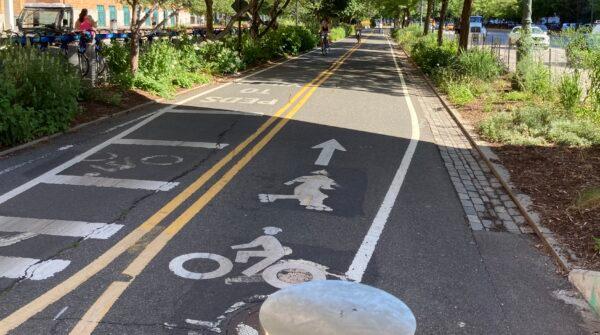 New Yorkers Weigh In
Hollie, a middle-aged woman from Harlem, uses the Hudson River Greenway to take her daughter to day camp. She then heads to work by the Brooklyn Bridge.

She heard about the plans to add another bikeway and said, "It's needed for sure, but I think it should go further up. They always forget Harlem when it comes to bike paths."

A young man named Moehhmed said another bike path would be a good idea because mothers and their children walk around, and the path gets very busy from 11 a.m. to 1 p.m.

Thirty-seven-year-old Forlian said he usually rides on other bike paths but was very supportive of the creation of another bike lane.

"Bike lanes are essential for people in the city that can't afford cars, cannot pay for their Metro cards, and it's healthy for you," he said.

Jose Velez, an elevator constructor, was sitting in his company vehicle parked on Chambers street. When asked if he knew about the plan for another bike lane, Velez said, "That's real smart! What other stupid thing could you do?"

Velez said that the bike lane in the Bronx ruined University Avenue. He said there is no place to park, and you have to wait all day for parking on the alternate street.

"I think whoever is making these policies should go and look around the neighbourhood and not just look at it on a map and maybe they then get to see what's really going on in New York City," said Velez.

Miranda Reeves, a 43-year-old trainer, uses the Hudson River Greenway five to six days a week to get to her clients.

"I am supportive of it because it benefits me, but I don't think it's realistic," Reeves said when asked if she supported the additional lane. "In some ways, it can cause more confusion and could possibly be more dangerous."

Seventy-five-year-old Henry said he uses the Hudson River Greenway as often as possible for exercise.

"It's a wonderful thing. I spent many years in western New York and the bike lanes they have out there are also amazing."

"That's a brilliant idea!" Henry about the additional bike lane proposal. "That's really going to help the traffic for people who commute."