Police have charged a man for biting his dog, after tussling with him in the middle of a street in Virginia where they found him wandering around intoxicated and naked.
Cory Michael Phillips, 31, also bit an off-duty FBI officer who had stepped in as a Prince William County officer struggled to bring him under control.
According to a
police report
of the Jan. 29 incident, Phillips had "at some" point picked up his dog and bitten it on the ears and chest.
A police officer had found Phillips wandering naked on his own street in Manassas, after calls to 911.
"The officer determined the accused was under the influence of an unknown substance and attempted to detain him," said the report. "When the accused ignored the officer's commands, the officer deployed pepper spray."
Phillips then moved toward an off-duty FBI agent who had stopped to assist the officer, sparking a struggle among the three.
"During the struggle, the accused bit the FBI agent, identified as a 51-year-old male, on the neck causing a minor injury," the report stated.
After Phillips was finally detained, he was taken to a local hospital as a precaution and then released to the Adult Detention Center, where was held without bond.
Smoking Marijuana
He has been charged with malicious wounding, animal cruelty, possession of marijuana, assault and battery, obstruction of justice, and intoxicated in public.
According to the report, officers determined that the accused had been smoking marijuana earlier that morning inside his residence.
"At some point, the accused picked up his 5-year-old Labrador-boxer mix dog and began to squeeze it before biting the dog on the ears and chest causing minor injuries," said the report.
Phillips went outside onto the streets—where the temperature was around freezing—where at one point he pushed a 60-year-old neighbor to the ground who had attempted to intervene. The neighbor was not injured, said the police report.
Commenting on the Facebook page of the local newspaper Prince William Times, one person wrote, "Holy snaps it was so cold that morning, oh my goodness."
Another wrote,  "Y'all commenting on this post when you don't know if he has any mental health issues if it was a bad drug interaction, anything! You don't know anything about this man. Have a little decency for once in your life."
Getting to grips with a naked suspect is a challenge for police forces, and is no joking matter.
'Every Year or Two, an Officer is Killed by a Naked Person'
Dr. Bill Lewinski of the Force Science Research Center at Minnesota State University-Mankato, studied encounters between officers and naked suspects for more than 20 years.

"Every year or two, an officer is killed by a naked person," he

told Police One

. "If someone is naked in public and is not drunk, not making a radical political or social protest, or not a paid professional like a stripper, the chances are overwhelming that they're in the midst of a full-blown psychotic episode. In the vernacular, they're really, really crazy ... and potentially very dangerous" he said.

"The vast majority of police contacts with mentally ill subjects, of course, are nonviolent. But naked people are among those categories that are particularly difficult. They're usually beyond your ability to influence verbally. They have a heightened capacity to resist OC, impact weapons, even a Taser," he continued.

Last year a New Hampshire man was charged with interference with a police dog after he put a K9 into a chokehold and sank his teeth into her head.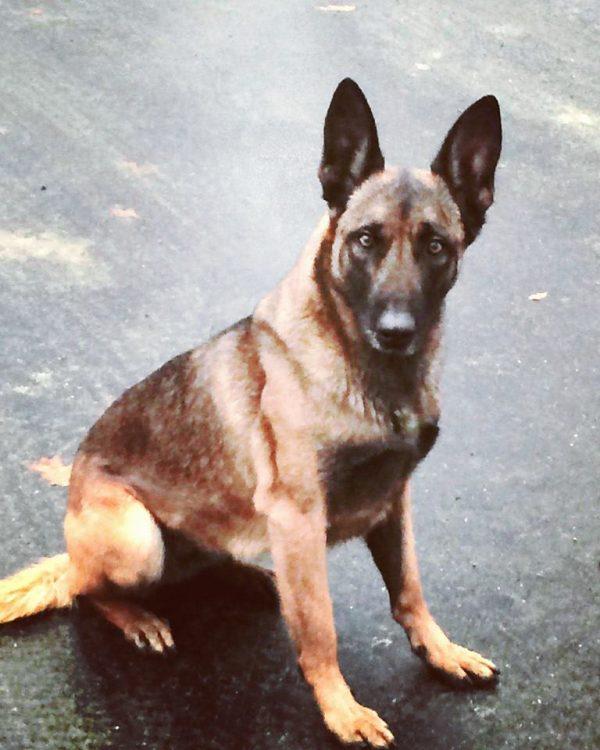 Troopers investigating a shooting incident on Jan. 21, 2018, were trying to secure the scene when they found someone holed up in a trailer in the back of the property.
The police broke a window, gained entry and deployed K9 Veda into the trailer, who quickly found the suspected under a pile of clothes.
|The male began kicking and punching K9 Veda and on-scene troopers," said the report. "At one point during the struggle, the male put K9 Veda in a chokehold and bit her in the head. After a significant struggle, troopers were able to place the male into custody."
The incident caused a stir locally on social media.