ORANGE, Calif.—Days after a shooter took the lives of two physicians at a hospital in Oklahoma, doctors and hospital staff wearing orange T-shirts gathered outside the University of California–Irvine (UCI) Medical Center on June 3 to commemorate National Gun Violence Awareness Day.
"Today, we want to remember those that have been hurt or killed by gun violence," Dr. Theresa Chin, a trauma surgeon from the medical center, told reporters. "But more importantly, we want to make moves to prevent further injury and deaths from gun violence."
Standing together in solidarity, Chin and approximately 50 others wore orange shirts with "END GUN VIOLENCE NOW" in bold white print.
"We wear orange because that's what hunters wear when they're in the woods to protect themselves and others," she said.
Orange became the color of choice in observing the nationally recognized day in 2013 after friends of 15-year-old Hadiya Pendleton—who was shot and killed on a playground in Chicago—began wearing the color to commemorate her life.
Doctors and staff at UCI Medical Center—which houses the only Level I trauma center in Orange County—told reporters they're teaching the community about gun safety and mental health, and offering "Stop the Bleed" classes to train people on how to help injured patients in times of emergency.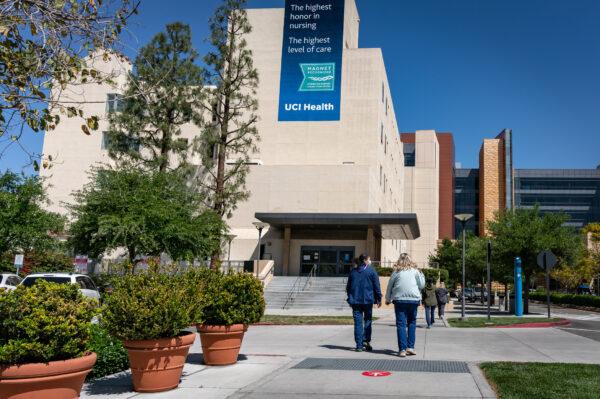 "We as trauma surgeons and medical care clinicians see patients at their worst," Chin said. "And when it's something that is easily preventable, it's something that we as a community [and] country can do."
During the commemoration, two clinicians demonstrated how to stop the bleeding from a gunshot wound.
First, call 911.
Then the demonstrators—using a mock appendage—said to push down on the wound while holding pressure to reduce blood loss. Next, they packed the wound with gauze, slid a tourniquet underneath the limb, and tied the band tightly around it.
The tourniquet—or any other item that can tie around a limb to restrict blood flow—should be placed a few inches above the gunshot wound, doctors said.
"You want to make sure that [the band] is above the area that was shot," Chin said. "If you have a gunshot wound on your lower leg, you want to put it up on your thigh. If it's on your thigh, you'll want to put it even higher than that—closer to your belly."
Because body parts still need blood flow and oxygen, notating when the wound was treated also helps trauma surgeons decide when to release the tourniquet.
According to the UCI Medical Center, approximately 145 patients injured by gunfire were treated at the center in 2021.
In a recent study published in the New England Journal of Medicine, UCI's medical staff said the leading cause of death for children 19 and under is firearm injuries—surpassing motor vehicle collisions.
Nationwide, firearms have killed almost 18,500 people, and 236 mass shootings have occurred since the beginning of 2022—equating to more than one incident per day—according to the nonprofit Gun Violence Archive.
"More importantly, though, we need to work together, focus on each other, check in with each other, and show kindness and grace," she said. "Those are the things we can do on the community level."