Brandon Bartells, 38, of Washington state, was charged with one count of criminal mischief in the first degree and one count of riot for allegedly damaging the historic statue of President Theodore Roosevelt.
According to court documents, police received photographs of a vehicle believed to have been used to topple the statue. The van was linked to chains and straps wrapped around the statue. It was driven forward, causing the Roosevelt statue to fall to the ground.
Police stopped the van and found Bartells driving it, with five others inside.
Bartells is also a suspect in the toppling of a President Abraham Lincoln statue but that investigation remains ongoing. Bartells was arrested in August in Kenosha, Wisconsin, for violating a curfew put into place to try to prevent a riot.
The Multnomah County District Attorney's Office also charged Malik Muhamad, 23, with one count of unlawful possession of a firearm, one count of possession of a loaded firearm in public, one count of criminal mischief in the first degree, and one count of riot.
According to court documents, Muhamed was witnessed by law enforcement as participating while rioters damaged the Oregon Historical Society, Portland State University, Starbucks, Bank of America, and other local businesses. Muhamed used a metal baton to smash windows, police said.
Muhamed tried to flee from officers and at one point stashed a gun behind some barrels that he was hiding behind before he ran to a front porch of a residence, according to authorities. Police recovered the gun and found a loaded pistol magazine in his pocket. The magazine matched the pistol.
The Portland Police Bureau initially said Muhamed was a Portland resident. Prosecutors said he is from Indiana. Police detectives later learned he's been living in Washington state and has attended multiple violent protests in recent months.
"It is sickening to me to see the destruction that occurred in Portland overnight. The damage in the South Park Blocks, at the Oregon Historical Society and other businesses in downtown is inexcusable," District Attorney Mike Schmidt said in a statement.
"The vandalism that occurred overnight has no place in our community. This violence and property destruction is without purpose and justification. My office remains committed to prosecuting individuals who commit these types of crimes so we can protect public safety," he added.
Portland city workers estimate the cost to repair the Lincoln and Roosevelt statues at approximately $30,000.
The estimated damage inflicted upon the Oregon Historical Society is more than $20,000, according to court documents.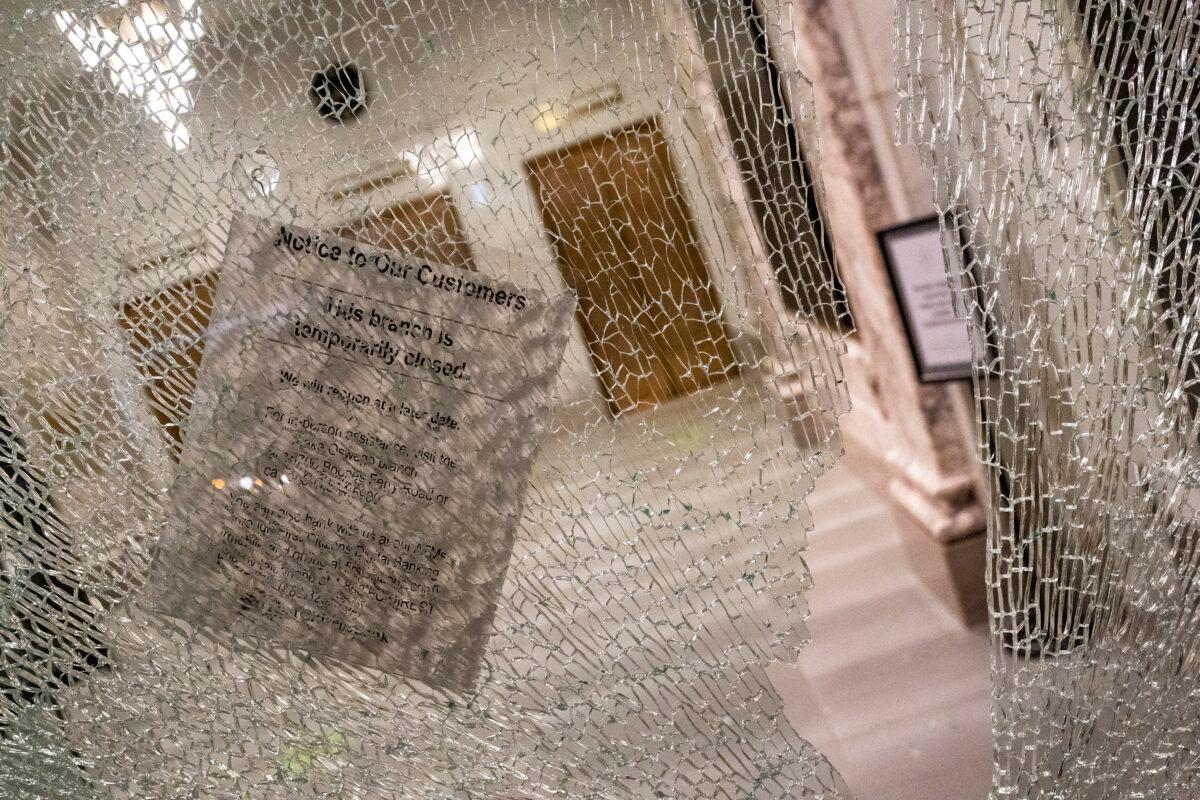 Rioters on Sunday night broke windows, applied graffiti, and fired at least two bullets through the front windows of a restaurant, police said.
Justin Bowen, 25, of Portland, was also arrested for assault and unlawful use of pepper spray. He has not been charged as of yet.
More arrests are possible.
The riot took place on Indigenous Peoples' Day. Organizers of the riot dubbed it "the Indigenous People's Day of Rage." Several known members of Antifa, a far-left, anarcho-communist network were among the crowd.
Mayor and Police Commissioner Ted Wheeler, a Democrat, told reporters at a press conference on Monday that the group "co-opted what is otherwise a peaceful opportunity for education, and reflection, and celebration of the achievements the accomplishments of the Native American community, and instead engaged in acts of criminal destruction here in Portland."
"I want to be clear these acts are obscene. They're an affront to the values of this community. As mayor, I will never tolerate or condone violence, or criminal destruction," he added.
Portland Police Chief Chuck Lovell said the group "was intent on committing acts of criminal violence and mayhem."
"Participants were encouraged to come wearing all black with masks, and live streamers, journalists, and photographers were encouraged not to come and threatened not to show up as well. This gave us some indication that these folks wanted to engage in criminal activity and reduce their risk of being caught," he said.
The mob tried burning down the Oregon Historical Society building, according to police officials.
Portland has seen near-nightly unrest since late May. Local and state officials have repeatedly refused offers of assistance from President Donald Trump's administration.
Trump took to Twitter early Monday to share videos of the mayhem, writing in one post: "Taking advantage of fools. Law & Order! Portland, call in the Feds!"