President Donald Trump responded to over a hundred NFL players who decided to kneel instead of stand for the national anthem—a form of protest started by former San Francisco 49ers quarterback Colin Kaepernick.
In a series of tweets, the president said that the issue is not about race, but "about respect for our Country, Flag and National Anthem."
"Many people booed the players who kneeled yesterday (which was a small percentage of total). These are fans who demand respect for our Flag!" Trump said in a different Tweet.
Trump also praised NASCAR fans for their patriotism after several NASCAR team owners said on Sunday they would fire any member of their teams who refuses to stand for the national anthem.
"Anybody that don't [sic] standup for the anthem ought to be out of the country. Period," said NASCAR team owner Richard Petty according to the Associated Press. "What got 'em where they're at? The United States."
Team owner Richard Childress said that if any of his staff would kneel for the national anthem, "It'll get you a ride on a Greyhound bus."
"Anybody that works for me should respect the country we live in," he added. "So many people gave their lives for it. This is America."
Trump first brought up the issue of NFL players kneeling at a rally in Huntsville, Alabama, on Friday night. There he called on NFL owners to fire any player who refuses to stand for the anthem.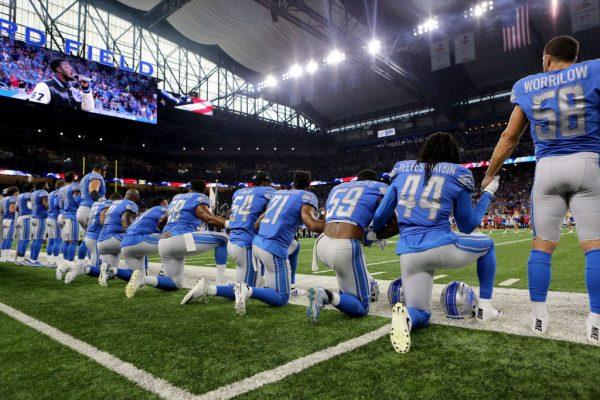 "Wouldn't you love to see one of these NFL owners, when somebody disrespects our flag, to say, 'Get that son of a [expletive] off the field right now," Trump said at the rally. "Out! He's fired. He's fired!'"
Trump said in his speech that the issue was about American values, and that the NFL players in question are disrespecting "everything we stand for."
The NFL protests started last year when Kaepernick sat on the bench during the national anthem, which drew public backlash on social media. He later decided to kneel instead of stand.
Kaepernick said at the time that his protest was against "police brutality,"
adding that
America does not give "freedom, and justice, and liberty to everybody."
NFL Commissioner Roger Goodell responded to Trump's statements, 
saying
"The NFL and our players are at our best when we help create a sense of unity in our country and our culture."
Talking to reporters on Sunday, Trump said, "We have great people representing our country, especially our soldiers, our first responders, and they should be treated with respect. And when you get on your knee and you don't respect the American flag or the anthem, that's not being treated with respect."
The kneeling of over a hundred players on Sunday led to outrage from NFL fans. Some of them posted videos to social media to express their anger, with some even burning their NFL merchandise.
"You've crossed the line, this is a line you guys are unaware of, but you've crossed it," said one NFL fan in a video posted to YouTube in which he burned his Pittsburgh Steelers gear.