Former President Donald Trump said on June 8 that his attorneys informed him that he had been indicted by special counsel Jack Smith in connection with an investigation into his handling of classified documents.
"The corrupt Biden Administration has informed my attorneys that I have been Indicted, seemingly over the Boxes Hoax," Trump wrote on his social media platform, Truth Social. He went on to point to the parallel investigation into President Joe Biden's handling of classified documents.
Trump said that he has been summoned to appear at the federal courthouse in Miami at 3 p.m. on June 13.
"I never thought it possible that such a thing could happen to a former President of the United States, who received far more votes than any sitting President in the History of our Country, and is currently leading, by far, all Candidates, both Democrat and Republican, in Polls of the 2024 Presidential Election. I AM AN INNOCENT MAN!" Trump wrote.
Trump's attorney, Jim Trusty, told
CNN
on Thursday night that the summons paperwork provided to the attorneys includes language that outlined the seven charges in the indictment.
The charges stem from an alleged Espionage Act violation, which Trusty called "ludicrous." The other counts include willful retention of classified documents, obstruction, false statements, and conspiracy charges, Trusty said.
News of the indictment arrived days after Trump's lawyers spent about two hours inside the Department of Justice (DOJ) on June 5, apparently addressing their concerns about the way the case has been handled.
His attorneys had requested the meeting in a
May 23 letter
to U.S. Attorney General Merrick Garland, "to discuss the ongoing injustice" of the special counsel's investigations of Trump.
One of Trump's attorneys, Jim Trusty, told CNN on Thursday evening that the charges are related to the Espionage Act.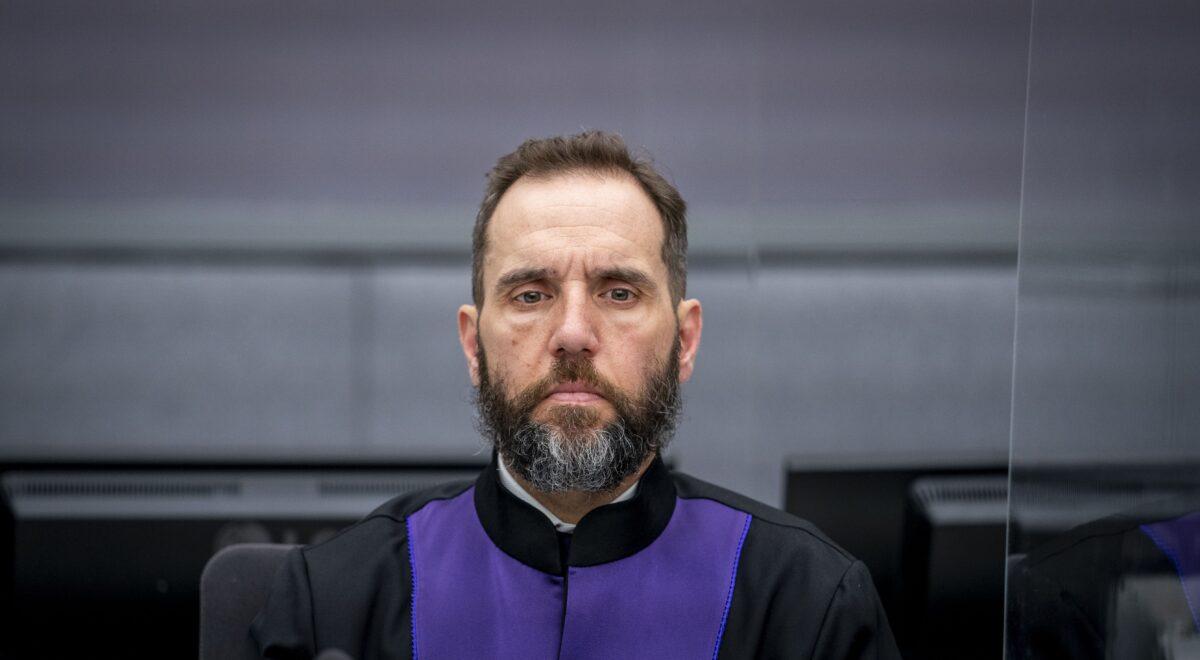 Trump Calls for Charges to Be Dismissed
The Trump campaign issued a
lengthy, detailed statement
describing why the charges should be thrown out, and denouncing them as an unprecedented, "unconstitutional abuse of power." The statement also raises concerns about Biden's records and other conduct and outlines Smith's "checkered" history.
"Today's act of open legal 'warfare' by the highly politicized and partisan Department of Injustice, has taken things to a new level, and set a dangerous precedent," the campaign wrote. "By politically weaponizing the DOJ, the Biden administration and their henchmen in the Swamp are now conducting an all-out prosecution of the leader of the current administration's political opposition. This is un-American and wrong."
Trump says he violated no laws and was held to a different standard than other former presidents and vice presidents who possessed classified documents, including Biden and Mike Pence, former vice president under Trump and now a presidential candidate. Classified documents end up in the hands of former presidents and vice presidents "because there are no explicit federal guidelines for handling such material," the statement said, calling on Congress, not the DOJ, to remedy this.
As it stands now, "every president has had the right to possess whatever documents they wish," the statement said, adding that the PRA provides no criminal penalties. "Utilizing the Espionage Act is an egregious effort to bend the rules against President Trump." Trump, however, remains determined.
"President Trump will fight these bogus charges with the same vigor and relentlessness that he fights for the American people," the campaign said. "He will never quit fighting for you."
Lawmakers React
Republicans reacted to the news about the indictment with outrage, alleging that a two-tiered justice system is now operating in America.

"It is unconscionable for a President to indict the leading candidate opposing him. Joe Biden kept classified documents for decades," wrote House Speaker Kevin McCarthy (R-Calif.) on Twitter.

"I, and every American who believes in the rule of law, stand with President Trump against this grave injustice. House Republicans will hold this brazen weaponization of power accountable."

Rep. Marjorie Taylor Greene (R-Ga.) wrote that it was "a complete and total failure to the American people" and "a stain on our nation that the FBI and DOJ are so corrupt and they don't even hide it anymore."

"If the people in power can jail their political opponents at will, we don't have a republic," Sen. Josh Hawley (R-Mo.) wrote.

Democrats, on the other hand, suggested that the indictment shows that the American justice system is working.

"The former twice-impeached president is now twice-indicted," Rep. Rashida Tlaib (D-Mich.) wrote.

"No one should be above the law in the United States of America," Dwight Evans (D-Pa.) wrote.

"A friendly reminder… no one is above the law. Not even a former President," Adriana Espaillat (D-N.Y.) echoed.

Trump's

March 30 indictment

on state business records charges in New York already put him in the history books. That case made him the first former U.S. president to be indicted for a felony; he has pleaded not guilty to all 34 charges arising from an attorney's "hush-money" payment to an adult film performer.

While Trump's critics maintain that he deserves to be held accountable, he and his supporters contend that he is the victim of politicized persecution. His attackers are trying to play spoiler, they say, blocking Trump's raging-bull quest to upend Washington's bureaucracy.
"The Democrats' indictments of Trump for these non-crimes ... are part of a lawfare campaign to keep Biden in power," attorney Mike Davis, founder and president of The Article III Project, which seeks to uphold the Constitution, told The Epoch Times.
Shortly after Trump announced the indictment, some Republican presidential hopefuls responded to the news.
"The weaponization of federal law enforcement represents a mortal threat to a free society," said Florida Gov. Ron DeSantis in a Twitter post.
"We have for years witnessed an uneven application of the law depending upon political affiliation," he wrote.
Meanwhile, entrepreneur Vivek Ramaswamy wrote that "I never thought we'd see the day when the U.S. President deputizes the DOJ to arrest his lead rival in the middle of an election."
"This is an affront to every citizen: we cannot devolve into a banana republic where the party in power uses police force to arrest its political opponents," he added. "It's hypocritical for the DOJ to selectively prosecute Trump but not Biden."
"I was the first candidate to call for @JoeBiden to #PardonTrump so the country can move on to the important issues facing the country like $32 trillion in debt, a broken border, and a war in Ukraine. I stand by it. Pardon Trump now!" he posted on Twitter.
Conservative commentator Larry Elder decried America's justice system.
"More partisan prosecution! Hillary violates the Espionage Act—yet skates. FBI/DOJ whistleblowers tell of 2-tiered justice. FBI informant doc claims Joe & Hunter got $10mil in bribes. O.J. Simpson will catch the killer or killers of Ron and Nicole before the Hunter probe is over," he posted on Twitter.
Former Arkansas Gov. Asa Hutchinson reiterated his call for Trump to end his comeback bid for the White House.
"With the news that Donald Trump has been indicted for the second time, our country finds itself in a position that weakens our democracy," he said in a statement.
Leaks about the pending indictment of Trump surfaced at a crucial time for Biden, when 
information has surfaced
 about his alleged connection to a multimillion-dollar bribe from a Ukrainian business that employed his son Hunter while Biden was vice president.
Trump has alleged that federal prosecutors tried to bribe an attorney representing a witness and also offered a lawyer a judgeship in the Biden administration if his client would "flip" against Trump.
The DOJ told The Epoch Times that it would not comment on Trump's accusations.
More charges could follow in other investigations. Smith and a Georgia prosecutor are also investigating Trump on allegations related to his dispute of the 2020 election results declaring Biden the winner.
At the same time, another special counsel, Robert Hur, has been probing Biden's handling of records found at several locations, including a locked garage where he stores his Corvette; Biden's home was not raided, but Trump's was. Trump has pointed out that Biden, as a vice president or member of the Senate, would not have had the power to declassify the records that he possessed.
A court record
, filed in Trump's home state of Florida, says the government was conducting a criminal investigation about "improper removal and storage of classified information in unauthorized spaces, as well as the unlawful concealment or removal of government records."
Under federal law, a person who has "unauthorized possession" of any document that could be used to hurt the United States faces imprisonment of up to 10 years. Other laws also forbid concealing, mutilating, falsifying, or destroying certain records; some sections of the law carry a potential 20-year prison term.
Authorities cite
The Presidential Records Act of 1978
, which transferred records of U.S. presidents and vice presidents to public ownership. The act also established a new statutory structure for presidents and the National Archives and Records Administration (NARA) to manage records from their administrations.
Deviation From Normal Process?
On June 4, former Trump lawyer Timothy Parlatore
told NBC's "Meet The Press"
that NARA had deviated from its customary procedures that had been followed with previous outgoing presidents.
Usually, the Government Services Administration transfers the records to a facility near the former president's residence, then allows the president two years to sort out anything that is personal, Parlatore said. The remaining presidential records are then returned to NARA.
Instead, the administration moved the records to Trump's home, then demanded that the records be returned immediately to NARA, Parlatore said. That led to a dispute between Trump and NARA. He says the whole thing could have been resolved if NARA had suggested moving the documents to a facility near Trump's home at Mar-a-Lago, Florida.
Authorities alleged that Trump and his team were being uncooperative, leading to the FBI's infamous raid of Mar-a-Lago on Aug. 8, 2022, while Trump was away in New York.
Trump has repeatedly railed against the possible indictment on his Truth Social account, just as he had done when rumblings intensified about the New York case.
On June 5, Trump posted a message about the documents probe on
his platform
, expressing that he was incredulous that the DOJ could charge him despite seemingly similar documents issues with past presidents as well as with the current one.
"Joe Biden won't be charged for anything," Trump wrote, "[despite] the fact that he has 1,850 boxes, much of it classified." Some of the records date back to Biden's time as a U.S. senator. In addition, Trump said, both former President Bill Clinton and his wife, Trump's 2016 election opponent Hillary Clinton, went unprosecuted despite having been found to have kept sensitive records in less-than-secure conditions.
Trump said that singling him out in this way amounts to "the greatest witch hunt of all time."
Trump's railings against Smith date back to at least Jan. 12. Trump called Smith "a Trump-hating thug" who is married to a "serial and open Trump Hater." In that same post, Trump alleged that Smith, while he worked as a prosecutor in Europe, "put a high government official in prison because he was a Trump-positive person." Further, Trump said Smith is "best friends with the craziest Trump haters."
Trump declared at that time that "the boxes scam is a hoax."