A pair of siblings in Torrance, California, turned a personal tragedy into a Christmastime blessing for local seniors.
Karis Choi, 16, and her 15-year-old brother, Kyler, learned in June that their great-grandmother had died in a South Korean senior care center.
"We were devastated," Karis told The Epoch Times. "My heart broke thinking of how isolated she must have felt self-quarantining alone for so long."
Kyler added: "Suddenly, a flow of memories of spending time with her brought me to tears. I cried so much. I felt so empty, and that emptiness lingered for a long time."
The teens' grief, combined with their passion for community service, inspired them to find a way to honor their great-grandmother and remind local seniors they're not alone.
Bright, Joyful Cards
"We arrived at the idea of greeting cards because I've been hand-drawing greeting cards for the people I love in my life for as long as I can remember," Karis said. "This way, we are also able to aid the communication of a senior and their family, which is something we regret not doing with our great-grandmother."

Karis, who draws inspiration from her family and friends, said her goal was to create bright, joyful cards "that will warm the heart of whoever receives [them], especially during this dark time."

She doesn't plan or sketch multiple rough drafts. Instead, she modifies her design as she draws, and when it looks about halfway done, she asks her family for feedback about color and text placement.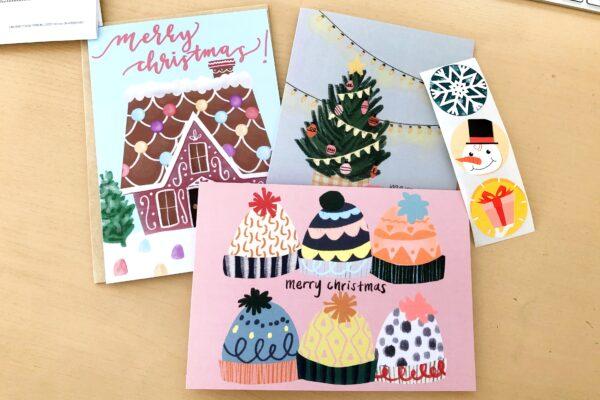 So far, she has designed three Thanksgiving cards and seven Christmas cards. In total, the pair has delivered more than 1,000 greeting cards to seniors in the area.
Once Karis finishes her design, they use a printing company to produce the cards. After the cards are printed, they fold them and place them in clear bags decorated with stickers.
'These little things make a difference'
"They delivered these beautifully designed cards," Susan Cooper, owner and administrator of A Helping Hand, a small residential board-and-care facility for the elderly in Hawthorne, told The Epoch Times. "They delivered Christmas cards [that were] beautifully wrapped and packaged in the best quality paper."

Cooper nominated the Choi siblings as local heroes in response to The Epoch Times' call-out for readers to highlight everyday acts of kindness in their communities.

Cooper was impressed by the design and appearance of the cards.

"I just felt that [Karis] is so talented with the drawings and the art on the Christmas cards," she said. "Everything is so professionally presented in cellophane bags with little stickers that match the card. I was just blown away."

Since most of the seniors at A Helping Hand suffer from memory issues, Cooper said the impact of the cards is "short-lived." However, it did bring them momentary joy, and the real impact is on the residents' family members who receive the cards.

"The families were very touched," she said. "The residents are enjoying the cards because they're such beautiful images. It just spreads a little bit of Christmas joy. ... There [are] few opportunities for highlights in an elderly person's boring day of sitting around in a board-and-care home. I recognize that. So we try to bring as much fun into the day as possible.

"All of these little things make a difference. It brings a little bit of excitement to their day. ...it just lifts one's spirits."
Connecting Seniors With Families
"The whole purpose of our work was to encourage communication between seniors and their loved ones in this season of COVID where families can't meet," Karis said. "We hope that when the seniors' families receive these cards, they want to send a card back to the seniors that will brighten their day."
The siblings, who attend Lighthouse Community Church with their family, decided to include a Bible verse with each card after hearing a sermon from their pastor about evangelism.
"Evangelizing through these cards [gives] it extra meaning," Karis said. "We hope that whoever receives the card would come to know God and His love."
Karis noted that their efforts wouldn't have been possible without the support of their mother, Cara, who drove them to the facilities, helped organize finances, and encouraged them throughout the process.
Aside from working on designs for Valentine's Day cards, Karis and her brother are also creating a club for a high school project.
"We hope that by creating the club, we'll be able to gather more resources to further expand this project and reach more facilities and seniors in the future," Kyler said.
"My great-grandmother was alone as she passed away—with no family to say goodbye to, no one to watch her fade away. I want to make sure that these elderly folks know that they have someone they could talk to."
If you have a local hero you would like to nominate, please contact The Epoch Times at News@EpochTimesSocal.org.