Sales tax in Los Angeles, Riverside, San Bernardino, and Orange Counties could rise by half a cent if a proposed ballot measure passes in 2020, pushing the area's sales tax close to the state limit of 10.25%.
The measure, which is still in its very early stages, was proposed by the South Coast Air Quality Management District (SCAQMD). The measure is estimated to raise about $1.4 billion annually to fund programs aimed at reducing air pollution.
The fund will be used to replace diesel school buses with zero emission electric or near-zero emission natural gas buses, upgrade infrastructure at ports to reduce air pollution, and to provide manufacturers with incentives to use zero emission and near-zero emission technology, according to 
a meeting agenda posted by SCAQMD
.
However, imposing another new tax could be difficult in a region with one of the highest tax rates across the state, especially considering the recent gas tax increase. With protests emerging after the state legislature in 2017 approved charging an additional 12 cents per gallon of gasoline and 20 cents per gallon on diesel, the gas tax increase was nearly repealed by another ballot measure in the 2018 elections.
"We don't need a new tax. The California Air Resources Board is collecting millions from Cap and Trade that should be paying for clean air projects in the South Coast basin," said SCAQMD Legislative Committee member and San Bernardino County Supervisor Janice Rutherford in a written statement.
Cap and Trade, a program launched in 2013, established an annually decreasing emissions cap for businesses in order to reduce greenhouse gases. It allows businesses to trade their unused portion or purchase additional portions from others.
"Now that we've scaled back the high-speed rail project maybe some of those dollars can start flowing south finally," Rutherford continued.
Difficulties also exist in the legislative process. SCAQMD is an air pollution control agency serving all of Orange County and the urban portions of Los Angeles, Riverside and San Bernardino counties. It has no jurisdiction over imposing a new sales tax across these four counties.
Therefore, to put the measure on the ballot, SCAQMD needs to first request the state Legislature to pass a bill granting the SCAQMD authority. Then, enough signatures will need to be collected from voters to meet the requirement for a ballot initiative.
Alternatively, SCAQMD could put the measure on the ballot itself after gaining legislative authority to impose a new tax, Derrick Alatorre, deputy executive officer for public affairs and media told
the Daily Bulletin
.
As of Feb. 18, no related legislation has been introduced. California Advisors, a lobbying firms in Sacramento hired by SCAQMD reported that it is still "in the process of working with legislative counsel to draft bill language" and will introduce the legislation by the deadline of February 22nd, 
according to SCAQMD
.
In addition, the SCAQMD proposed sales tax increase would not only drive the tax rate up to the limit of 10.25% but also encourage many cities to accelerate their processes of raising the local sales tax in order to keep the money locally.
Monrovia, a city in Los Angeles County, is one of those considering to put a local sales tax measure on the 2019 ballot before the air district squeezes the money out from the city.
In his 2019 State of the City address, Monrovia Mayor Tom Adams pointed out that LA County has increased its sales tax to 9.5%, which is the highest rate in the state. Since the cap for sales tax in California is 10.25%, there is 0.75% left for any further tax hike in Los Angeles County.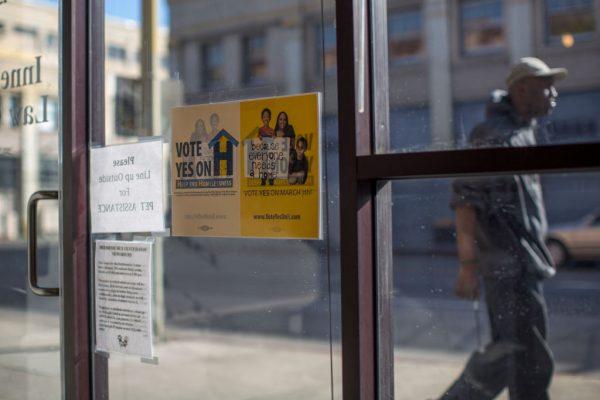 Adams said the county's Measure H, a quarter-cent sales tax approved in 2017 for homeless services and prevention, has sucked out $2.6 million from Monrovia, with only $30,000 returned to the city.
He also said that cities like Santa Monica and Long Beach don't contribute to the Measure H but still receive funding from it, as their local sales taxes have reached the limit and the county is unable to increase any more.
"If the tax hikes are going to be approved anyway, there is something we can do now, in 2019, to protect our interests here in Monrovia," said Mayor Adams. "If we do, then instead of feeding LA County bureaucracy, we can use those monies to improve and upgrade Monrovia."