Republican Presidential candidate Vivek Ramaswamy is "deeply concerned" that Tesla CEO Elon Musk met with China's foreign minister this week, while reportedly revealing an opposition to economic decoupling between the United States and China.
Taking to Twitter on May 31, Ramaswamy said he was breaking an "unspoken rule in the GOP" by sharing his concerns about the billionaire's meeting with China's foreign minister.
Musk arrived in Beijing on Tuesday for his first trip to China in more than three years.
The businessman first met with Foreign Minister Qin Gang, where according to a statement from the Chinese Foreign Ministry, Musk reportedly shared his thoughts on American and Chinese economic interests while also praising China's "vitality and promise."
Musk later allegedly announced that he will expand his business in China, according to
reports
.
"It's deeply concerning that Elon Musk met with China's foreign minister yesterday to oppose decoupling and referred to the U.S. & Communist China as 'conjoined twins," Ramaswamy
wrote
on Twitter. "Tesla's VP in China reposted that statement on Weibo in China, but curiously, not here in the U.S."
The presidential candidate said he has been "one of the most vocal supporters" of Musk's effort to transform Twitter but that it is a "real risk to the U.S. when the CCP turns our most prominent business leaders & celebrities—Tim Cook, Larry Fink, LeBron James, Elon Musk—into puppets to advance their agenda."
"That tilts the global scales of perception in China's favor—and sadly, it's working," Ramaswamy said. "The U.S. needs leaders who aren't in China's pocket. Yet Biden is just another embodiment of that same problem."
Musk Silent on China Visit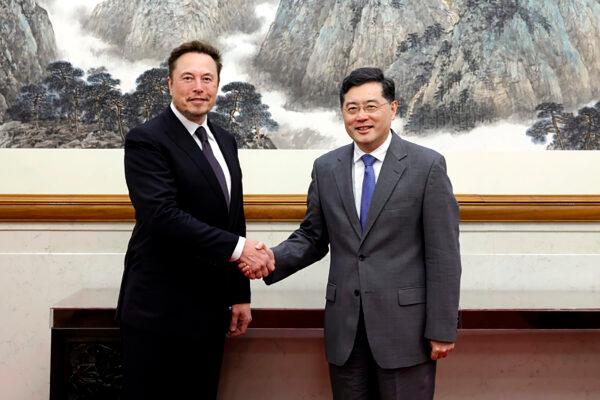 Musk did not publicly comment on his trip to China when asked by reporters while leaving a hotel in Beijing on Wednesday,
according
to the BBC.
The businessman—who purchased Twitter last year for $44 billion—has also been unusually quiet on his own social media platform during his visit to the country.
However, a statement published on Tuesday by the Chinese Foreign Ministry claims that Musk told Foreign Minister Qin that the "interests of the United States and China are intertwined like conjoined twins."
The foreign minister, meanwhile, told Musk during their meeting that both countries needed to "keep the steering wheel in the right direction of mutual respect, peaceful coexistence, and win-win cooperation" when it comes to their relationship.
Both nations should "avoid dangerous driving" Qin, formerly China's Ambassador to the United States, said.
Elsewhere at a press conference on Tuesday, Chinese foreign ministry spokesperson Mao Ning said the nation "always welcomes business figures from all countries, including Mr. Musk, to visit China for a deeper understanding of the country and mutually beneficial cooperation."
"We welcome foreign companies to invest and do business in China, explore the Chinese market and share in development opportunities," she added.
Musk's visit comes amid increasing tensions between Washington and Beijing following cyberattacks, IP theft, and the downing of a Chinese surveillance balloon over the United States earlier this year. Those relations have been further strained by China's "friendship without limits" with Russia and its increasingly aggressive actions in the South China Sea and towards Taiwan, which has been a self-governing democracy since the end of the Chinese civil war in 1949.
The visit also comes as Musk, who has previously suggested that Taiwan should become a special administrative zone of China, is considering creating a new battery factory in Shanghai.
The businessman is widely expected to visit Tesla's existing Shanghai production plant during his latest trip.
The Epoch Times has contacted Tesla for further comment.
The Associated Press contributed to this report.