House Minority Leader Kevin McCarthy (R-Calif.) said China needs to be held financially accountable for lying to the world about the
CCP (Chinese Communist Party) virus
and the negative impact the regime has caused by doing so.
"We need to hold China accountable instead of rewarding them. And they need to be held accountable financially for what they have done to the world," McCarthy told Fox News on Thursday.
He further maintained that President Joe Biden "rewarded them for lying to the world," referring to reinstituting funding to the World Health Organization (WHO) after taking office, which he alleged China controls.
Former President Donald
Trump had withdrawn U.S. funding to the WHO
during the COVID-19 pandemic, after the United Nations organization repeatedly praised China's leaders despite experts and unearthed evidence showing how officials manipulated the true situation in the country where the CCP virus emerged in 2019, while also opposing Trump's early decision to place a ban on travel from China to prevent the spread of COVID-19, the disease the CCP virus causes.
McCarthy further criticized Biden for reversing Trump's WHO funding cessation.
"But you know what else we should look in this budget? Is he going to go pay the World Health Organization? Because the first thing he did when he took back over was reverse what President Trump did, to stop funding the World Health Organization that China controlled, that lied to us about COVID, and then he said, no, President Biden, and gave them $200,000,[000] literally rewarded them for lying to the world," McCarthy told host Sean Hannity.
"They should not come out stronger of this and make us weaker. We should be stronger in the course of history, holding them accountable," the House minority leader asserted.
Prior to the congressman's comments on China, he was asked about the Biden administration's proposed budget, to which he answered that it could create a debt that could match those of some communist countries.
"This is too extreme and too expensive," McCarthy said about the budget. "Think about what we're saying right here—this is what everyone has ever warned us about. That your debt becomes so large, it's more than a hundred percent of your GDP. There's no coming back from that. This sounds like Venezuela or Cuba. Even Obama's economists tell you this is wrong. And when he's doing it is wrong. He's doing it with an economy that's come booming back."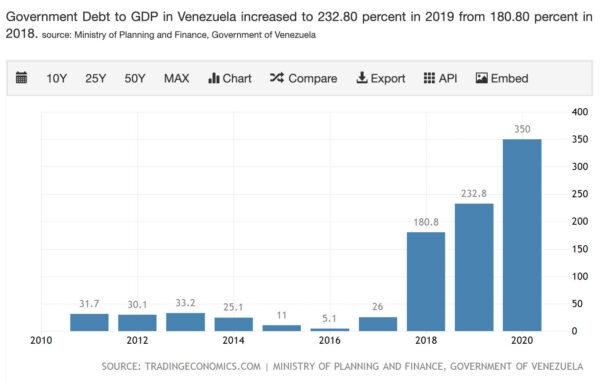 "If he simply did nothing, he would make America stronger, but by these actions will put into doubt," he continued.
"Everyone will get their taxes increased. Inflation will come. So whatever money you have will be devalued. This is what happened to Venezuela. And before our very eyes, we cannot allow this to go forward."
The Epoch Times reached out to the White House for comment.
Zachary Stieber contributed to this report.