A mid-June report is making its way into the hands of U.S. Representatives and Senators. Titled the Congressional Survey of Accountability, Truth, and Freedom (ATAF), nearly 600 service members are making a grassroots effort to fight back against what they allege to be discriminatory treatment they've received by the Department of Defense for refusing to abide by its vaccine mandate.
The final page of the 12-page report (
pdf
) includes links to enclosures with over 60 pages of testimony from various members of the Air Force, Army, Marine Corps, Navy, Space Force, National Guard, and Coast Guard.
Capt. Joshua Hoppe, a Marines Corp MV-22B Osprey pilot, told The Epoch Times he is praying for the report to "bring accountability, truth, and freedom to the many honorable
service members
who want nothing more than continued service without infringing on their personal beliefs and freedoms."
"This is why I'm
speaking up
and holding the line like all the other Marines who have requested religious accommodation," Hoppe said. Ever since the vaccine mandate was imposed, he and others began pushing for political action and compelling others to make a plea to Congress to take action on their behalf.
Hoppe said he is "humbled to be part of this grassroots effort" and he appreciates "everyone willing to stand up and fight." According to the Osprey pilot of six years, "the mandate violates the Constitution by trampling over our religious freedoms, our medical freedoms, [and] our moral freedoms."
With "thorough documentation," (
pdf
) Hoppe requested religious accommodation on Sep. 8, 2021, but was denied on Oct. 21, 2021. A subsequent appeal made on Nov. 5, 2021, was also denied the following March.
Lt. Col. Daniel Lewis, a third-generation Marine with almost 20 years of service, also spoke to The Epoch Times. "What I have witnessed [regarding the measures taken against the coronavirus] over the last two years in our country and in our Defense Department is truly soul crushing," he said. Like Hoppe, his application and appeal for religious exemption were also "specifically and categorically denied."
While he is contemplating the decision to take the vaccine, he believes it is necessary to continue speaking out against the mandate whatever his final decision will be. "I'm not being a hypocrite," he said. "It has to be considered for the sake of my family and our future, and my sacrifice doesn't change the facts of the case or the debate.
"Despite leadership's direction to provide dignity and respect to those members wishing to stand firm in their first principles and God-given rights," Lewis said, adding that service members "were treated very poorly and unnecessarily so—and the survey we conducted clearly demonstrates this."
Both Hoppe and Lewis emphasized that their views do not reflect the views of the Department of Defense (DoD), the Department of the Navy, or the U.S. Marine Corps.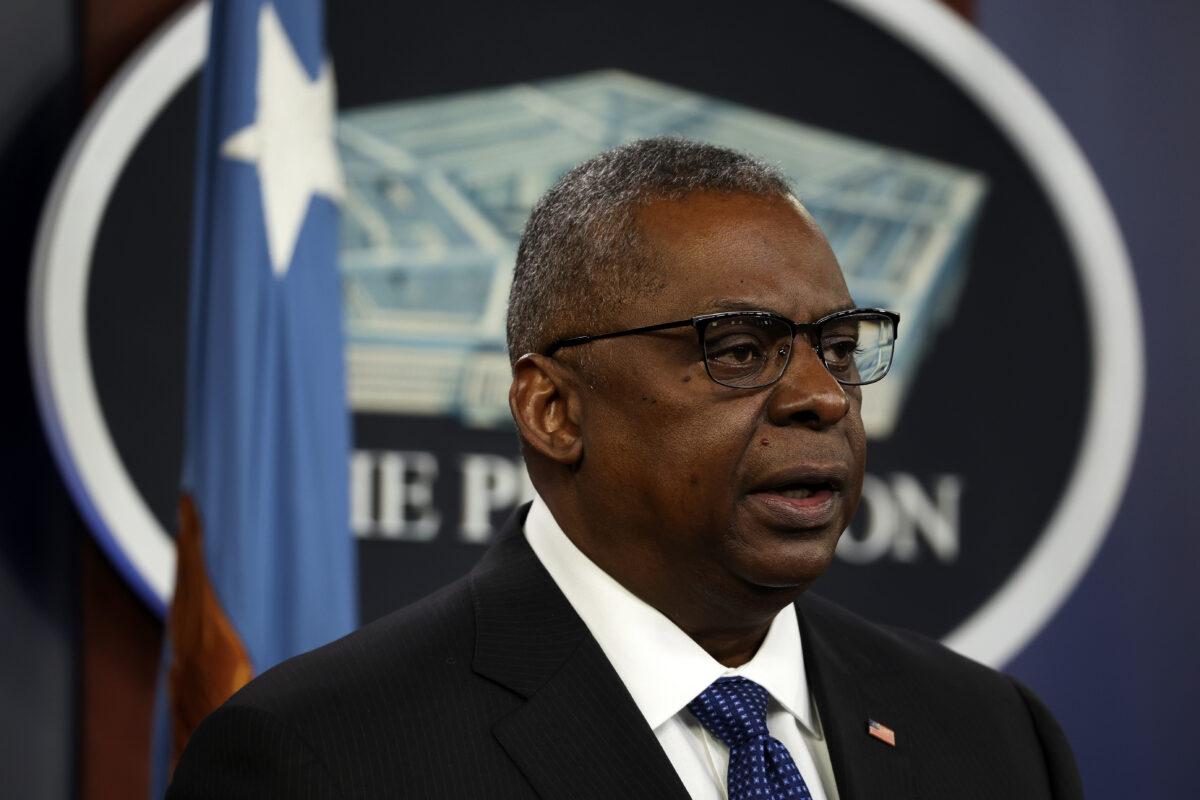 Burden Ignored
It is Hoppe's desire to convince Congress that what the DoD has been doing is unlawful.

Lewis hopes that the survey will provide "civilian leadership a fact-based warning about what is happening to their military uniformed members."

"Our elected representation and their constituents need to understand what's happening as the mandate continues to be enforced," he added.

Both Marine Corps officers are concerned about the legality of mandating the vaccine. Hoppe is particularly concerned about the "blanket denials for the religious accommodation requests," explaining that "the burden of proof is on the government to prove that there is a compelling governmental interest in order to deny our religious freedoms by forcing us to take a vaccine that we've requested not to, based on our sincerely held beliefs." But according to Hoppe, "this has not been the case."

On Nov. 2, 2021, the Commandant and Sergeant Major of the Marine Corps

released

a message to the force stating "I know the science behind it. I know how the vaccine was developed. I'm confident in it." But, as Hoppe notes, General David H. Berger did not expound on any of the science in the video or in any of the denial letters that Marines have received.

Hoppe said that there were over 27 different federal court cases that are challenging the mandate. Most of the cases, he said, are making challenges based on the Religious Freedom Restoration Act of 1993. However, he pointed to the

class action lawsuit

by Dale Sara, which challenges the legality of mandating a vaccine by arguing that the COVID-19 treatments are not truly vaccines. "It doesn't prevent you from getting COVID, nor does it keep you from spreading it," he said.

Rep. Pete Stauber (R-Minn.) agreed, stating, "the shot mandate is placing an undue burden on our dedicated service members." He explained that "experienced warriors must face the choice of getting the shot against their personal or religious beliefs to continue their patriotic service in defense of our freedoms, or sacrifice their military career."

The lawmaker also considers it "outrageous" that it is well known that the vaccine does not prevent infection or spread of the virus.
Grounded and in Limbo
Service members who refuse to comply with the mandate for religious or other reasons are now finding themselves facing adverse actions.

"While there are challenges in court, the DoD is continuing full steam ahead with separating individuals and taking other adverse actions, like the grounding of pilots, for example," Hoppe said.

While Hoppe considers himself fortunate to continue flying the MV-22 Osprey, he said, "hundreds of other pilots and aircrew across the DoD have been grounded for the past 10 months." Since some are grounded and others are not, he doesn't understand "such a disparity of treatment among service members" from the DoD. "Why are some treated terribly—even to the extent of being sent to mental counseling because they requested a religious accommodation to the vaccine?"

For those who have served in the Marine Corps for less than six years and are "in limbo," waiting for their appeals to be fully adjudicated, he said, "once that final decision is made, they're going to be rapidly pushed out of service within two to four weeks."

To that end, Stauber said, "Medical decisions are personal and should be made by an individual in consultation with their doctor, not forced by a mandate."
A Future Threatened
Lewis indicated that a "certain profile" fits those refusing to take the vaccine. He or she is "likely someone grounded in their faith, someone with a bit of life experience and seniority, and someone who can critically think." He is gravely concerned that such a profile will "no longer be part of the military or no longer be welcomed in the military."

While he continues to serve in the Marine Corps, his hope is to "continue providing fact-based information and arguments against what is being proven in both the DoD's administrative proceedings as well as the civilian judicial system proceedings as an unlawful enforcement regime."

It's startling to Lewis that even people with previous medical exemptions were subsequently denied, as noted in the survey. And several participants in the survey included those "slated for command." However, he said, he has voluntarily removed himself from consideration to become a commanding officer. "The Covid mitigation and non-pharmaceuticals interventions being enforced are things I can't enforce on others, [as] they're being enforced on me."

Lewis has no intention of undermining the Marine Corps' decision, but he can't see himself forcing others to "get the shot." More than anything, it's the end result that has him concerned. "How are we going to become a more lethal, capable, and modern force if people, like those represented in the survey, are being pressured to get out?"

"How many people will want to reenlist? How many officers would want to take commanding positions?" he asked. "There's already a big cost to what they're enforcing and it's going to be unrecoverable—and I don't think people understand it."

"On the aviation side," he said, "it is astronomical, [as] pilots are being removed from command positions and instructor pilots are grounded first and then removed." These losses will hurt aviation training for years to come—in a time already suffering from shortages, he said.
It's Not Enough
Lewis said, "the military is setting itself up for a massive readiness, capability, [and] lethality shortfall, if we continue down this path." Military leadership is "looking at the pilot production shortfall [and] their ability to produce and retain," he said. "But they're not looking at who they're pushing out the door."

"How is morale, readiness, lethality, modernization, recruitment, and retention being affected—positive or negative—under this construct?" he inquired, suggesting that "it would be a good question to ask, as a starting point, in my humble opinion."

Stauber agreed, stating "military readiness has been negatively impacted by this administration's obsession with COVID-19 being the number one enemy, in lieu of known and sworn enemies worldwide." He remains concerned that "our national security is more at risk."

"The Armed Services are no place for political virtue signaling," the lawmaker said.

"Totalitarian states like Communist China are more emboldened than ever, and yet the Biden administration decided to force through this shot mandate that weakened—not strengthened—our fighting forces."

Stauber's congressional office has been contacted by several active-duty military personnel from his district and across this country. "[They] are pleading with me to do something on this issue," he said. Thus, he strongly opposes President Joe Biden and Secretary Lloyd Austin's "tyrannical" vaccine mandate.

In the FY2022 National Defense Authorization Act, Stauber supported a provision to prohibit dishonorable discharges for servicemembers who refuse the vaccine. While he is "glad the provision" was included and signed into law, he said, "it does not go far enough." He has promised to "continue to fight to end this mandate on our brave men and women" of the U.S. military.

In a response to an inquiry from The Epoch Times, the DoD, without replying to any questions posed, pointed to the Aug. 25, 2021,

press release

announcing the issuance of the Pentagon's vaccine mandate.